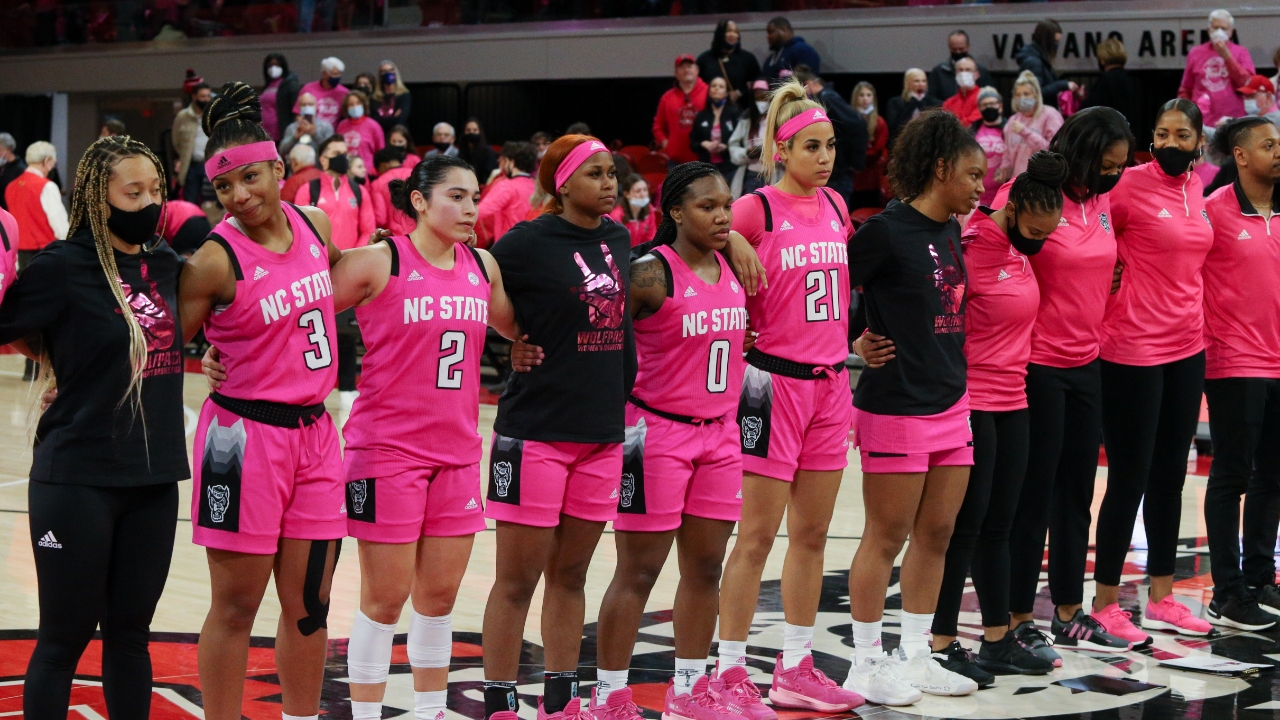 Wes Moore
Brown-Turner & Hobby
NC State Women's Basketball
LOCKER ROOM REPORT: Fourth-Ranked Pack Pummels Wake Forest
---
NC State head coach Wes Moore, guard Jakia Brown-Turner, and center Camille Hobby met with the media following the No. 4 Wolfpack's 92-61 win over Wake Forest Thursday night.
Brown-Turner finished second on the team in scoring with 15 points on 6-for-9 shooting from the field, 2-for-4 from three-point range. She also added three rebounds and three assists in the win. Hobby tacked on 14 points on 5-for-7 shooting against the Demon Deacons.
NOTE: Click on each video's respective thumbnail to watch each press conference in the player above. A transcript of Moore's comments is posted below.
---
Opening Statement
I was really pleased with everyone. It was a great team effort. I thought Camille, when she came in in the first half, gave us a lift. They were doubling Elissa [Cunane] every time she touched it on the block. In the first half, we had a little trouble at times because, when she kicked it out, we weren't knocking down threes. In the first half, we were 1-for-8 from three. Camille did a great job one-on-one down there. She was patient and finished well. Then in the second half, when they did double Elissa, she had four assists and zero turnovers, a great job there. We started hitting the three. We're at our best when we're doing that inside-out and getting touches in there. Camille gave us a great lift. Jada Boyd gives us a lift when she comes in [as does] Diamond [Johnson]. We are very blessed to have a lot of people who can come in on a given night and give us a bolt of energy. Again, it was a pretty good balance: five in double figures and Kai Crutchfield right there with nine. That's the balance you like to see. I thought defensively we did a pretty nice job. Jewel Spear is a great player. I thought we did a pretty good job of making it hard on her when she came off picks on the ball. When we helped with that post, I thought everyone else did a really nice job of rotating in and taking away the roll. That was good. I'm still disappointed with our rebounding. We've got to get better. I just think championship teams rebound. We've got to raise that up. Of course, They feel like, "Oh, we're hitting shots, Coach. That's why we don't have offensive rebounds." When you look at the ones we miss and what percentage we get, it's not high enough. That's an area we've got to fix here in the next couple weeks.
On the halftime talk and what worked in the third quarter…
Yeah, that's the secret. You've got to tell them opposite of what you want. At halftime, we were 1-for-8 from three, and we were doing really well scoring otherwise. We were getting to the bucket and getting to the foul line. We had 10 free throws in the first half. I tell them, "Hey, let's keep attacking the basket. Don't just rely on the three." What do they do? They go out and hit every three in sight. You've got to know what you're working with and how to do this.
On Johnson, Boyd and Hobby providing such a lift because other teams don't have the bench depth to compete there…
It's a lot of firepower. I left them in a good while in the second period because they were playing well. Camille was finishing and scoring well. Jada Boyd was crashing, making plays, blocking shots, and getting rebounds. Diamond was hitting shots. When we're doing that, I always tell them, "It's not necessarily about you, but when the team is playing well while you're in there, we're going to let it ride. If you want more minutes, that's a good way to get it."
On the seniors to be honored on Senior Day Sunday…
You've got Kai Crutchfield and Kayla Jones who have been here five years. You've got Elissa Cunane who has been here four. You've got Raina Perez who I'm ticked off that we only had for two years, but if you want to be half full with the glass, we could have just had her for one year. I'm so blessed with all those kids. I would love to win a national championship, but I want to do it with people that I'm proud of and that I, quite honestly, enjoy being around. That group is unbelievable. Everywhere I go people talk about how great of people they are, how they take time for people and kids, whatever it might be. They have built a legacy. They've already hung two banners. We took a step closer to hanging another one, one that hasn't been hung in a long, long time up here. I want them to do everything they can so that when they leave here and then come back on this campus, people point at them and say, "Wow, I remember when they were here playing." We've still got a lot of work to do, but no matter what happens, I'll never stop being really, really proud of that group.
On Crutchfield and Jones coming back for this season…
Huge. I think part of it was the way our season ended a year ago. I think that was a factor, and then I just think these kids love each other. People may not realize this, but until the COVID year last year there were only two Power Five schools in the country that had never had a player go in the portal. That's definitely nothing to do with me. They love their teammates and the environment they're in. They enjoy what they do, the atmosphere and who they do it with. That's why they decided to stay. That, and the fact they wanted to write the last chapter and it be different. Still a lot of work to do, but I'm glad they stuck around. On Senior Day, I'm probably going to cry more than anybody because we're losing a whole lot of talent walking out that door. I'm sure everybody in the league is champing at the bit to get a hold of us next year. It's going to be a challenge, but right now, let's enjoy what we've got.
On how much bigger and different the ACC Tournament is now as opposed to when he got to NC State…
Well, the thing is that all our games are on TV now. It's been unbelievable. We're on ACC Network nationally. We've been on ESPN or ESPN2 several times in the last two years. Tonight, we're on [Bally] Sports South or whatever. We're getting all kinds of exposure, and these kids deserve it. Then you look at the crowds. We've sold out I don't know how many. It's just unbelievable what these players have accomplished and built with the fan base. We go over to Duke and Carolina, and we've got as many, if not more, fans, and it'll carry over to Greensboro. We'll have the most fans there in Greensboro. It's going to be great exposure. It's an unbelievable time, and we've been fortunate enough the last two years to walk out of there. I know it's going to be even more challenging to try to do it a third time. We've got to be excited about it, and I love having it here where our fans can be a part of it.
On what went so well offensively, especially in the third quarter…
I think stuff like that is contagious. You hit a couple, and everybody gets happy. At halftime, like I said, we were 1-for-8. I'm pretty sure Kai hit our very first one of the game. That meant we were 0-for-7 [before then]. That means, in the second half, we were 8-for-13 from three. That's pretty good. I wish we could bottle that up. We've got to make sure we don't get lulled to sleep, thinking we're going to do that every night. At Duke the other day in the fourth quarter, we hit 11 out of 12 shots. That isn't going to happen every day. That's why I keep stressing staying focused and on edge defensively, and then doing a better job on the boards. When you're trying to get where we're trying to get, and you've got to win several games in a row, and [if] you're going to have a night you don't shoot well, you've got to do those other things. I've got to keep preaching it. Maybe I need to do a better job of getting it done in practice, but we've got to figure out a way to fix that here in the next couple weeks.
On when he found out Louisville had lost...
Right before the game, and I told them in the huddle. We need to take care of our own business, obviously. That's the most important thing, but I thought it gave them a jolt of energy to know. We're in a position where we control our own destiny, and that's a great position to be in, but there's no guarantees. We've still got two games left. Sunday is going to be an emotional day. We're playing a team that leads the ACC in steals. They've got three kids in the top five in steals. We're going to have to be able to handle the press, handle the zone defense, and take care of the ball. They're top of the league in free-throw percentage and second in the league in three-pointers made. Even though Syracuse has struggled at times, they've got a lot of firepower and can create problems. Even though it's an emotional day, we've got to make sure we're ready to take care of business.
Never miss the latest news from Inside Pack Sports!
Join our free email list