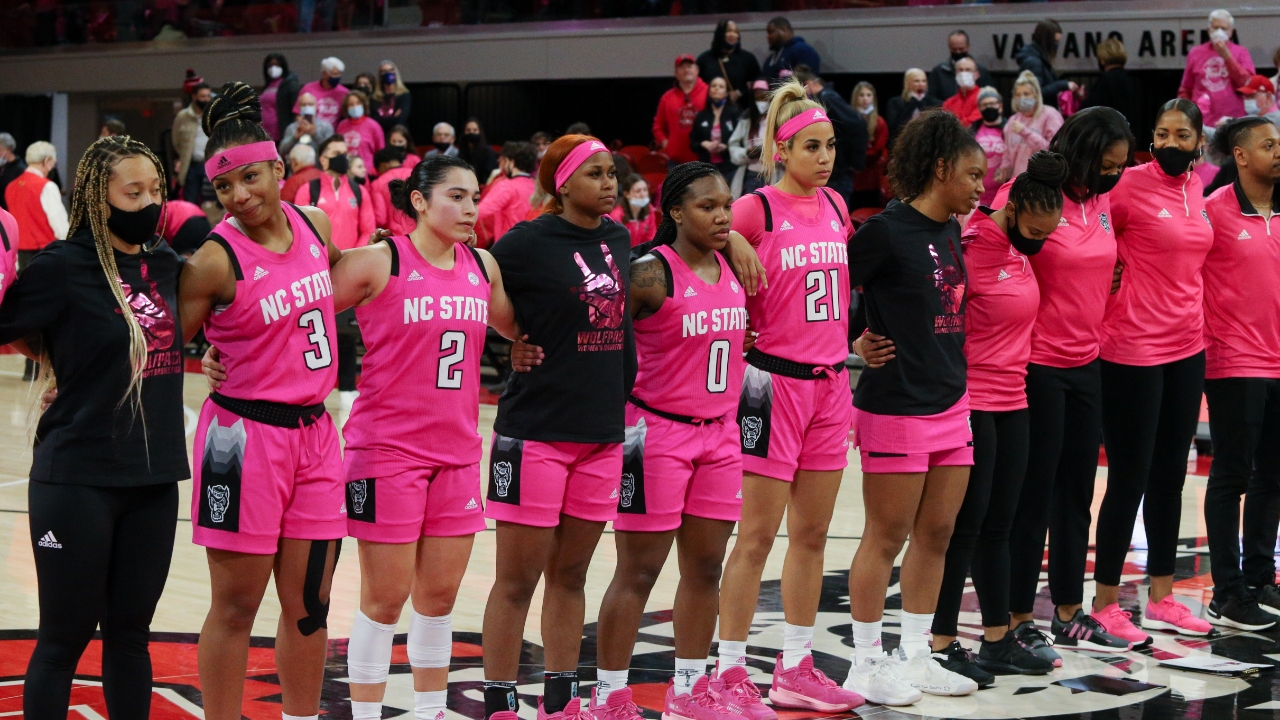 Wes Moore
Jakia Brown-Turner
Raina Perez
NC State Women's Basketball
LOCKER ROOM REPORT: Dominant Fourth-Quarter Surge Propels Pack Past Blue Devils
---
NC State head coach Wes Moore and guards Jakia Brown-Turner and Raina Perez met with the media following the No. 5 Wolfpack's 77-62 road win over Duke Sunday afternoon.
Brown-Turner led the Pack offensively with 19 points on 9-for-11 shooting from the field. She also added three rebounds and three blocks against the Blue Devils. Perez finished with 12 points, four assists, three rebounds, and two steals.
NOTE: Click on each respective thumbnail to watch each press conference in the player above. Moore's comments are transcribed below.
---
Opening Statement
It's nice to have a veteran team. We went with our veterans down the stretch, and they just kept making plays and making shots. I'm going to miss them. I don't know. It might be a good time for me to retire, huh? Again, it was a great win. They've got a lot of talent over there. They have veterans, also. They came in here with a lot of experience, and we knew it was going to be a battle. Really, in the fourth period, we hit a lot of shots, and that ended up being the difference in the game. Again, I'm proud of them, and I'm very blessed to be able to work with these young ladies for sure.
On Brown-Turner's second-half performance…
She's a player. She's a prime-time player. Actually, I let the assistants coach her in the first two or three quarters, and in the fourth period, I pulled her aside and coached her. We want her to be a complete player. She's obviously a great shooter, but she did a great job getting to the rim today, and defensively her length gave them some trouble at times. When the game's on the line, we've got some kids that are ready to step up, and I thought Jakia did that really well.
On veterans eventually clicking after starting slow…
Again, it's great having veterans. It's almost like having extra coaches out there. They're bringing the young kids along. Our freshmen aren't playing as much because of the Covid year. Our veterans are out there doing a great job. I wanted us to get off to a better start today. We kind of did that, and then here came Duke. We had some breakdowns defensively and gave up a few layups, but at the end of the day, probably with about eight minutes to go, I put veterans back in there completely, and I have total confidence in them that, at some point, they're going to get hot, get some stops, and find a way to win.
On the Wolfpack's four-point sequence down the final stretch, fueled by a pair of offensive rebounds included…
I think, if we're going to get to the elite level, we've got to do a better job on the offensive boards. I've been doing this a long time. I've seen a lot of national-championship caliber teams, and they get extra possessions. They find a way to get to the offensive boards. We had a few. It's still an area, though, we need to get better at. We ended up with seven total. We really only went and got five of them because two of them were dead balls. We're not there. We're a work in progress. In that possession there, they were able to make a little bit of a run there just on that one possession. That's an area we need to get better at.
On the sequence with three different three-point shots by three different players to extend the lead…
We wanted to go back to going inside-out. I thought, in the first half, we did a little bit too much one-on-one, and we maybe forgot about our post play a little bit, but when you look at the numbers, our post players are very high-percentage shooters, and we've got to get them touches, and that makes the defense have to make a choice. When they decide to dig down or double down from the top, that's when our shooters can spot up, and I don't think there's anybody in the world that shoots better off the move than they do spotted up. That's how we want to play, and we also got penetration-and-kick a few times where we spotted up. Those three balls, that's our dunk. When you have three straight threes, that gets the crowd going, and that gives you a lot of confidence. That was probably the turning point of the game.
On the consistent success in the third quarter…
I don't know. We've been digging a hole, and I think part of it is that we go out in the third quarter knowing we've got to get busy. I reminded them of the Carolina game. We went out in the third period, and we really focused on getting a lot of four-outs and getting touches. I think they did a better job of that. In the first half, we were one-on-one too much and took too many one-and-done shots. We're better when we're sharing the ball. I thought we did a much better job. Obviously in the fourth quarter, we shared it, and we knocked down the shots. We scored 31 points in the fourth quarter. Obviously, that was some good basketball. Hopefully, we can find a way to put four quarters like that together, and if we do, we're a pretty good team.
On Elissa Cunane's injury in the third quarter…
I'm sure I was [concerned] when I went out on the court. You're always concerned when there's [a head injury] you're looking at, but she was good. They tested her on the bench and felt good about it. She was very coherent and feeling good. It's scary though. She's an important part of what we do. I'm glad she's okay.
On the Pack's fifth halftime deficit in the last eight games…
I don't know. I was thinking at that time, "You know what? Maybe we need to start coming over the night before and staying in a hotel in Chapel Hill or Durham. Maybe we ought to make it normal where we come over the day before and we shoot that morning." I don't know. We'll talk to the A.D. to see if we need to get that done. Again, we've got to put four quarters together. We've had our moments where we've come out and really played well early, but we haven't done it enough. Maybe I'm doing something wrong, not getting them as focused as they need to be, but as a veteran team, I hope they will take care of it themselves sometimes and make sure we're all focused and ready to go. You just can't keep digging a hole with the caliber of teams we're playing.
On winning the ACC regular season title…
It's funny. I spoke to a coach I respect a lot who took several teams to the Final Four. I talked to him about it, and he said, "I couldn't care less about the regular season. I just want to have them ready for March." I get that, but we haven't won a regular season [championship] in 32 years, so yeah, it means a lot. Again, I'm not putting pressure on them other than, "Let's make sure that we don't have any regrets. Let's make sure we go out everyday trying to get better and raise the bar." While we're doing it, we're getting ready for March also. Our fans are unbelievable, and we've sold out a lot of games this year. You can say, "Oh, it's a small arena." We're still right there in the top two or three in attendance. I want it for them. I want it for these players. Ten years from now, I want them to come back and be introduced at a game for being ACC Champions. We've done that in the tournament the last two years, but I'd like to see us put another banner up there to take care of that bare spot. It means a lot.
Never miss the latest news from Inside Pack Sports!
Join our free email list