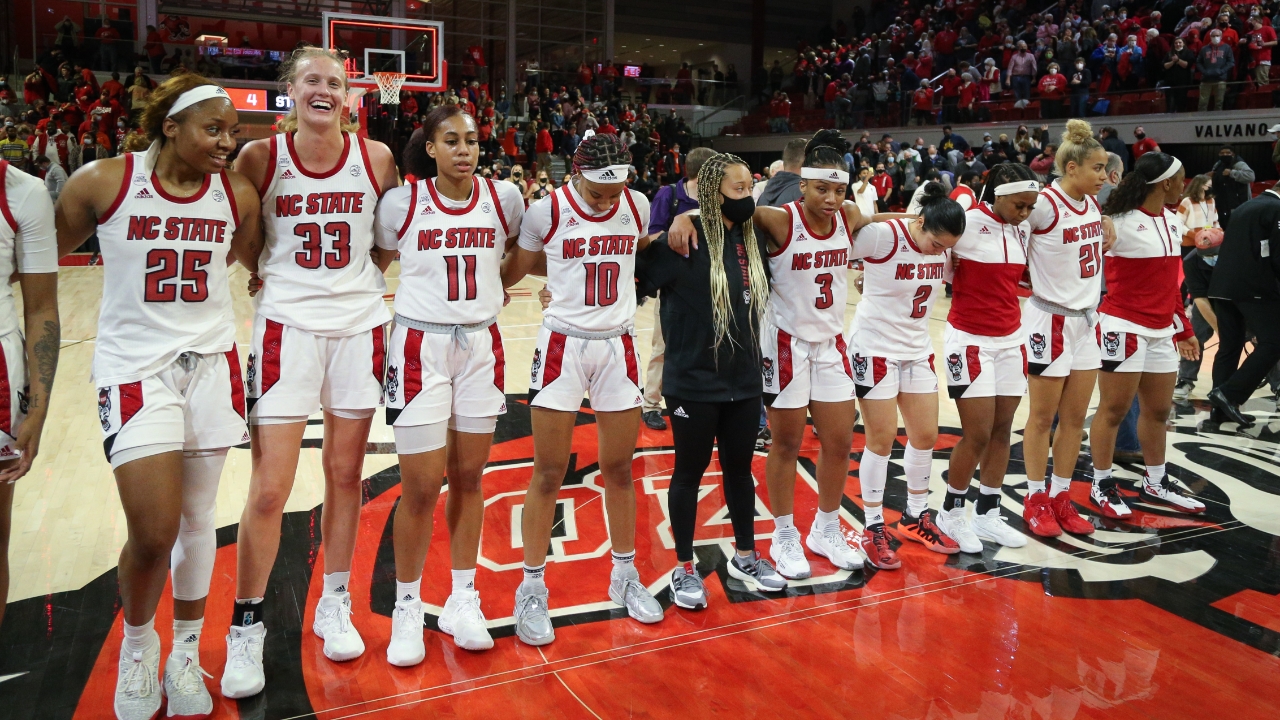 Wes Moore
Brown-Turner & Perez
NC State Women's Basketball
LOCKER ROOM REPORT: No. 3 NC State Down Seminoles
---
NC State head coach Wes Moore and guards Jakia Brown-Turner and Raina Perez met with the media following the No. 3 Wolfpack's 68-48 win over Florida State Thursday evening.
Brown-Turner led the Pack with 13 points against the Seminoles while also tallying four rebounds and one assist. Perez dished out a team-high eight assists while also scoring 11 points, hauling down three rebounds, and recording one steal.
NOTE: Click on each respective thumbnail to watch each press conference in the player above. A transcript of Moore's comments is below.
---
Opening Statement
I'm just really proud of our defensive effort. Florida State has a lot of weapons. They're long. They're athletic. Obviously, Morgan Jones is a great player. They've got size. Again, it was a big concern coming in where we just had one day to prepare. We were really only on the court for an hour yesterday and then about an hour today at shootaround to go over their sets and personnel. I thought our players did a great job of defending them and a pretty good job on the boards, too, considering they're so long and athletic. It was a great effort on that end. On offense, we kind of had spurts. We had moments where the transition was good. We were able to get the ball inside a little bit. We've still got to get better at it. That's something we focused on yesterday: getting Elissa [Cunane] or Camille [Hobby] some touches. The posts need to do a better job of sealing, and the guards have to be able to read the defense and make the correct pass. Again, it was a good effort on a quick turnaround.
On Brown-Turner getting back to her game...
I think she has. She's still struggling with a finger on her shooting hand. I know it's uncomfortable. It got hit in practice a couple of days ago, which you hate to see. I think her all-around game has gotten better. I think she's defending a little bit better for us. With her length, she can be good there. She went and got four defensive rebounds for us. She's doing other things, and I think when you do that, the offense will come. We need her to be able to spread the D out and do the things she is doing. Kai [Crutchfield] has obviously been very efficient in her ability to shoot the ball. That helps our post players, when we can knock down some shots around them. I thought Raina Perez had an unbelievable game and hit some big threes. We're better when she's out there running the show: eight assists, two turnvoers. The other night, I probably should have had her in more down the stretch in the fourth quarter. As a coach, you've got to learn from it and try to fix it. I thought she did a great job.
On these last three games in five days...
Well, obviously we lost one of them. That was a tough game to lose, but this is a tough league. There's a whole lot of good teams. I've said it before: with the extra COVID year and the transfer portal, these teams are loaded. I think Notre Dame probably has the best young talent in the league. We've just got to try to pick it up from there and take it one game at a time. It's hard to believe we're down to six games now, so we've just got to keep our focus. Georgia Tech is probably the biggest, toughest team definitely in the ACC, but maybe in the country. They lead the country in scoring defense. Monday night, we're going to need the defense we had tonight, and hopefully we'll be able to grind out enough offense against them to get it done. We've got to keep growing and evolving as a team and be playing our best ball in March. We aren't doing that yet, so hopefully we'll figure it out.
On seeing how fast the players can correct the mistakes...
I agree. We fell down 5-0, but after that we made a great run. At the end of the first quarter, we were up, 24-12. That was great to see. We set the tone like that. I think it's contagious, and everybody feels more confident and comfortable. Hopefully, we continue to do that. We shoot the ball so well normally that, if we take care of the ball and get shots, we're going be all right. When we're turning it over and not getting as many shots as our opponent, that's where we're going to get in trouble. Hopefully, we can continue to do those things and even continue to clean it up and get better.
On Diamond Johnson's recent struggles...
I think it's a combination. It's tough this time of year. You're preparing for teams back-to-back-to-back, so in practice you're getting shots up and position work, but you're not getting up enough. We may spend 20 minutes shooting and an extra six or seven on free throws, maybe. It's not enough. We're fortunate we [have] this building. The men practice and play somewhere else, so we have a lot of opportunity to get in here and get shots up. We have a lot of people that will help you, and I think she has been. A lot of times it's more mental. You've got to have the confidence. I did talk to her and say, "Hey, you've got to make sure your shot selection is good and that you're on balance." We've got a lot of people on this team who can score, so we don't have to rely on one. There's no doubt I was disappointed with the Notre Dame game. When you look back at it, Elissa got about five shots up and hit four of them. We've got to get her more touches. Give Notre Dame credit; their post defense was great. They made it hard for her to get the ball. They were physical with her. Like I said, we've all got to do better. I've got to keep emphasizing it: the guards have got to keep looking, and the posts have got to get the seal and fight for that position because everybody knows we've got some pretty good posts in there. They're going to try to make it hard on you.
On the upcoming Play4Kay Game...
Obviously, I've been coaching a long time and have been involved in a lot of Play4Kay games, whether it be on the road, at home, or whatever, but let's face it: there's no place quite like here. This was Coach [Kay] Yow's home. You walk out onto Kay Yow Court. You look up in the rafters, and you've got the Hall of Fame and retired whistle [banners] and all that stuff. It's a little more special. Obviously, a lot of the former players come back that day. We have the survivor recognition at halftime. We have the Kay Yow Foundation and the Jimmy V Foundation both being located right here in Raleigh. It's a different level. It's important. It makes you stop and think and be thankful, wherever you are. I think it's a little extra special here because this is Kay Yow's home and it is Play4Kay.
Never miss the latest news from Inside Pack Sports!
Join our free email list