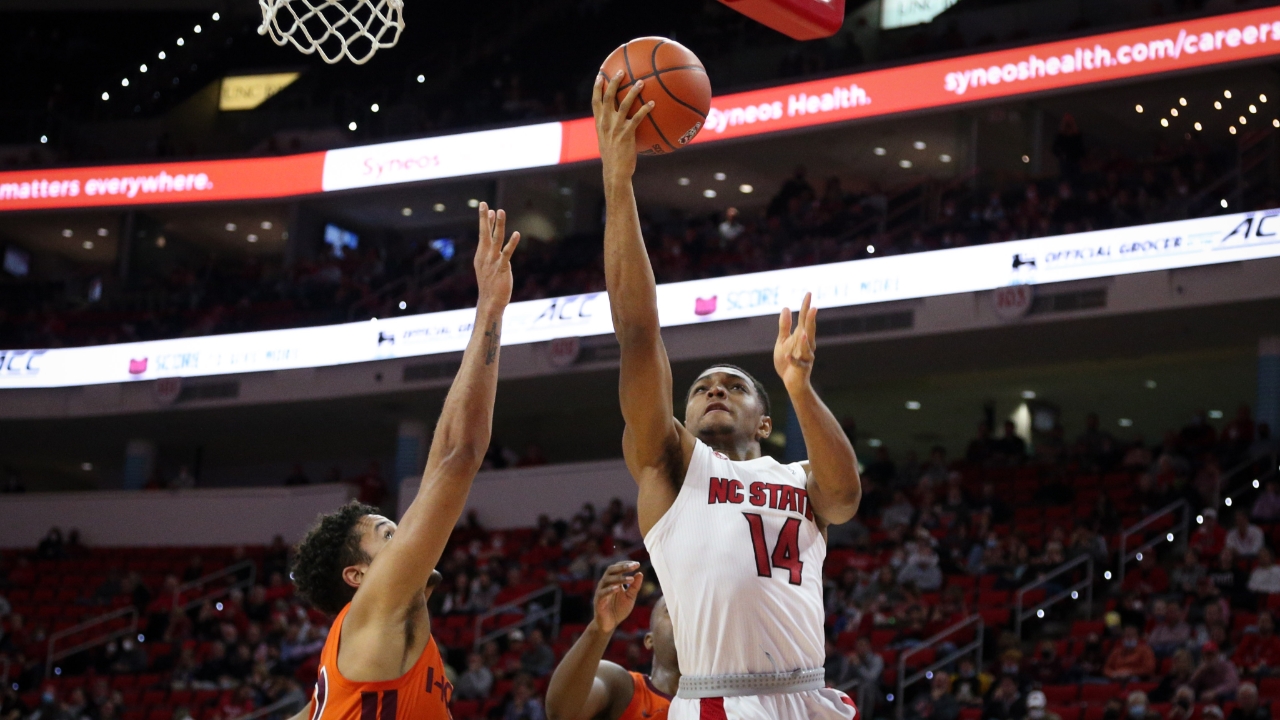 Casey Morsell
Terquavion Smith
NC State Basketball
LOCKER ROOM REPORT: Wolfpack Players
---
NC State guards Casey Morsell and Terquavion Smith met with the media via Zoom following the Wolfpack's 77-63 win over Virginia Saturday evening.
Morsell scored 12 points on 5-for-7 shooting from the field against his former team with seven rebounds and two steals. Smith notched 20 points on 8-for-13 shooting, 4-for-7 from three-point range, against the Cavaliers with three assists, two rebounds, two steals, and one block.
NOTE: Click on each player's respective thumbnail to watch each interview.
---
Casey Morsell

How big was it to see the ball go in the basket during the first half and to see that momentum carry over to the second half?
It was definitely good to see shots go in. We know we can compete with anybody in the country on the offensive end. We've just got to bring it defensively. It's a tough offense to guard. We knew once we locked in on the defensive end, the opportunities on the offensive end would open up.
What was the halftime speech like?
A lot of games have come down to the wire, and we've been in a lot of situations where we let games slip away. Basically, [the speech was] just to keep going. We know that UVa is the type of team that's not going to quit or back down. They're going to keep running their stuff sharply. Even in the second half, they're going to run it 10 times harder to get back in it. We did what we had to do on the defensive end to close the show, and we've got to keep bringing it every game.
You said Wednesday that this game wouldn't be personal for you, but does it feel special to get the win against your former team?
Yeah, any win's a good win. Those guys at UVa are still my brothers to this day. It was good to go out there and play against those guys. Those guys have developed and taken a leap in their game, especially in the defensive end. Those guys have stepped up. It was good to compete against those guys. They know what I can do, and I kind of know what they can do. It was a good feeling.
Was there something during shootaround that gave you any indication this would be a good day shooting the ball?
No. We focused on the type of shots that we were getting. We wanted to get shots that were in rhythm, a lot of shots where the ball's moving, and everybody just has a flow in the game. We shoot our lowest percentage when the ball's stuck to one person and nobody's moving or getting involved. That was the emphasis going into the game: just to make sure that we get great shots. We trust and believe in the work that everyone puts in that shots will all fall, and that's what happened tonight.
Terquavion Smith

What was the secret for everyone shooting the ball well from outside?
It was great. We came in locked in. We knew what we had to do, and we played with a chip on our shoulders.
What was the key to find the open shots and make the shots in the paint?
We looked at the scouting report and knew that they were a hard close-out, so there was going to be a three or a quick drive. The coaches preached that to us, so it was just getting to the lane and finding others.
When Jericole Hellems is shooting well and hitting his shots, how much more dynamic does that make your offense?
It makes it great. He's a veteran guy, so he knows the game well. He knows his spots, and when he's going, he gets everybody else going. He's a leader on the team.
Never miss the latest news from Inside Pack Sports!
Join our free email list