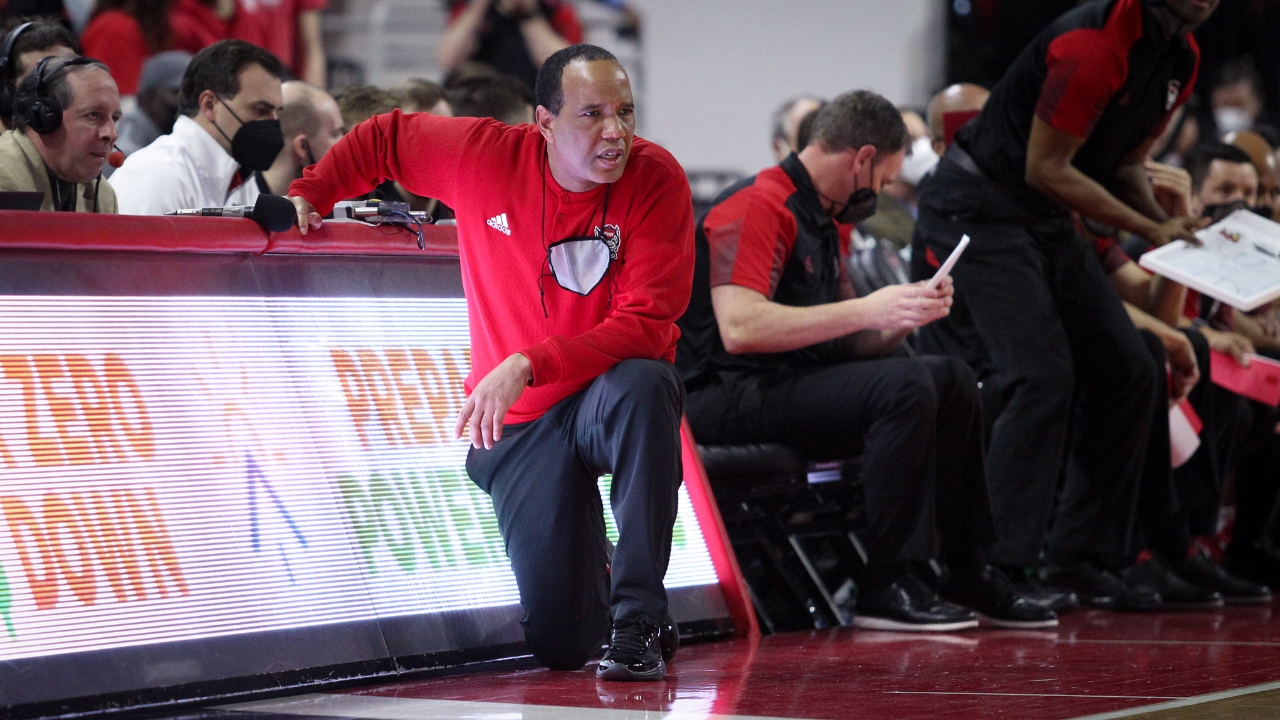 Photo by Steve Murphy/Inside Pack Sports
NC State Basketball
Kevin Keatts: "We Played Well on Both Ends of the Floor"
---
NC State head coach Kevin Keatts met with the media via Zoom following the Wolfpack's 77-63 win over Virginia Saturday afternoon.
NOTE: Click on the video in the player above to watch Keatts' press conference.
---
Opening Statement
I'm excited about the way our guys played. What I'm excited about is that we played well on both ends of the floor. We did a good job defensively finishing the first half. I didn't like the way the game started initially. I thought we gave up five threes that they stepped up and made, and [Jayden] Gardner had a quick six points against us. We talked about, coming into this game, how elite Virginia is defensively and, in order to win the game, we've got to kind of beat them at their own game. I thought we shot the ball well in the first half. I thought Jericole [Hellems] and Terquavion [Smith] really got us started, and once we got in the bonus in the second half, we started driving a little bit more and got to the free-throw line. I'm proud of these guys. There's a lot of fight. You could tell we were really hungry to win this one. I'm just happy that those guys played well enough to get it done.
It seems when Hellems is making shots, the team as a whole seems to be elevated. How important is it for Hellems to start the game the way he did today?
He played as a senior today. He and I talked about that. He's got to be the one steady guy. He's the oldest guy that's playing a lot of minutes on our roster, and he's got to be the common effect. I thought he was. He made shots early in the game. It was a great matchup. I knew coming into the game that he and Gardner would be a great matchup. Jericole stepped up on both ends of the floor. We are a good team because of our youth when one of our older guys, really our only older guy who's playing the most minutes, steps up and plays well. I'm excited that he had the game that he had.
How big was the team's ball movement today?
I thought it was good. When the ball sticks, we're not very good. Right now, we don't have a guy that we can throw the ball inside and score with his back to the basket. A lot of this stuff can lead to, if you don't have good player and ball movement, challenging bad shots. Today, I thought we kept the ball moving. Two or three guys touched the ball every possession, and it paid off for us. We were able to shoot the ball well, 12-for-22 [from three-point range], and most of them came off of assists from someone else on the team.
At one point, you had a lineup with Breon Pass, Casey Morsell, Dereon Seabron, Hellems, and Ebenezer Dowuona, and they really got after it on the defensive end. What was it about that unit that worked well on that side of the ball?
Well, that's probably our best defensive unit. I'm so excited Casey's getting back to playing really good basketball. Breon, everyday in practice, is earning a little bit more minutes. He's probably the only guy that we've got on our team that can pick you up full-court and turn you a lot. That was the defensive unit we went with. Breon stepped up. In the first half, he had a great drive and finish with his left hand, and then a big three in the second half. We only have nine scholarship guys, so we've asked everybody on our team to stay ready. I thought guys who hadn't played a lot of minutes stepped up.
What was your message at halftime?
I just said, "Stay the course." We talked about winning the half. With these guys up, I went more toward planning in the four-minute segments. "How are you doing in the four-minute segment?" Every time we went to a timeout, we asked how we did in that four-minute segment. I thought we were locked in. We came out of the locker room very focused and went on a nice run, and that certainly helped put us over the hump.
How relieving was it not to have to worry about a last-second shot?
You don't want those. You can make an argument that this was one of our most complete games. We played some games that were really good, when you think about all the games we played in the ACC that were really close, but from both ends, we did a really good job finishing the game. I'm super proud of our guys. They've caught a lot of flack, which I don't understand when you've got such a young team and some guys who've been injured. At the end of the day, I'm so proud of those guys.
Update on Ernest Ross…
Ernest Ross had a successful surgery, and I'm happy that it went well. There is no timetable. He won't play the rest of the season, but his biggest thing is that we want to get him back in the weight room to get him bigger. He's such a great kid. He texted me out of surgery, "Coach, do you mind if I stay home to watch the game?" I was like, "I thought that was expected." He was thinking about whether he was coming to the game or not. I know he'll be excited. I'm excited for Ernest. Our young guys in Terquavion Smith, Breon Pass, and Ernest Ross, that class is going to be really good here, and they're going to be fun to watch. I'm excited about those guys.
Never miss the latest news from Inside Pack Sports!
Join our free email list