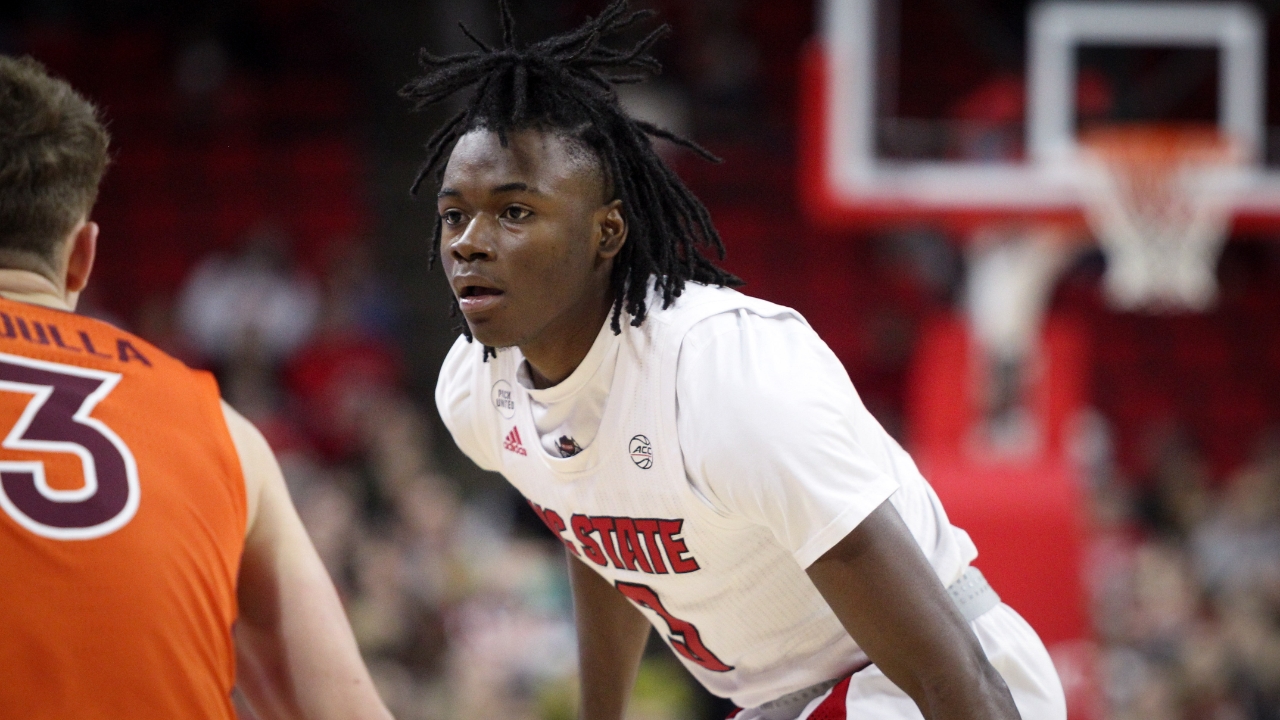 Photo by Steve Murphy/Inside Pack Sports
NC State Basketball
NOTEBOOK + PREVIEW: NC State vs. Virginia
---
NC State returns to action today at 4:00 pm in PNC Arena against Virginia. Here are some pregame notes on the Wolfpack and a preview of the Cavaliers.
---
NC STATE NOTEBOOK

Pack Tracks
The Pack could not complete a season-sweep of Virginia Tech, falling to the Hokies, 62-59, Wednesday night inside PNC Arena. Virginia Tech jumped out to a 15-0 lead and led 33-15 at one point in the first half. The Pack trailed by 14 points at halftime, but battled back to close within two with 5:33 to play. After a 5-0 Virginia Tech run extended its lead back to seven, the Pack scored six unanswered to get within one with under 30 seconds to play. The Pack's 59 points were a season-low for NC State.
- Senior forward Jericole Hellems led the Pack with 15 points on 6-of-10 shooting. The Saint Louis, Mo., native is shooting 60 percent from the field in NC State's last three games.
- Freshman guard Terquavion Smith added 14 points, connecting on four three-pointers. Smith has started the last 12 games for NC State. He is averaging 17.5 points per game since joining the starting lineup and has hit at least three three-pointers in nine of the 12 games. He is averaging 3.50 three-pointers per game in ACC play which is the most of any player in the conference.
- Redshirt sophomore guard Dereon Seabron has now scored in double figures in every game this season after scoring 13 points and leading the team in assists (4). Seabron has now led NC State in scoring nine times, in rebounding 18 times, and in assists 13 times this season. He is the only player in the ACC to lead his team in scoring, rebounding, assists, and steals.
Saturday Storylines
Get back to the foul line. NC State has attempted the 10th most free throws in NCAA DI this season with 377 (19.8 attempts per game) but has attempted just 25 in the last three games. NC State attempted 77 more free throws than its opponents in non-conference play, but in ACC play, the Pack's opponents have attempted 24 more free throws than the Pack.
- NC State has made 40 steals in the last four games (after only posting 25 in its first four ACC games) and now ranks third in steals (8.0) and fourth in turnover margin at +3.16 in conference play.
- Saturday's matchup is of two teams that value the basketball. UVA ranks second in the ACC and 17th in the NCAA in turnovers per game at 10.1 per game. NC State ranks fourth in the ACC and 21st in the NCAA with an average of 10.3 turnovers per game.
- Casey Morsell getting back to it. The UVA transfer started the season by averaging 12.3 points per game in the Pack's first eight games of the season. He injured his ankle in the Pack's four-overtime win over Nebraska and missed NC State's next two games. Since returning to the lineup, Morsell struggled on the offensive end, but he had his best game since returning on Wednesday night when he scored 11 points on 4-of-7 shooting, including 3-of-4 from long-range. Wednesday's double scoring effort was the fifth of the season for Morsell. He only had four double-digit scoring performances in 53 games with the Cavaliers. The Ft. Washington, Md., native also tied his career-high with three steals against the Hokies on Wednesday and now has eight steals in the last four games after only having seven steals in the first 13 games of the season.
Smith Not Shy
Freshman guard Terquavion Smith has shot at least nine three-pointers in seven of the Pack's last eight games. He only attempted nine or more three-pointers in one of the Pack's first 11 games this season.
In conference games, Smith leads the ACC in three-pointers made per game at 3.5 and ranks 10th in three-point field goal percentage at 38.4 percent. If you take out Smith's two off games (vs. Clemson and at Duke) where he shot a combined 1-of-16 from downtown, the Greenville, N.C. native is shooting 47.3 percent from downtown in his other six ACC games.
NC State - Virginia Series
Saturday is the 153rd meeting between the two programs. NC State leads the all-time series, 84-68.
- NC State is 7-9 all-time against the Cavaliers inside PNC Arena. UVA has won on its last seven trips to PNC Arena. The last time NC State defeated Virginia at home was a 72-67 win on Feb. 21, 2009.
- The Cavaliers have had a knack for winning the close ones lately at PNC Arena. Outside of a 31-point UVA win in the 2013-14 season, the Cavaliers average winning margin at PNC Arena during its seven-game win streak is less than four points. Virginia's seven-game win streak at PNC Arena is the longest current winning streak for an ACC team.
- Kevin Keatts is 2-4 against Virginia as head coach of NC State. NC State has won two of its last three games against the Cavaliers. He is 0-2 against UVA inside PNC Arena.
The Pack lost by seven last season to the Cavaliers at home, (It was NC State's second game playing after losing leading-scorer Devon Daniels to injury) and in the 2018-19 season, the two teams went to overtime, but the eventual National Champions held on to beat the Pack, 66-65, inside PNC Arena.
VIRGINIA PREVIEW
PROJECTED STARTING LINEUP

| | | | | | |
| --- | --- | --- | --- | --- | --- |
| # | Position | Name | Height | Weight | Stats |
| 00 | G | Kihei Clark | 5'10 | 172 | 9.1 ppg, 4.0 apg |
| 02 | G | Reece Beekman | 6'3 | 181 | 8.1 ppg, 4.8 apg |
| 04 | G | Armaan Franklin | 6'4 | 204 | 12.2 ppg, 2.8 rpg |
| 01 | F | Jayden Gardner | 6'6 | 246 | 14.0 ppg, 7.0 rpg |
| 22 | C | Francisco Caffaro | 7'1 | 242 | 4.1 ppg, 3.6 rpg |

KEY RESERVES

| | | | | | |
| --- | --- | --- | --- | --- | --- |
| # | Position | Name | Height | Weight | Stats |
| 21 | F | Kadin Shedrick | 6'11 | 231 | 6.2 ppg, 5.1 rpg |

PLAYERS TO WATCH
Forward Jayden Gardner: A 6'6" four-man, Gardner has made an instant impact after transferring from ECU, as he leads Virginia in scoring and rebounding.
Gardner also ranks sixth in the ACC in field goal percentage (52.7%), 12th in rebounding (7 rpg), and 13th in free throw percentage (76.1%).
Guard Armaan Franklin: A transfer from Indiana, Franklin provides strong perimeter shooting for Virginia.
Franklin has stepped up his play in the league, as he is leading UVA in scoring at 13 ppg in conference play. He has scored 10+ points in seven ACC games.
X-FACTOR
Guard Reece Beekman: Arguably the best perimeter defender in the ACC, Beekman is going to likely draw the Dereon Seabron assignment for the Hoos. He ranks first in assist/turnover ratio (3.58) and steals (2.2 spg), second in assists (4.8 apg), and eighth in minutes (34.7 mpg).
Never miss the latest news from Inside Pack Sports!
Join our free email list