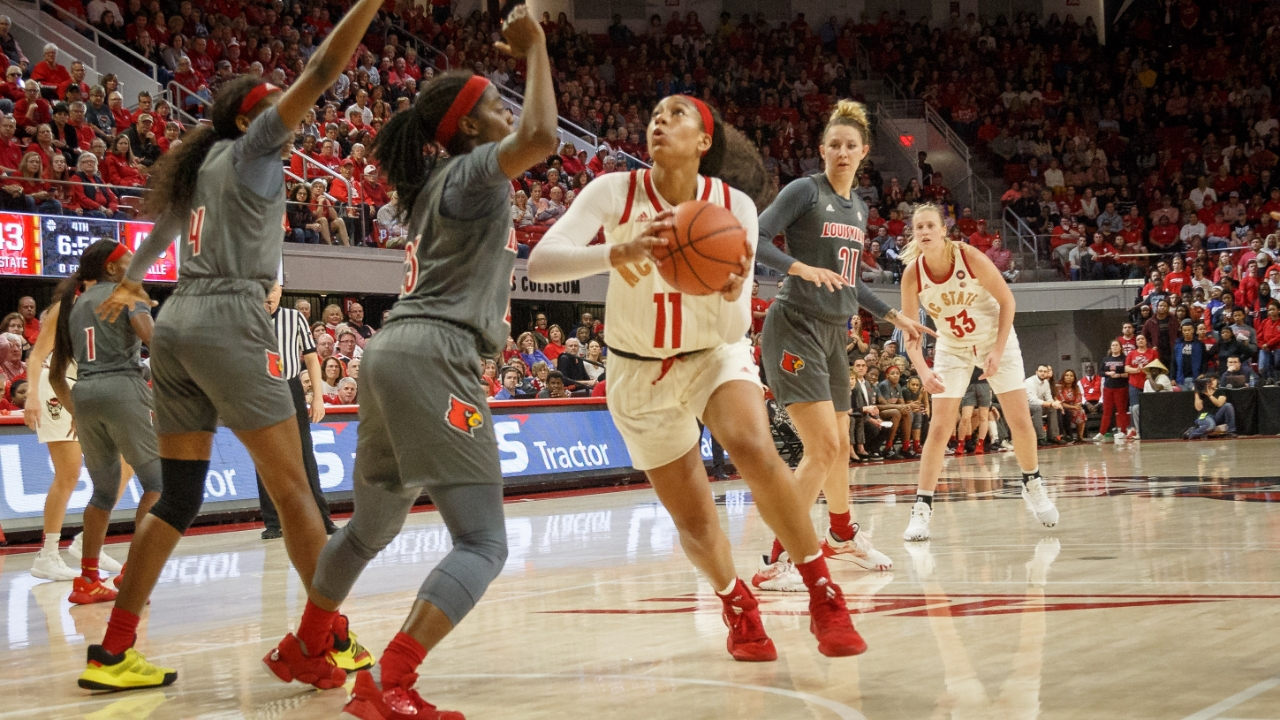 Photo by Photo credit: Steve Murphy
NC State Women's Basketball
LOCKER ROOM REPORT: Fourth-Quarter Comeback Catapults No. 4 NC State Past No. 3 Louisville
---
NC State head coach Wes Moore and guards Diamond Johnson and Jakia Brown-Turner met with the media following the No. 4 Wolfpack's 68-60 win over No. 3 Louisville Thursday evening.
Johnson led the way for the Pack with 16 points against the Cardinals, 14 of which came in the decisive fourth quarter where NC State outscored Louisville, 31-9. Johnson also added six rebounds and three assists off the bench. Brown-Turner added 14 points on 5-for-8 shooting with two rebounds, two assists, and one steal.
NOTE: Click on the video in the player above to watch the press conference. The transcript is provided below.
---
Opening Statement
WM: I'm really proud of the effort and the way we fought back. Obviously, it was very disappointing and frustrating in the first three quarters. You've got to give Louisville credit. They came in here. They were the aggressor. They just manhandled us on the boards and every which way possible. They were confident. They were knocking down shots. Finally in the fourth quarter, I decided, "Hey, let's go back with the veterans and give them one more shot. They've earned that from what they've done for this program over the last four or five years." We started hitting shots, and theirs started rolling out a little bit. We started getting some stops. We got a couple of turnovers off of the press that really got the crowd into it. Diamond, obviously, hit some unbelievable shots with the coaches over there going, "No, no, no — nice job." Again, it's a great win for our program. I just have so much respect for Louisville and Coach [Jeff] Walz. We're good friends. They came in here with the 1-3-1 zone, and they showed us some stuff they hadn't shown a whole lot this year. We had some trouble with it. Obviously, we didn't score a whole lot until the fourth period. Again, I couldn't be prouder of our kids, and we'll enjoy this for a few hours then prep back up.
What made you stick with Johnson who had been struggling from the floor prior to the fourth quarter?
WM: We rotated a lot of people in and out, and a lot of it was based on who was boxing out, who was competing, who was rebounding… We just did some things in the first three quarters that were uncharacteristic of this team [like] trying to feed the post at a bad angle when the defense was on that side of her. It was just little stuff. We got beat around the corner a lot off the pick on the ball. In the first half, we got totally dominated on the boards. You try some other kids and give them a chance. We've got a lot of talent on this team, a lot of depth. At some point, you go back to the veterans, and Diamond was playing well. If we have momentum, they're liable to hold up their fist and say they need a breather, and I'm going to look the other way and pretend I didn't see them. If things are going well, we're going to let it ride, and that's what happened in the fourth period. Like I said, it was amazing, what they were able to do.
What kind of an x-factor did you expect Johnson to be when you brought her into the program?
WM: We recruited Diamond hard out of high school. We not only knew how great a player she was; we also knew what kind of person she was. It was heartbreaking when we didn't get her the first time. I was out at a Wolfpack football game when she called me, so I couldn't call her too many names at that point. She gives us juice when she comes in. She gives us a lift. She can change the momentum. Tonight, in a lot of ways, she was able to take over the game. These veterans made a big impact in the fourth period and turned the game around. It was definitely a team effort.
On your wristband, it says, "Nobody can stop you but you." How fitting is that for a game like tonight?
DJ: I wear this every game now. I started wearing it two weeks ago. It gives me a reminder of who I am, not to lose my confidence, and to keep shooting. My shot wasn't falling in the first three quarters, so keeping confidence is why it's there for me.
Was there any point tonight where you looked at your wrist and had that reminder? It seemed like something changed for you in the fourth quarter…
WM: I looked at it a couple of times.
DJ: When I'm on the bench, I'm looking at my wrist because I'm anxious to get in the game. When it's my time, I just go in. I just know it's my time.
Was there a moment in the huddle before the fourth quarter or as things were starting where you knew the switch was going to get flipped and momentum was on your side?
DJ: We knew, as a team, that our shots weren't falling, so we had to win off our defense. Once the defense picked up, it gave us energy for our shots to fall. We never lost confidence. We never stopped shooting, and we just followed the game plan.
At what point during the comeback did you get the feeling that the game's momentum was fully on your side?
JBT: I don't remember the play, but it was when we got the steal. We just kept getting steals. We turned up the defensive intensity, and that helped us make buckets.
WM: I think the two turnovers off the press, too, got the crowd into it. I think everybody started realizing, "Hey, we can do this." I think those were big. These two both knocked down big threes for us. Those three-pointers, that's our dunk. In women's basketball, that's our dunk. If you start hitting those threes, the crowd amps up, and everybody turns it up a notch. It's a combination.
There was a play where Kayla Jones passed to you for a three-pointer in the corner. Kai Crutchfield gave you a chest bump, and that was arguably the loudest Reynolds Coliseum had been. What was that moment like for you?
JBT: It was a great moment, especially after coming back from that big deficit. It helped us a lot. I think that three kept us going.
Did you get frustrated in the first three quarters, or did you know your shot was going to come to you?
DJ: I do get frustrated, but I can't be frustrated for long. I still need to be there for my team whether that's playing defense or boxing out. I knew my shot wasn't going to gone for that long, so I just kept shooting it. We got defensive shots, so that helped my shot fall.
There was a point in the third quarter where the lineup on the court included Madison Hayes and Aziaha James. They provided energy and kind of gave a spark. To see them come into the game with that kind of energy, how big was that moving forward with the veterans closing out the game?
JBT: Having them in the game was really big for us. Sometimes, we can't see it when we're on the court. Seeing them have energy and being able to get offensive rebounds, we were able to piggyback off that and accomplish what we were doing.
How much did seeing Johnson's shots fall help bring everyone else up?
JBT: I love playing with Diamond, and what I know is that when she's on, she's on. After seeing her make those shots, it just brought extra energy.
Were you in the zone in that fourth quarter? It seemed like you were flying by people.
DJ: I definitely was in the zone. Once I start clapping and get to talking, I'm definitely in the zone. I don't usually clap like that, but when I'm feeling it, I'm feeling it. The energy from my teammates and the crowd was just unbelievable.
WM: It's fun.
DJ: It's just fun playing with this crowd. They're very supportive. They cheer you on whether we're down or whether we're up. That definitely helped us get this win tonight.
Can this experience help build you moving forward?
WM: We may dig a hole again. You can draw from this. At halftime, I reminded them. About four years ago, we came in here, and right before the game, I'm downstairs, and [head baseball coach Elliott] Avent comes by. He sees me down there before I come up on the court, "Why are you so nervous?" I said, "Are you kidding me? We could go out there and just blow up or something." Sure enough, we fell down. It was either 23-1 or 25-1, I can't remember which, against Louisville. We could not hit a shot. Well, we came back. With three minutes left in the game, we were down three and had the ball. We didn't win it, but I reminded them at halftime, "You can either keep doing what you're doing and be totally embarrassed, or you can do something really special." They chose to do something special. Thank goodness.
What adjustments did you have to make to counter what Louisville was doing?
WM: What we tried to do against them wasn't really complicated. You've still got to swing the ball. In a 1-3-1, the person on the bottom has responsibilities from corner to corner. That's tough, but every time we reversed it, it would get stuck here, and we'd throw it back, and we took it easy on them. We talked about that at halftime. We talked about attacking the gaps. We've got some sets we can run, but at the end of the day, in a 1-3-1, you try to reverse it and look diagonal because the person that's guarding the ball here, when you swing it, has to get all the way back. We tried to be more fundamental. We struggled all night. Feeding the post, the defense would be on the high side, and the person up top kept trying to feed it instead of hitting the wing. It's frustrating. You practice every day. Some of these kids have been here four or five kids, and we were doing stuff tonight that, again, wasn't us. Give Louisville a lot of credit. They came out and played hard. At halftime, they had 13 more shots than us. We had turned it over 10 times at halftime, and they'd out-rebounded us by [two overall, five in offensive boards]. That's why they had 13 more shots. You just can't do that against a great team. Luckily, we reversed those numbers a little bit in the second half.
You said yesterday that games like this can feel like a root canal. Was this a trip to the dentist for you tonight?
WM: With those first three quarters, I'd probably rather get a root canal. The fourth quarter, when the momentum changed and the crowd got into it, got exciting, but for a coach, especially at my age, I don't know how healthy that is. I hope we don't make a habit of it, but this is why you coach. This is why you play. The highs and the lows, you can't duplicate it anywhere else. It ended up being a fun night. Either way, you knew this wasn't the last chapter. You knew this was going to be a big chapter in the book. We've still got a really good team coming in here Sunday [Virginia Tech] that should be in the Top 25. They're right out of it, I think. They're a lot like us. They've got a great post player inside in [Elizabeth] Kitley. They've got kids around her like [Aisha] Sheppard and [Shamarla] King that can shoot the heck out of it. If they're on hitting threes, and if they've got that inside-out combo going, we're going to have our hands full. They always give us a great game. We've got to find a way to get the hangover over with and be ready to go again. Some of the players were saying, "We're out of school tomorrow. Can we practice in the morning?" No. We need some time to polish up the scout and have a plan. You can tell we had a great plan tonight, right? It was looking beautiful there, wasn't it? You've got to try.
There are comebacks, and there are comebacks against the No. 3 team in the nation. What would you describe your group's effort to get over the hump?
WM: I hate calling timeouts in the first half. I called the timeout. I hate doing it. I like saving those things, but I told them, "They're kicking our butts. You're going to have to compete. You're going to have to get tougher. They're coming in here and just taking it to us." Nothing really changed a whole lot until the fourth quarter. It's tough. This is the mentality: "My shot's not dropping, so now I'm down, and I'm not going to play defense or rebound as hard." It should be other way around: "If I'm not hitting shots, I better find another way to help this team." Luckily, we started hitting shots in the fourth period. Now, they've got energy. Now, they've got the crowd. We created a couple of turnovers and got some momentum. We've got to find a way to do that a little more consistently. It's an unbelievable comeback win against a great team and a great coach. I respect the heck out of them, and we're fortunate it worked out.
Was that the case for Johnson where she managed to stay engaged despite not hitting shots?
WM: Like I said, I don't know how she gathered herself. There was one time there with about a minute and a half, I told her, "Pull it out." Next thing I know, she's putting her head down, going in there, shooting a fall-away jumper. She's still got to work on this "clock management" idea with Diamond. In Philly, they don't have a clock. They just play. I've got to keep working with her and help her understand, "We want to milk this thing. I'm going to let you go. I'm going to set a pick for you and let you go, but I want to do it with about eight seconds instead of 20 seconds."
Did you need some of that "butthole-ery"?
WM: I said that in the timeout, too. I said, "Hey, I've tried to be nice this week, and see where we're at? We're better when I'm a butthole." Maybe they'll learn from it. Maybe we'll all learn from it. I need to quit being so nice.
Never miss the latest news from Inside Pack Sports!
Join our free email list