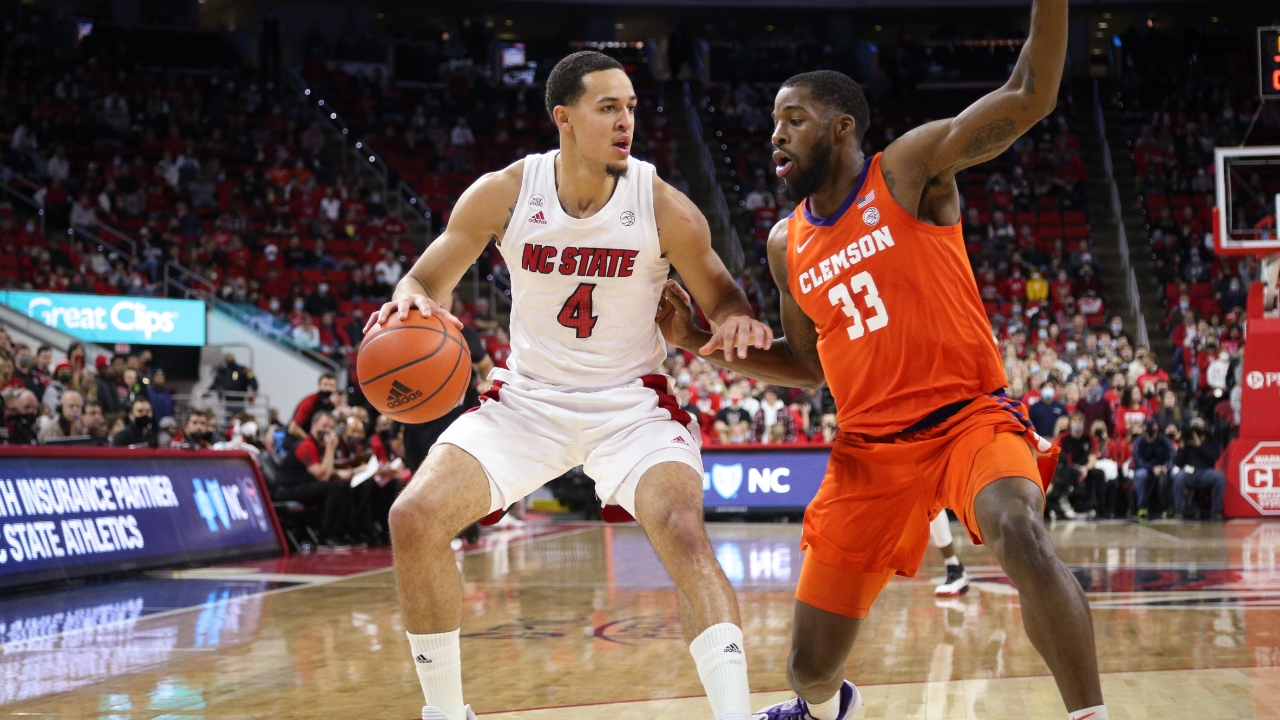 Photo by Steve Murphy/Inside Pack Sports
NC State Basketball
Jericole Hellems: "A Win Is Always Lovely"
---
NC State forward Jericole Hellems met with the media via Zoom following the Wolfpack's 79-63 road win over Louisville Wednesday night.
Hellems was one of three State players to reach double-digit scoring against the Cardinals, finishing with 19 points on 7-for-10 shooting from the field, 5-for-7 from three-point range. He also racked up six rebounds, three blocks, and one steal.
NOTE: Click on the video in the player above to watch Hellems' interview.
---
Can you talk about Terquavion Smith has been for the team, especially tonight?
He's one of those players that just loves basketball, so he's going to give 100 percent whether his shot is going in or not. Obviously, he's young, so he's learning as he's going on. He did a great job tonight to help us get a win.
After struggling against Clemson, did you come into this game feeling like your shots were going to go down this time because you're a shooter?
Yeah. I think it was one of those games where it wasn't falling, but Coach [Kevin Keatts] always tells us to stay in the gym and trust in the work you put in. At the end of the day, I'm a believer, and I'm always putting in the work whether my shot's going in or not.
What was your reaction when you guys started practicing a lot of zone defense leading into this game?
It was definitely new because obviously we're a pressure team. Sometimes, you've got to switch things up to keep other teams off their feet. I think we did a good job.
Louisville doesn't have too much success shooting from outside. Was that why your team went to the zone in this game, or was it something else?
I think that's part of the reason. Another reason is that we don't [normally] run zone, so like I said, it keeps people off their feet. They don't have as many shooters as other teams have.
Being a senior on this team, how personally have you been taking what's been happening over the last few games?
I put a lot on my shoulders mentally and try to figure out things that I can do to help the team whether it's scoring, rebounding, or defending. I just feel like trying to be able to move on and be there for my teammates as much as possible. We've got a great group of guys that know what we can do, and we're just going to continue to keep fighting.
How big of a payoff was that tonight?
It was lovely. A win is always lovely.
Never miss the latest news from Inside Pack Sports!
Join our free email list