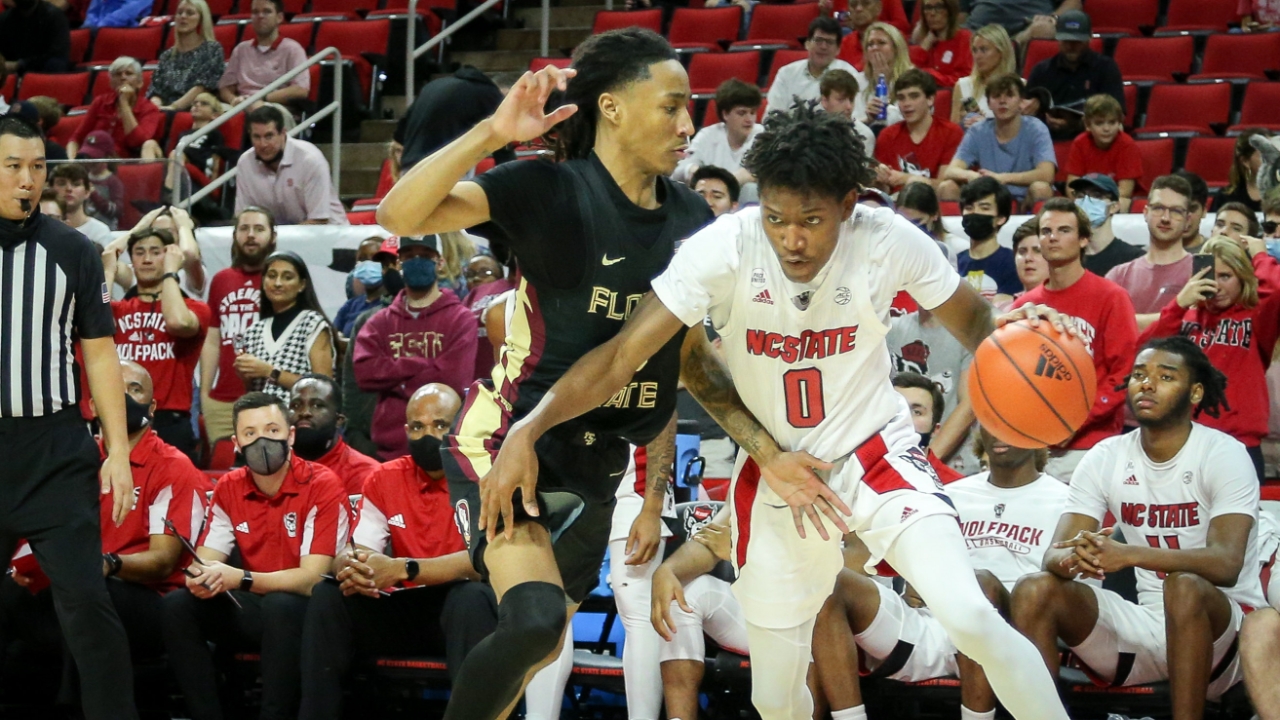 Photo by Steve Murphy/Inside Pack Sports
NC State Basketball
Terquavion Smith: "The Confidence Is Always There"
---
NC State guard Terquavion Smith met with the media via Zoom following the Wolfpack's 79-63 road win over Louisville Wednesday night.
Smith posted his career-best scoring output against an ACC opponent with 24 points on 9-for-13 shooting against the Cardinals. He also recorded five rebounds, three steals, and one assist.
NOTE: Click on the video in the player above to watch Smith's interview.
---
Coming off of the 0-for-7 performance against Clemson, was there any doubt in your mind after that game you needed to get things back together?
Not really. I knew what I needed to do and what I needed to work on. After that game, I was going harder in practice, going harder in shootaround, and getting shots in the game.
How huge was tonight for getting your confidence back?
It was huge. You know, the confidence is always there, but when you see it falling, it makes it go through the roof.
As a freshman, how are you able to tune out the opponent's crowd noise and stick to your game in these road games? How much fun is it getting to experience ACC basketball and some of these atmospheres?
The atmosphere, I can say, is great. I love playing basketball, so it's always fun competing at the highest level possible.
How much did having film from the previous game against the Cardinals help prepare you for this game?
It helped out a lot. I felt like I knew their roster like the back of my hand, honestly. I knew all their strengths, and I knew what they were trying to get to. It helped me a lot on the defensive end.
What was working on zone defense in practice in the leadup to this game like?
It was a different feeling. We really don't play zone. We're more of a man-to-man team full court, so we had to pick up quick and pick up what we needed to do.
What have you seen from Ernest Ross in practice that shows he's a guy that can come off the bench and be productive like he was tonight?
Honestly, Ernest is my roommate, so Ernest and I always get in the gym together. I'm pushing Ernest extra hard so he doesn't lose his confidence just because his minutes are up and down. Talking to Ernest, keeping him involved, and letting him step up when his time is called is very big for him. I'm proud of him.
Never miss the latest news from Inside Pack Sports!
Join our free email list