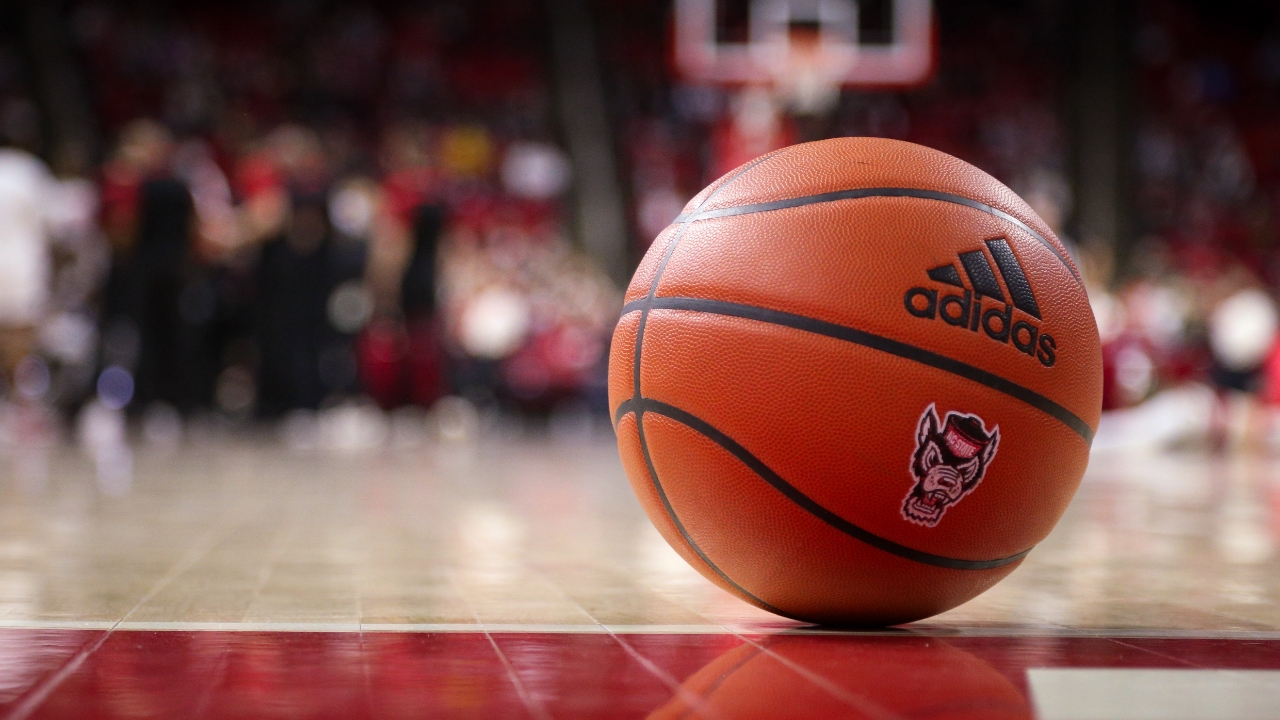 Photo by Steve Murphy/Inside Pack Sports
NC State Basketball
NOTEBOOK + PREVIEW: NC State vs. Louisville
---
NC State returns to action tonight on the road at Louisville. Here are some pregame notes on the Wolfpack and a preview of the Cardinals.
---
NC STATE NOTEBOOK

Pack Tracks
- NC State fell to Clemson, 70-65, Saturday afternoon. The Tigers outscored NC State, 44-20, in points in the paint and shot 57.7 percent in the second half to win. The Pack finished the game shooting 31.7 percent from the field which is the second-lowest shooting percentage this season for NC State.
- Redshirt sophomore guard Dereon Seabron led the Pack with 27 points. It's the third consecutive 20+-point performance for Seabron and eighth 20+-point performance of the season for the Norfolk, Va., native.
He added a team-high tying seven rebounds, team-high tying three assists, and two steals. In 16 games this season, Seabron has led NC State in scoring nine times, in rebounding 15 times, and in assists 11 times. He is the only player in the ACC to lead his team in scoring, rebounding, assists, and steals.
Second Half Seabron
Seabron has averaged 26.7 points per game over the last three contests for the Pack. He has scored 52 of the 80 points in the second half of those ballgames, an average of 17.3 points per game in the final 20 minutes. Overall, Seabron has scored 44.8% (52 of 116) of NC State's second half points in the last three games.
The Freshman
Freshman guard Terquavion Smith had an uncharacteristic off-shooting night in the loss to Clemson. Smith went 0-for-7 from the field and finished with just two points.
Smith entered the Clemson game averaging 18.9 points per game since joining the starting lineup on Dec. 4. He is still averaging 17 ppg., since Dec. 4.
Wednesday Storylines
- NC State has won six of its last seven ACC road games. The Pack ended last season by winning its final five conference road games. The five-game conference road winning streak was the most since the 1973-74 season. NC State dropped its ACC road opener this season to Miami, 91-83, but won at Virginia Tech last Tuesday, 68-63.
Thomas Allen Stepping Up
Senior guard Thomas Allen as been a different player since coming back from Christmas break. In 10 games before Christmas, Allen averaged 1.8 points per game. In four games since coming back from Christmas break, Allen is averaging 9.3 points per game.
Good And Bad From First Matchup
The Good: The Pack had a season-low six turnovers in the Dec. 4 game against Louisville. NC State outscored Louisville, 30-26, in points in the paint. The 26 paint points tie for the second-fewest NC State has allowed this season.
In the Pack's other four ACC games, opponents are averaging 39.5 points in the paint and have outscored NC State by a combined 42 points in points in the paint.
The Bad: NC State's bench was outscored 28-0 by Louisville's. The Pack leads the ACC in offensive rebounding at 12.8 per game, but Louisville limited NC State to a season-low seven offensive rebounds in the teams' first meeting.
NC State - Louisville Series
- Wednesday is the 25th meeting between the two programs. Louisville leads the all-time series, 14-10, including a 6-2 advantage since the Cards joined the ACC. Louisville has won the last three games in the series, including a 73-68 win earlier this season at PNC Arena.
- Kevin Keatts is 1-3 against Louisville as head coach of NC State. Keatts was an assistant coach at Louisville from 2011-14.
LOUISVILLE PREVIEW
PROJECTED STARTING LINEUP

| | | | | | |
| --- | --- | --- | --- | --- | --- |
| # | Position | Name | Height | Weight | Stats |
| 00 | G | Noah Locke | 6'3 | 210 | 10.8 ppg, 2.5 rpg |
| 13 | G | Jarrod West | 5'11 | 185 | 6.3 ppg, 2.7 rpg |
| 10 | F | Samuell Williamson | 6'7 | 205 | 6.5 ppg, 5.0 rpg |
| 33 | F | Matt Cross | 6'7 | 230 | 8.2 ppg, 3.7 rpg |
| 05 | C | Malik Williams | 6'11 | 245 | 10.6 ppg, 8.9 rpg |
KEY RESERVES

| | | | | | |
| --- | --- | --- | --- | --- | --- |
| # | Position | Name | Height | Weight | Stats |
| 03 | G | El Ellis | 6'3 | 180 | 7.8 ppg, 1.5 rpg |
| 14 | F | Dre Davis | 6'6 | 210 | 7.2 ppg, 3.5 rpg |

PLAYERS TO WATCH
Center Malik Williams: The 6-foot-11 center is going to be a player State has to focus on, as post players have produced against the Pack. He totaled 14 points and 12 rebounds in the first contest, hitting 6-of-8 shots from the field.
Williams has grabbed at least eight rebounds in 10 of his 13 games and is third in the ACC in rebounding (8.9 rpg) and 21st in the nation in defensive rebounding (6.9 per game).
Guard Noah Locke: The Florida transfer hasn't lit it up as expected after transferring in, but he has been a constant in the rotation and was a major contributor in the win in Raleigh.
Locke is fifth in the ACC in three-pointers made per game (2.5) and has made at least three threes in eight games.
X-FACTOR
Guard El Ellis: The top incoming JC recruit in the country, Ellis is coming off the bench for the Cardinals but has been productive recently.
He has scored in double-digits in back-to-back games, totaling 14 points over the weekend versus Florida State.
Ellis will enter looking to put points on the board and can get to the rim; State needs to focus on Ellis.
Never miss the latest news from Inside Pack Sports!
Join our free email list