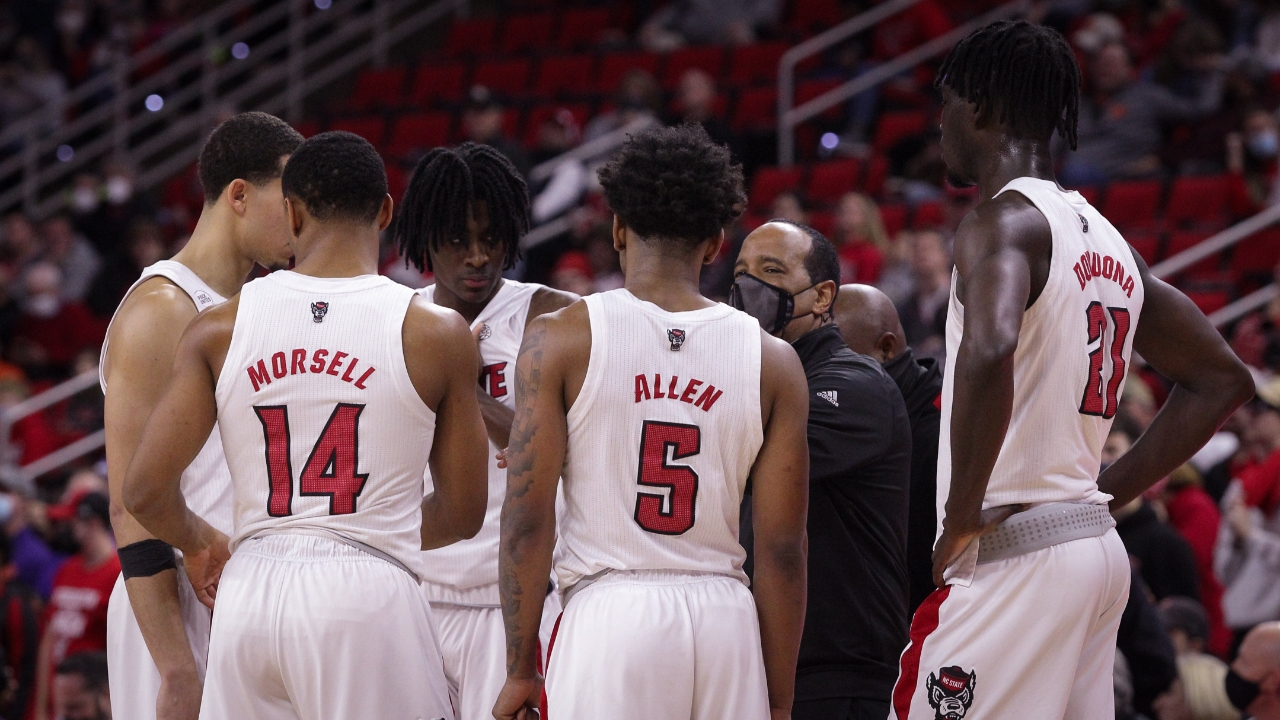 Photo by Steve Murphy/Inside Pack Sports
NC State Basketball
PC: Kevin Keatts Updates Greg Gantt, Talks Louisville Rematch
---
NC State head coach Kevin Keatts met with the media to discuss the upcoming matchup against Louisville, Greg Gantt, Dereon Seabron, and much more.
NOTE: Click the video above to watch a portion of the interview.
---
What were your expectations of Dereon Seabron before the season, and how much has he exceeded those?
That's a million dollar question. I knew that he was going to average 20 points and 10 rebounds this year. I just saw it coming.
No, to be honest with you, the expectation was to grow as a sophomore. I thought he could be a guy that could jump from five points a game to possibly 12 and give us somewhere around six, seven rebounds a game.
I've said it before, he showed two games where I thought he was really tremendous, and that was at Wake last year and at Notre Dame. He's done a ton of a terrific job for us this year, and he's put a lot of work in.
Of anybody that I've ever coached, he's a guy that plays to his strengths. He knows who he is, doesn't do anything out of the box; he's an elite guy in transition and a tremendous offensive rebounder.
He's playing really, really great basketball for us. So, I thought 12 and possibly six, and I'm excited that he's giving us what he's giving us.
When did you make the decision to make him the primary ballhandler, and what went in to that decision?
We were searching because obviously we had dropped so many games in a row, and as a coach, you look for different things and a different spark. We put the ball in his hand, and he was making plays. Earlier in the year, he wasn't making plays for others, he was scoring for himself.
We talked about it. He and I sat down and watched film, we communicated with him, and coaches worked with him. He became a willing passer.
That being said, we don't like to put him at the point guard position the entire game. We move him around. He's been playing point for us all year long, he just has not started the game in that way. The last few games we've started him in that position.
Did you watch Duke-Miami, and is there something you can apply to your own gameplan against Duke on Saturday?
Now you know there's not one coach I know that's going to skip a game and talk about another game on Saturday.
I didn't watch it. Obviously my focus has been on our last game that we played against Clemson, and then obviously looking at Louisville. I don't have an answer for you. I haven't had a chance to watch it. I saw where Miami beat them, but I couldn't tell you anything about the game.
What can you take away from the first matchup against Louisville?
I always think they will be different.
It was a good game. It was a game of runs in that game, which we seem to be a part of a lot this year. I thought we got in foul trouble early. Cam Hayes and Jericole Hellems had to go to the bench, and I had to play both of those guys with two fouls in the first half. We went into the break I want to say down 14, but as our team has done so much this year, being as young as we are, we fight. We fought back. We had our opportunities. They hit two big shots at the end. Noah [Locke] hit one, and then they hit another one at the end. It was kind of heartbreaking for us.
But it was a good game. I think both teams showed a lot of fight. Will it be the same game? I don't know that, but I will say our guys have completely fought, and I can say that about every game that we've been in.
Did you consider playing small down the stretch against Clemson, and is that something you may look at to get a little more production at the five spot?
It's tough because you've got Seabron who has really lately been your point guard. The only other position he can play because of his size becomes the four spot. It makes it a little tough.
If Ernest Ross was a year later, you've got him and Jericole for another 6-7 or 6-9 guy. If you had a guy like Greg [Gantt] available, it would make things a little bit easier. We don't have... if you move Jericole to the five, we don't really have another power forward in the program without kind of shifting everybody, so that makes it a little bit tougher.
It doesn't feel like there is a common thread on what to fix. Is that frustrating as a coach?
We're not taking moral victories, but we're taking mini wins. What I mean by that is small wins in small categories. I think it's changed from game to game.
Initially, I think it was more of an offensive thing. Now we're pretty much getting a good rhythm offensively. We're doing some stuff. And then we had a stretch where I thought defensively we weren't very good. Then we go up to Virginia Tech and play well on the defensive end.
When you have so many young and inexperienced guys, I think it changes from game to game, and we want to get consistent on both ends of the floor.
A common thread that gets me excited about our team and what we look like is that we are fighting and competing every game. You can't say that about a lot of teams that are struggling right now.
At the end of the day, we do have a lot of fight. We're in every game that we're in. We finished the Virginia Tech game, and we got completely hurt inside in the Clemson game. Each game presents a different problem that is a little frustrating, but I do think we're improving in a lot of areas where we're trying to get better. One of them is defensively, one of them is offensively.
It's hard, and I never have been in this position before. When you have young bigs, man it's so tough because so much pressure is on your guards just to perform from the outside. That's what we're going through right now. Every night, our guards have to be really, really good players to put us in a position to win. That's both offensively and defensively.
What's the latest on Greg Gantt. He warmed up before the game on Saturday. How close is he?
He's close. We're still talking back and forth with doctors, our trainers, and also Greg. All three of them have to be on the same page. When I say close, I don't think it will be any sooner than two or three weeks, but there's a possibility that it just won't happen the entire year. We want to make sure that all three are comfortable.
He's incredibly out of shape, but he has went through a few workouts. We threw him into some workouts. We want him to warm up those days that we play games so he's not just sitting around, not doing anything.
Virginia Tech is very experienced up front, but you go in there and win... what were you able to do there that night?
Our post defense started with our guards. The reason why we were successful was because our guards did a great job of helping our young bigs, protecting them a little bit. We threw a couple traps in there, which we hadn't done all year long, but they also pressured the basketball and made some of the entry passes a little bit tough.
One thing we're talking about is that because our bigs are young and inexperienced on both ends of the floor, our guards have to now protect us. We have to be great on help side. We have to work a little bit harder on keeping the ball from going to the inside. I think that was one of the keys that helped us win that game against Virginia Tech on the road.
Never miss the latest news from Inside Pack Sports!
Join our free email list