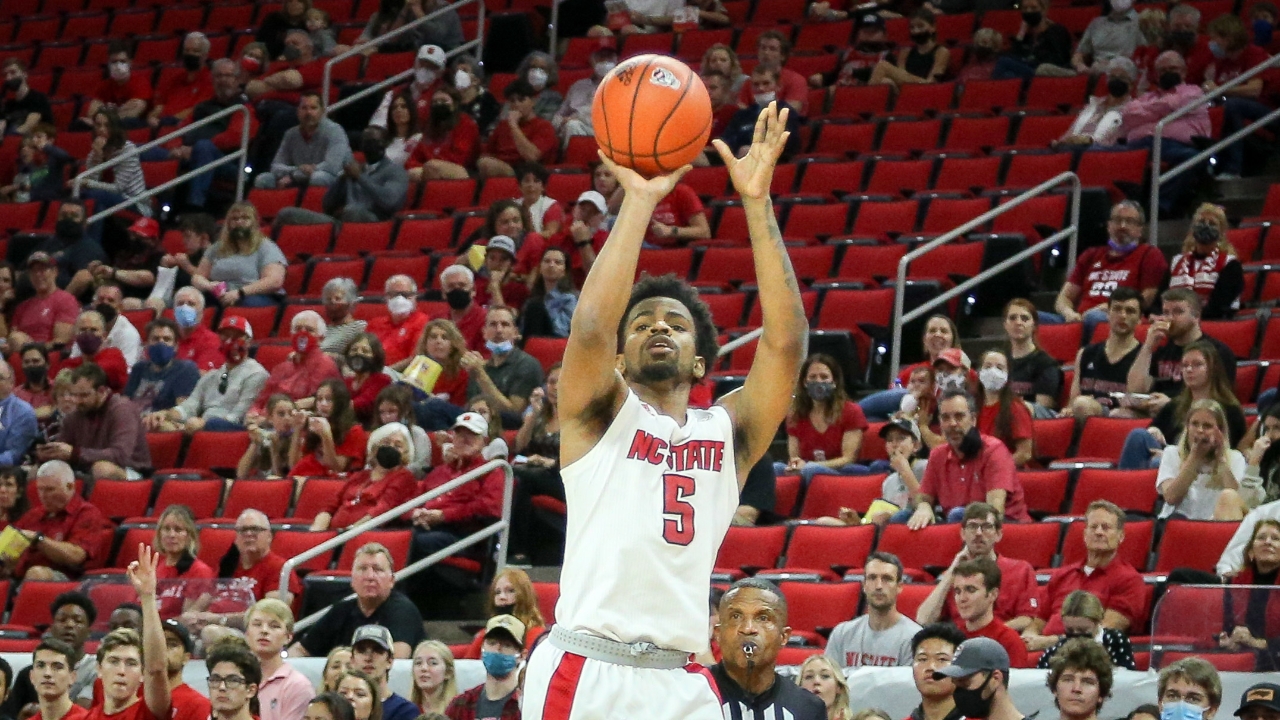 Thomas Allen
Casey Morsell
NC State Basketball
LOCKER ROOM REPORT: Wolfpack Players
---
NC State guards Thomas Allen and Casey Morsell met with the media via Zoom following the Wolfpack's 70-65 loss to Clemson Saturday afternoon.
Allen finished second on the Wolfpack in scoring with 10 points on 4-for-9 shooting while also adding three rebounds, one assist, and one steal. Morsell contributed nine points against the Tigers with four rebounds, two assists, and two steals off the bench.
NOTE: Click on each player's respective thumbnail to watch each interview.
---
Thomas Allen

Was there something Clemson was doing to clog up the lane, making the three-point shot more accessible to you?
We watched film the last few days, and that's kind of how they play. They don't pressure the ball like we do. They moreso stay in the paint. That's why we had a lot of threes: because they stay in the lane a lot.
How does it feel knowing that you're starting to get back into a rhythm?
That's all cool, but I want to win the game. I'm not going to lie. It's cool on that end, but we've got to win the game.
What was more frustrating: not being able to get a rhythm going offensively or not being able to stop Clemson defensively?
Moreso on the defensive end. The offense is going to come, but we have to get stops on the other end.
The three-point shooting seemed to drop off in the second half. What changed between the two halves?
I wouldn't say something changed. Sometimes, you hit shots. Sometimes, you don't hit shots.
Casey Morsell

What was more frustrating: not being able to get a rhythm going offensively or not being able to stop Clemson defensively?
Both. I think one of the issues is that we're having our offense affect our defense. When we're not hitting shots, it snowballs to the defensive end, and it's tough to get going and get back on track. I don't know. It's tough to lose in general, but to answer the question, it's both.
Do you think there was anything you guys could have done to be more aggressive in the paint despite the Tigers packing the interior?
They were packing the paint a little bit, but there were a lot of things we could have done to get more paint touches and more paint shots. That was my mindset out there: get in the paint and get paint touches. But forget the offensive end; we've got to focus on defense. We've got to focus on what we need to do on the defensive end to win games. The offense will come. We're scoring at a high level on the offensive end, and we're in every game through our offense, but we're not going to close out games until we lock in on defense.
Never miss the latest news from Inside Pack Sports!
Join our free email list