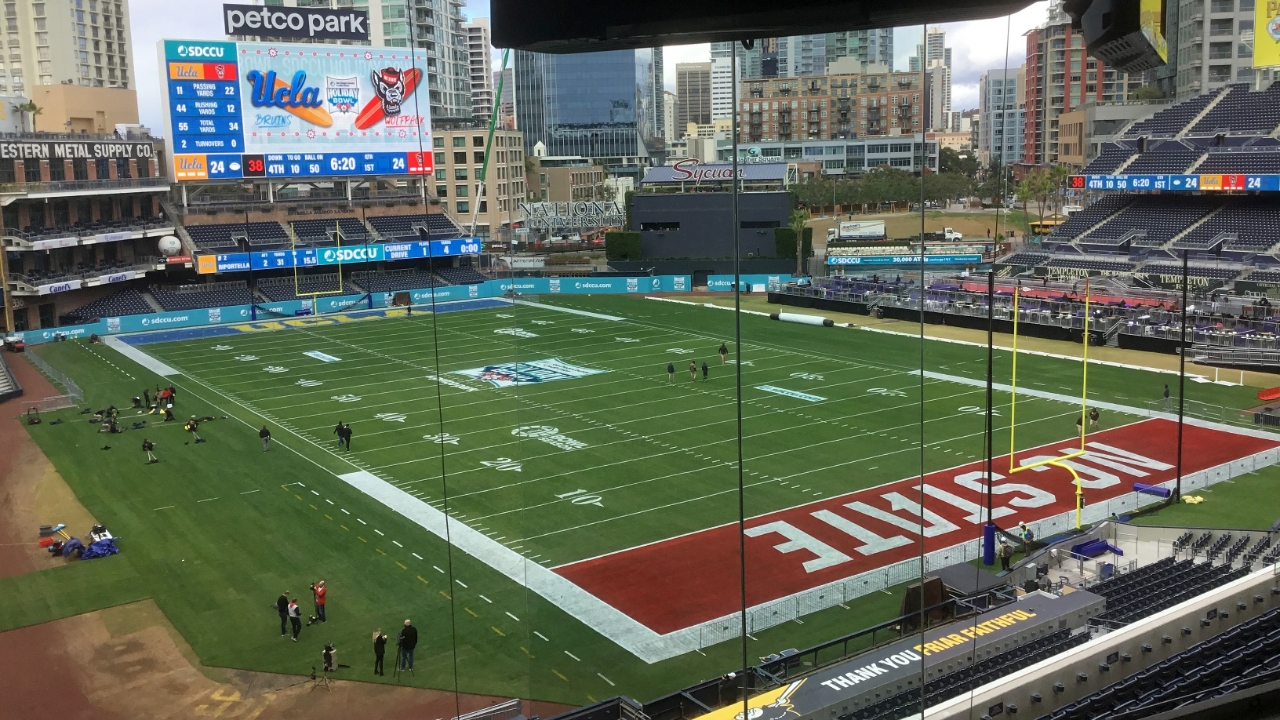 NC State Football
MCLAMB: A Lost Opportunity For NC State
---
It was an opportunity for NC State. That much is clear.
The chance to play in a major city, national stage, and against a brand-name opponent existed. A potential program-defining 10th win in a season was there for the taking. A ranking inside the top-15, and closer to the top-10, was out there for the Wolfpack to seize.
In some ways, it seemed like the Holiday Bowl was low-hanging fruit that NC State could feast on en route to new frontiers. If Wolfpack fans were quiet enough, they could almost hear Gus Johnson blurting out Emeka Emezie or Zonovan Knight's name in a way that would elicit retweets and video plays on social media -- the kind of free advertising for NC State's football program that could help the Pack in its quest to break through and become nationally elite.
The Holiday Bowl is canceled, or at least UCLA won't play in it. The bowl officials are said to be working with NC State to find a replacement.
Working under the worst-case scenario, no replacement will be found, the Wolfpack will go home, and it will be time to reboot for 2022.
NC State is a very good football program closing in on being an elite one. Not playing UCLA, with all the opportunities it brought to the table, will not help the Wolfpack in its quest to close that gap.
When the preparations for 2022 start in earnest, the Pack will also not be beginning from a spot it ended in 2020. Just as in all the campaigns before under head coach Dave Doeren where NCSU won nine games and/or finished second in the Atlantic Division, the Wolfpack will have to build up again and then hope it reaches a point where they are playing simply for the right to reach an ACC Title Game. This past season has given NC State a road map, but it still has to traverse the course.
An inclination heading into 2022 is that reaching 10 wins is still a program goal, and it is, but there is now clearly a higher tier for NC State to aspire. The mindset now must be on becoming a champion, and the other tangible achievements, like winning double-digit games, will come in the process.
At this point, it seems the Wolfpack should look at itself as a program that is worthy of top-10 or top-15 status and as a program that can win 10 games in a season but must be given the chance to do so. Doeren's program gave itself the opportunity, but he cannot control what happens to others.
The football program at NC State has consistently shown it will make the sacrifices necessary to field a team on schedule in a pandemic. That is not easy to conjure up among 80 or 90 young men in their early 20s, but Doeren has pulled it off for two years running.
The Pack has given itself two legitimate chances for 10 wins in a season under Doeren, once with opt-outs against a terrific SEC school (Texas A&M) in the 2018 Gator Bowl and another chance in 2021. Had NC State played 12 regular-season games last season in 2020, they probably would have won nine games then as well.
Win 10 games, beat SEC schools, win the Atlantic Division, win the ACC, and play in a major bowl. That is it. Those are the things left for NC State to do. That's a tight list, but it could have been tighter.
At this point, the list should just be chucked into a bin and not bothered with until it is time to recap the 2022 campaign.
NC State is now a football program that should think in the simplest terms. Play a game against anyone, and expect to win it. There are some out there better than the Pack at the moment, but most schools aren't.
That includes UCLA.
Never miss the latest news from Inside Pack Sports!
Join our free email list