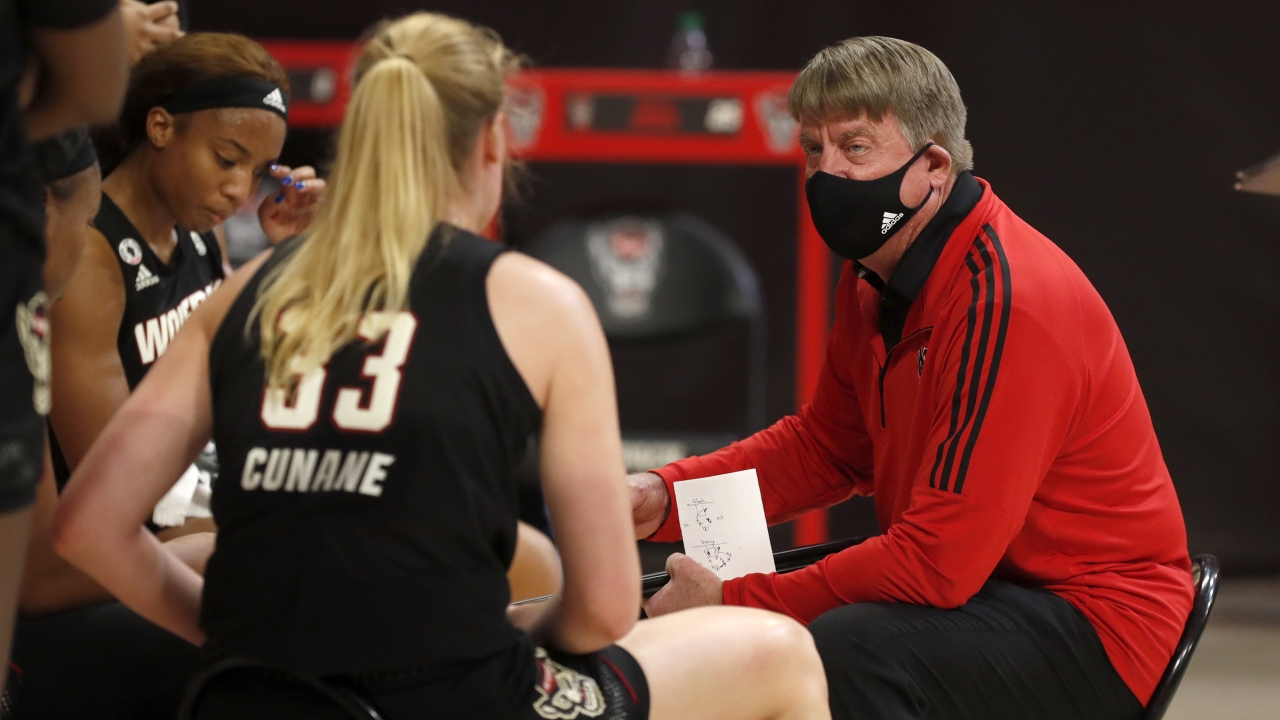 Photo by ehyman@newsobserver.com
NC State Women's Basketball
LOCKER ROOM REPORT: Wolfpack Opens ACC Home Schedule With Dominant Win Over Cavs
---
NC State head coach Wes Moore and centers Elissa Cunane and Camille Hobby met with the media following the No. 2 Wolfpack's 82-55 win over Virginia Sunday evening.
Cunane led the Pack's offense with 17 points and six rebounds against the Cavaliers. Hobby added 10 points off the bench with one rebound, one steal, and one block in just 11 minutes on the court.
NOTE: Click on the video in the player above to watch the press conference. A transcript of Moore's comments is below.
---
Opening Statement
I was worried about us having a little bit of a hangover today. Heck, I had a bit of a hangover today from the loss the other night. It was heartbreaking. There were a lot of things that you reflect on and think, "Maybe I could have done differently or better." We started out a little bit slow, but I thought they did a nice job of having energy. I thought, at practice yesterday, they had some energy. I thought it carried over to the game. Again, I'm really proud of what they've done with the schedule that we've played. They've done a pretty awesome job of navigating a really tough schedule. Hopefully, the loss is something we can learn from and all of us, including the coach, can get better and improve. Today defensively, in the second half in particular, we did a nice job. The first half, I think we only had three turnovers. We had a few in the second half, but it was good to see us take care of the ball. I think we had two turnovers in the first minute of the first half. From then on, we did a pretty nice job. Again, it was a good bounce back win, and it's something that we can build on. It's going to be nice to let them have a nice break now, get back with their families, get away from it for a few days, and hopefully come back excited about jumping into full-fledged ACC play from here on out.
How valuable is it to have Hobby produce the way she does off the bench?
I just love Camille. To be honest, in the transfer portal era we're in, it's sometimes rare for a player to stick around and keep working hard. Obviously, Elissa is a great player, but Camille is a great player. We're very blessed to have her here, and to have Elissa here obviously, but for Camille to keep working hard and put the time that she does in, she's so skilled and such a good offensive player. Like I said, we're blessed to have her. We're going to keep getting her minutes out there, and obviously next year she'll play an even bigger role.
Does the gameplan change when Raina Perez gets continuously pressured up the court?
That's something Virginia has been doing in a lot of games. I don't know if it was necessarily just a strategy on her. To be honest though, she can play the two or whatever. We can approach things different ways to get a pick on the ball or whatever we are trying to do. I don't think it really disrupted us much. It was funny; I actually had Jakia [Brown-Turner] at the scorer's table to get her when she actually turned her ankle. It kind of stunk that I didn't get her out a minute earlier. The assistants told me in the first half one time that we needed to give her a blow, and I just said "I can't do it. She's knocking down shots. She's reading the defense coming off picks and making the right decisions." It's hard to take her out sometimes. She's such a pro. She's so smart that she even knows when to turn her ankle. She turns her ankle when we have a week off. What can you say?
On being the only coach on the NC State staff not to wear a Christmas sweater...
Scrooge. I have one Christmas sweater, and I put it on and said, "I look so ridiculous that I can't do it, especially on national TV on ACC Network." Whatever, call me Scrooge. I'm in all red; give me a break. I just couldn't do it. Snoopy didn't look good on me.
After the loss to Georgia, was there something you wanted to see from the team today?
We've just got to get better defensively and on the boards, the blue-collar stuff. We've got to get tougher physically and mentally. We've got to do those things. What's tough to watch is that we've been a pretty good defensive and rebounding team the last five years, and now that we've got more firepower offensively than maybe we've ever had, our defense and our rebounding has slipped. If we'll dedicate ourselves, commit to it, focus on it, have that mentality... That's what I told them at halftime. Our goal has always been don't give up over than 60 points. That's tough. That's 30 points a half, especially now that we probably push it a little more. There's a few more possessions. I told them at halftime, "They have 31 points. Let's keep them under 60." That's what we try to do. They did a nice job of that in the second half. We give Georgia credit. They came in here and did those things, and we still had a shot at it. It shows how much potential we have if we commit ourselves to doing the dirty work.
Never miss the latest news from Inside Pack Sports!
Join our free email list