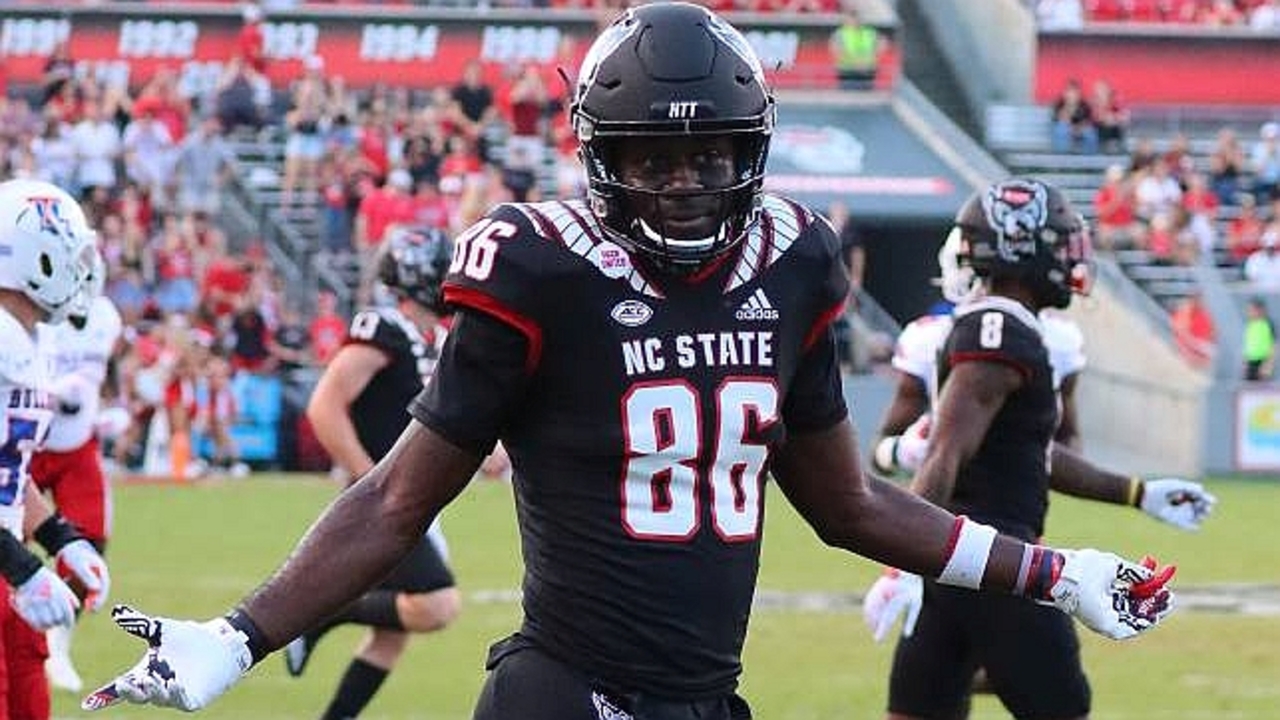 NC State Football
Emeka Emezie: "I Thank Wolfpack Nation So Much"
---
NC State star wide receiver Emeka Emezie is about to play his final game in Carter-Finley Stadium. He discussed the matchup with North Carolina, his thoughts on coming back for his extra year, and much more!
NOTE: Click the video above to watch the interview.
---
I know you guys are obviously focused on the task at hand, but have you had any time just to take stock of what you've done here and enjoy the little things in preparation going into your final home game?
Yeah, definitely. I probably won't feel it until it's gone, probably not even this season, maybe next season, but definitely has been a crazy, crazy, crazy ride. I'm very thankful.
Are there any little particular things that really stand out to you this week that you are taking stock of, the little things you're enjoying?
Probably just being around the guys, and it's a little bit different this week because it's a Friday game, so I can't really do my normal routine, so I kind of was aware of them last week because it was the last time I was really able to do my routines that I do before the game.
What does this game against North Carolina mean to as an in-state player?
For us, I feel like this means everything really. You always want to beat Chapel Hill. You always want to beat your rival team. So, this game means a lot to all of us.
Coach Doeren said there's a million reasons to win in this game with senior day and the rivalry game and trying to get to 10 wins, all those things. As a player, do you look at those things and use those to be reasons, or is it kind of the other side where you're maybe trying to block that out and just focus on the game at hand rather than letting all those other things fuel you?
Personally, at least, I don't really let anything fuel me. I feel like, at the end of the day, it's a game and it's another opponent we don't like. We don't like any of them. End of the day, you just want to win. Just play really, really well.
There's a lot of history between the two of us, so it means a little bit that much more, and they're just down the road. So, that's a way to look at it.
How closely did you follow this rivalry, and were you honestly an NC State fan your whole life leading up to where you are now?
I probably was like a Duke basketball fan, honestly, when I was younger. I always loved Duke basketball. So, I wasn't too into it until I got here, really, I started to understand the rivalry and watching games.
When I saw State play Chapel Hill, it always got real physical and then, being in the games, it always gets real physical. So, it's really fun to watch and be a part of and just understand the rivalry that much more playing in it so many years now.
Obviously some of your teammates have a decision similar to what you had last year. Looking back on that decision, how do you feel about it a year later, and what type of advice could you give some of those guys, if asked?
Yeah, I feel great about it.
I've been blessed this year to be able to do things I've been able to do. We've done a lot of different things that we haven't done before at State.
For them, I feel like what their heart really desires. I just try to say, if there's something that you haven't done and there's a goal you haven't gotten yet, there's no rush. Just be smart, try to graduate or get your degree, and then, on top of that, if there's certain guys that are coming back too, your friends or whatever the case may be, there's a lot of different decisions, different points for coming back.
It's a little bit difficult for everybody else because it's different situations. So, my main advice would be to really just follow your heart and just understand that, once you make a decision, it's not really going back.
Did the record play a role at all for you? Just establishing your legacy here, being considered one of the top receivers to ever play here, owning that record, did that play a role at all?
Not really. Really, it was just being around the guys one more time, being around Thayer and just being around DC and all the receivers... felt like I had more to prove, and I always feel like I have more to prove in me, which is the toughest part about it because I just feel I can show so much more, but I mean the way it goes, you get what you get, just keep going.
How much did this final season prepare you for the next level, and how much is that still a part of your plan, your trajectory to try to go play in the NFL after this?
It's been a crazy season, I thought, for myself. I just had to go through a lot of different things even before the season just to get ready to play. I'm pretty sure you all know that I missed spring and I missed all fall camp, basically, so what you're seeing out there is just like pure God, honestly just pure prayers because, before the first game, I didn't even know if I was going to play. I didn't know how much I could do.
The fact I was able to play this many games and to be able to finish this last game is amazing. So, it didn't go the way I planned it to, but the fact that I was able to even just play one game is a blessing.
So, I'm very thankful.
Are you still wanting to play in the NFL? Is that still part of the dream?
Yeah, I will play in the NFL.
Would you mind, could you take us just through a little bit more of those struggles in the fall and the spring and the things you were going through physically and mentally to get back onto the field?
I was just hurt.
I was hurt, and I was hurt all spring, probably, I'm trying to think. So, I was able to train for the month when I got back from after the bowl game, and I missed all of spring and basically came back in May and June. So, I missed July and August, really was like until game time. So, I really trained for three months not consecutively, and, when I was back, I just loved to work hard. So, I was back in May and June, I was trying to just go as hard as I can... probably put my body in overdrive, and it was just tough because, again, it's my last season, and I'm trying to be out there with the guys.
I really just got so far away from football, I felt like I was going to be so rusty. I thought, throughout the season, I felt like I was still gaining my way back, like confidence and just different things. You haven't caught the ball. It's a lot different catching the ball in jugs then from 11-11, it's different angles or whatever the case may be. So, it is just different struggles like that, that's just finding confidence every day, every practice to able to be back out there with the guys and know how to go through it.
Did you go through the senior day ceremony last year? I can't remember.
Yeah, I did.
So, what do you remember about the emotion of that part of the game, and then as you kind of headed into doing it again, what are you kind of looking to maybe remember a little bit more this time, take more note of?
Last time, I kind of knew I was like, I might be able to come back, so it wasn't too stressful, but, this time, it's really just it, and it's going to be packed out. The stadium wasn't packed out last year because of COVID and everything, so it's just going to be packed out against Chapel Hill. I mean, it's going to be a big game, so it's exciting to take it all in and just enjoy the ride.
Just to give you the opportunity, if you could say something to this fanbase and the people who have been a part of your journey for the last five years or so?
Yeah. I'll just say really just thank you guys so much for accepting me just for ups and downs. I feel like they've always just had my back and, whenever I'm able to just go out in the community, whatever the case would be, everybody just tells me how proud they are of me, it's just huge.
You spend a lot of time working hard in the dark days, and so it's just you and the film room, it's just you and the jugs. So, when you're able to get out that little bit and just see other people that are truly thankful for everything you've done is truly a blessing. So, I thank you guys so much. I thank Wolfpack Nation so much for everything they've done, I truly do love them.
Just reach out, really, if you're ever going through anything, you ever need anything from me, advice, whatever the case may be. If you're a young kid trying to get to where I am and have been, just please reach out because I will always check my messages. I'm always responding to everybody. So, just reach out to me. I feel like communicating back with the community is the biggest thing for me.
Never miss the latest news from Inside Pack Sports!
Join our free email list