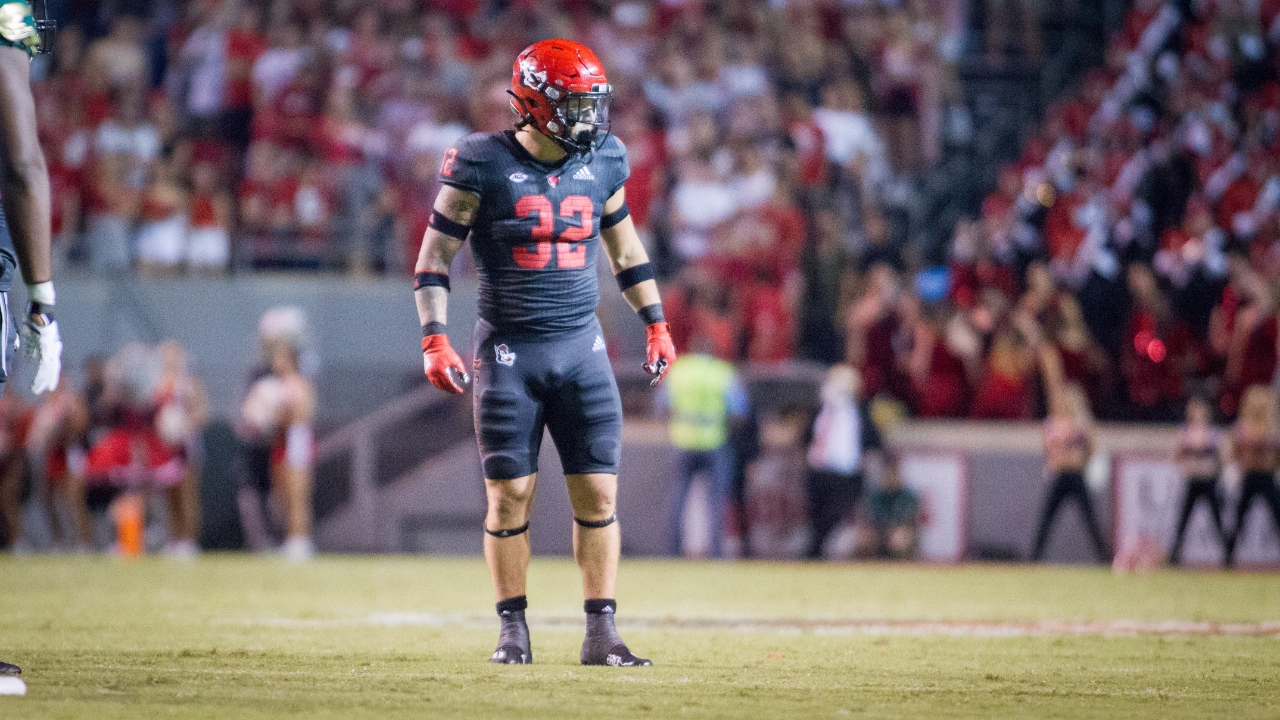 Drake Thomas
Devin Leary
Zonovan Knight
Thayer Thomas
NC State Football
LOCKER ROOM REPORT: Wolfpack Players
---
Several NC State players met with the media via Zoom following the No. 20 Wolfpack's 41-17 win over Syracuse Saturday evening.
Linebacker Drake Thomas led the way defensively with a 38-yard pick-six in the second quarter to go along with eight tackles and 2.5 tackles for a loss of four yards, including two sacks for a loss of three yards, Quarterback Devin Leary completed 17 of his 24 pass attempts for 303 yards and two touchdowns. Running back Zonovan Knight rushed for 37 yards on eight carries with a 97-yard kick return touchdown. Wide receiver Thayer Thomas caught four passes for 80 yards, including an eight-yard touchdown in the third quarter.
NOTE: Click on each player's respective thumbnail to watch each interview.
---
Drake Thomas

You looked like your old high school running back days on that pick six. What did you see on that play? How did that spark the defense moving forward?
It was definitely a momentum thing. We needed a play on defense to be able to get some points on the board, so it was definitely helpful and helped us gain some momentum.
After Thayer scored, did you two have any conversation about both of you scoring tonight?
Nah, we didn't say anything. I'll probably talk to him later about it.
Do you feel like now you can say you and Thayer are the best brother tandem in NC State history?
I don't know. I don't really know all of the brothers necessarily, but I know the Holt brothers [Torry and Terrence Holt] were pretty good.
What does you and Thayer being the first brother duo to score in the same season since 1975 mean to you? What are your emotions about the two of you making history tonight?
I mean, it's obviously really exciting anytime you can make history. Just thinking about where me and my older brother came from, all the way up, it's just a dream come true. To be able to make plays like that on a big stage. It's just a great feeling.
The defense finished with 14 tackles for loss and five sacks. How important was it to get in the backfield and rattle the quarterback and running back?
It was really important. We wanted to get in the backfield and make plays. Obviously, they have two really good runners back there that pose a threat to us. We just wanted to be as disruptive as possible in the run game and the pass game.
Once you guys saw the start of the Clemson/Wake Forest game, how much did that spark the team to get the win once the game started?
Honestly, I wasn't really keeping up with it. I know other guys were, but I take the same approach every game. Some guys were watching it and wanting to know what was happening, but I didn't really care. I just want to take the same approach no matter what the circumstance was.
How much more motivated are you and the rest of the team for the North Carolina game with the added division leader stakes now in the mix?
Like I said, my approach has mainly stayed the same throughout the whole year. It's the same every single week. I'm going to work every single day, trying to get better, executing the game plan, and trying to do what the coaches ask of me.
Devin Leary

On his awkward slide after the 15-yard, first-down run…
Yeah, my slides aren't that good. I've got to work on it. Ben Finley was making jokes on the sideline like, "You've got to start practicing that."
Dave Doeren said you were aware of the Clemson/Wake Forest game before you took the field tonight. How much did that add to the motivation?
I think the motivation to bounce back is always the priority. Wake Forest and the rest of their schedule, it's at stake depending on where we end up, so obviously I'd like to follow it. I like to see where we could potentially land, but coming off a loss and being able to respond the right way has always been a priority for me.
At the end of the second quarter, it seemed that everything seemed to click at once. What happened that allowed you to produce as well as you did?
I think it was really just getting in our rhythm. Syracuse does a whole bunch of different looks on defense. They do a whole bunch of different coverages and pressures. We try to practice as many as possible throughout the week. When it comes to the game, they're always going to throw a different curveball. That's kind of what they did, so being able to get back to the sideline and make our adjustments the right way helped us respond better.
When you're running around and making the off-platform throws, how much does it help to know that you've got guys that can go up and get those passes when given the opportunity?
Yeah, it's huge. Just being able to put the ball in their vicinity gives them a shot. It's my job to give those guys a shot. Anytime we can put the ball around their area, those guys do a great job of coming down with it the majority of the time.
How big was it to see Knight and Ricky Person break out with big runs tonight and get the ground game going?
It was huge. We knew coming into the game that we were going to have to establish the run before we took some shots. I think that's exactly what we did. Credit to our offensive line, tight ends and receivers too, being able to block in the box. They did a tremendous job. Handing the ball off to guys like Ricky and Zonovan just makes our job that much easier.
You've thrown for over 300 yards in each of the last five games. How comfortable do you feel in putting the team on your shoulders when you're asked to pass?
Extremely. I feel very comfortable with whatever the coaches ask me to do. Whether it's being able to run the ball, pass the ball, hit different screens, really anything that they ask me to do. I prepare as best as I can each and every week to make sure that I am comfortable. Anything that they need me to do, I'm extremely comfortable with it.
Zonovan Knight

After what happened last week, were you surprised Syracuse started the game kicking to you?
To be honest, yeah I was kind of surprised. We put in a whole game plan in case they cross kicked it to the off returner, Jordan [Houston]. I was surprised they kept kicking it to me over and over again.
With kickoff return touchdowns in back-to-back games, what's been working for you to help you get in that groove?
I honestly don't know. As we go, it's just kind of reading it out. Things are kind of unfolding, and I'm just happening to go the right direction. It's not something that I'm seeing that's open. It's just a natural reaction that's working out for the best right now.
With Person's rushing touchdown to open the scoring in the second quarter, it was the first rushing touchdown by an NC State running back in ACC play. How big was that for gaining confidence and getting back to what you wanted to do on the ground?
It was very important. Ricky and I had a conversation earlier like, 'We need to get in the box. We haven't scored since La. Tech.' So it was just something that we took a big emphasis in doing today, and luckily Ricky was able to get in there. It ended that drought for us.
Is there something different for you guys when you run at home?
I wouldn't say it's different. I would say that the fan base adds more motivation. The atmosphere and energy coming from the crowd just makes you more motivated and more determined to get in there.
Regardless of what happens in the coming week, what does it mean to go into the North Carolina game knowing there's still an Atlantic Division title on the line?
For us as players, I don't think we are thinking of it as that. We're just taking it week by week, and however it works out, it works out. We're just taking it with the same mindset we took earlier in the season, and that's what we're taking now: just week by week.
Playing this game on Black Friday, do you eat less on Thanksgiving than you normally would?
That's a good question. I think since we're going to be in the team hotel Thursday, we're actually going to do a team dinner Wednesday just to kind of give it time for that stuff to get out of our system. By game time, our systems should be clear, and everybody should be hydrated. We should not have any issues.
How neat is it to be playing in these big games at NC State?
It's very unique. It's why I made the decision to decommit from Duke and commit here. Luckily it's worked out for the best, but there's something about coming out here on Saturday nights and just going to work with my O-line, quarterbacks, wide receivers. It's just putting it all on the line for them. It's just a different type of feeling, and I'm just glad God led me in the right direction and led me here to NC State.
How do you detach from the bigger moments and take each of those big games that simply?
It's just a mindset that you have to have. You can't look too far into the future. This week, we weren't worried about what next week was going to bring with the ACC championship stuff. That would have made us perform less efficiently tonight. You have to focus on that night, that game plan, and just keep pushing throughout. When the next week comes, you move onto them, let the past be the past, and let the present be the present. Just live in the moment, and go from there.
Thayer Thomas

Do you remember the last time you and Drake scored in the same game?
I think it was my senior year [at Heritage]. I want to say it was against Broughton my senior year, so it was just down the road which is pretty cool. I don't know if it was a defensive touchdown for him, but I definitely scored a receiving touchdown, and he definitely scored. He might have been playing running back at the time. But as you saw tonight, he's good with the ball in his hands, too. I'm definitely used to seeing that on the field. But it's a special moment and a great team win to cap that off.
What does it mean for Leary to have the trust in you to take those shots downfield and for you to go up and make those catches, especially when he's under pressure?
I think he has the trust in all of the receivers. Each week it's a different guy that steps up and makes the plays. Devin just throws the ball down the field. I think that speaks for itself. We have a talented room. And the tight ends, as well. Devin trusts them. Devin, as a whole, just trusts who he is throwing the ball to because we do it every day in practice. It's just repetition, and we build that trust in the offseason. I think he does a good job of just trusting us and giving us a chance.
What does it mean for you and Drake to be the first NC State brothers to score touchdowns in the same season since 1975? How satisfying is it?
This is why we decided to do this. We decided to come play football here. I made my decision first, and then he obviously wanted to join me. That'll show other brothers down the line to maybe stay home and play in your hometown. It's a special moment. I was wishing that Lex would be coming here next year. That would be definitely cool. It was a special moment. I shared it with him on the sideline. It's pretty cool. It'll definitely be etched in NC State history, for sure.
When you see Drake doing something like that when you're on the sideline, how do you feel knowing your blood relative is doing something so special?
I'm used to it at this point. He definitely should be in the running for Defensive Player of the Year, in my opinion. He's a special player. Usually the receiver coach, Coach Joker [Phillips], wants us to sit around and talk about what's going on. I'm always finding myself creeping up to the field to watch him play defense just because it's so fun to watch him play. It's definitely special. He's a heck of a player, and he deserves everything that is coming his way.
What are you thankful for with this team, this season, and what you guys have been through?
I'm thankful that we still have a chance to play for an ACC championship. That's the first thing. I'm also thankful for the brotherhood that we all have. This is similar to the older guys when I first got here with how close they all were, but being an older guy now and being a leader in the room and leading the offense while my brother is a leader on the defense, I'm thankful for that. I'm thankful that I get to play in my hometown. It's been a special season, and it's not anywhere close to over. We've got a lot left in the tank. Wolfpack Nation, get ready. We're going to have a good run at the end of this thing.
Never miss the latest news from Inside Pack Sports!
Join our free email list