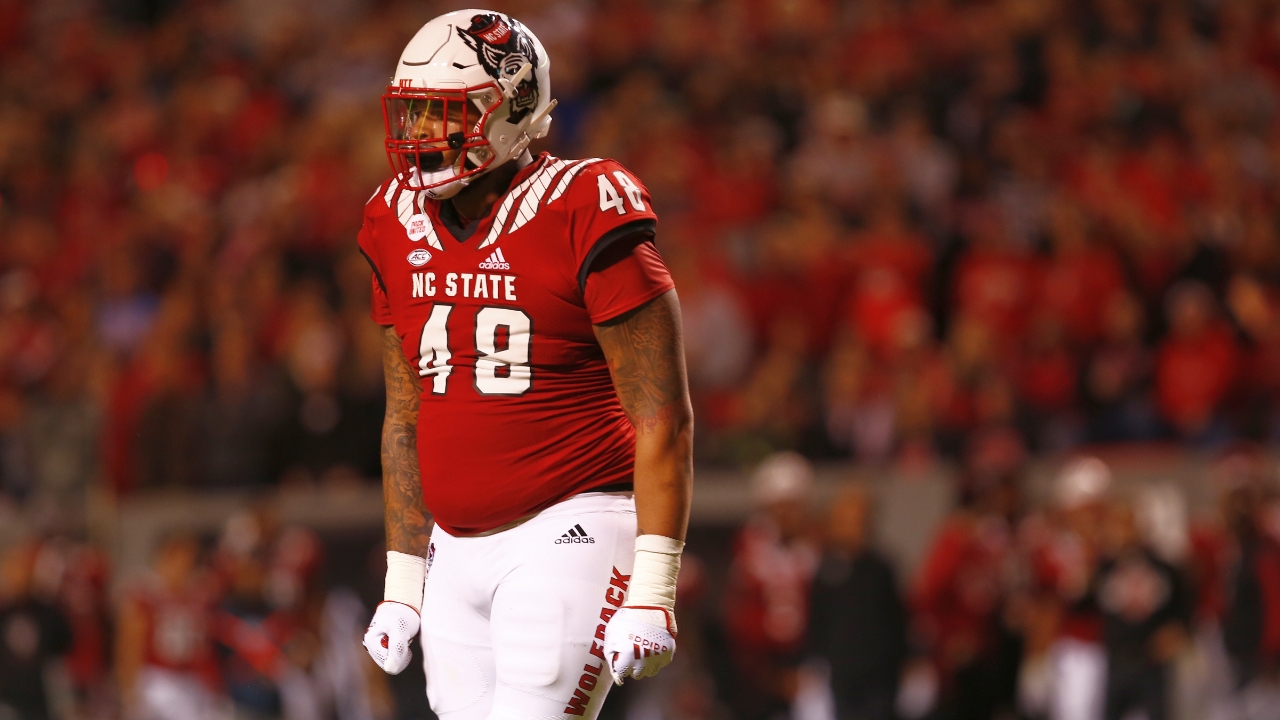 NC State Football
NC State DL Cory Durden: "This Is My Team"
---
NC State defensive lineman Cory Durden will face his old team this week in Florida State. He recently discussed with the media the upcoming matchup, his time in Raleigh, and much more!
NOTE: Click the video above to watch the interview.
---
Obviously, being a transfer from FSU, what does it mean to you to go back and face them this week?
It means a lot. I'm excited just to get back down there just in a different environment, different mindset. So I'm really excited about that.
Have there been any things that you've seen that look familiar to what you faced last year when you were a part of the team? Is there anything that you can kind of take from last year that you saw that you can use this week?
No, not really. They honestly look like a totally different team on paper. So, obviously familiar with a couple things, but it's totally different.
I'm sure you're familiar with Jordan Travis from being there, maybe going against him some in practice. Just your thoughts on his ability as a runner at the quarterback position and what type of a challenge that might present for you guys this week?
Dealing with the running quarterback presents a challenge every time. He's an explosive player, he's a player you can support from anywhere on the field. So just allowing him, or making him use his arm to beat us is a big goal. Just taking him and his run game out of it. That's a big thing. So we'll see how it goes.
He's a great player, and I got a lot of respect for J. Trav.
Given you just came from Florida State, is this a game where maybe you feel like you have to control your emotions a little bit going in because it could be an intense level game for you going against some of your former teammates?
No, not at all. I'm well beyond that. Just with the mindset of this team that we have, I can't get caught up in the emotional stuff. I have to just play disciplined football and just be the best teammate I could be so that we could win. Ultimately, that's the goal. It's well beyond Cory versus Florida State.
Just as far as wondering what it would mean to you to have a big game against your former team and then just wondering who's going to come be at this game. If it's going to be a kind of a family affair, just what that's going to be like.
I definitely have a lot of family coming. So I'm excited about that. It'll be my first game where I actually have a good amount of family coming. So I'm excited about that. What was the first part of the question?
Just what it would mean to you? Obviously you want to have a big game every game that you play, but to do that against your former team, what that would mean for you?
It definitely would mean a lot just to have a big game. But I feel like I've prepared well all week, so I expect to have a big game. So it's just a matter of time.
Have you been exchanging texts with any former teammates or has there been any conversation back and forth? Maybe even some playful jabs?
No, not really. Most of the guys that I really talk to, they're either in the NFL now or they're just done with football. So I don't really talk to anybody else on the team.
I know Cyrus is always really pumped up before games. Is he going to just shoot out like a cannon before...
He's really excited. I know he wishes he could play. But I can only imagine how hype he's going to be Saturday.
On Monday Coach Doeren said you played probably your best fundamental game of the season against Louisville. What was working for you? What was your preparation like leading up to that game?
To be honest, I don't know. I feel like my preparation was a lot different last week. Because I made some big time mistakes in the Miami game. So just challenging myself personally, just going out. Because I know that all the coaches wanted to see how I react because it really bothered me just making those mistakes, hurting the team.
So they wanted to see how I react just in practice; on Tuesday was the hardest practice. And I just showed them I practiced just like myself. I always take pride in practicing hard. And just having a great week of practice and then just being able to make some plays for the team to help the team win Saturday. It just shows just preparation is everything.
You may have been asked this before. So if so, I apologize, but transferring in from Florida State to NC State, a divisional team, was there any sort of transition in terms of chemistry with the team? Did those guys just generally kind of welcome you in with open arms?
That was one thing I was worried about was just being accepted by the team. Because I had history with these guys from just playing them over the years. And just the biggest thing for me was just, I came in and just showed them just my mentality and just how I worked... just kind of showed them I'm not a freshman coming in from high school.
I'm a graduate student who's trying to go to the NFL. So just showing them my work ethic and showing them what I'm here and what I'm about has just kind of gravitated everyone towards me, ultimately.
Being here four or five months now, what's your time been like in Raleigh?
Oh, it's been great. I've loved it. Raleigh's a great place. NC State's a great place full of great people. And if I could make the decision again, I would a million times.
Kind of to piggyback on that, where you guys are right now, six and two after eight games, well within reach of a divisional title, was that a big reason why you decided to come here because you know of what this team could be?
I knew obviously NC State had potential. I wasn't really familiar with them, and I knew that they had potential. I honestly came here just because of what I heard and just from what Cyrus told me. I mean, he told me how it was, just the type of place it was... just the great people.
That was something that I had just wanted to be a part of. It's just having experiences from the past. I feel like it was just a time for a change, just to change the people around me. If that makes sense.
So has this team then exceeded your expectations?
By far. Just the team, the staff, the people just around me, the support staff, everything's exceeded my expectations.
Do you think it's going to feel weird though? Just to sit in the visitor locker room at Florida State?
No, not at all.
How come?
This is my team, NC State. I'm just, I'm happy where I am and I'm not thinking about Florida State at all.
The AP poll had you guys out of the top 25 for a few weeks. So what did you think that the playoff committee put you at 19? And are you happy with that?
Honestly, I didn't even see that. I haven't seen that. I'm trying not to. I personally don't pay attention to all that. I try to get to not feed into all of just the outside stuff with the rankings and the accolades and stuff like that.
Just simply because that stuff can become distracting, and I don't want to start to feel like we're better than we really are. So I haven't. You telling me this right now is the first that I've heard of this. But it is a little bit of a surprise... you just got to work from there.
As an outsider, it's hard to understand why FSU has struggled to get back to prominence. From your perspective having played there, what do you think was maybe holding them back from getting to where they want to be?
I'd honestly say just carrying the Florida State standard, just the standard that's been set in the past. Just everybody carrying that standard, not just some people. Which, that's the standard... the standard for everywhere is high, but that's obviously a standard that's exceedingly high. So that's something that I think.
I'm obviously an alumni, Florida State. I'll always love Florida state. I'll always be a fan of Florida State. So I would love to see them back to where they were. But that's the one thing that I could see even when I was there and we didn't uphold the standard way that we should have.
Do you think, because there's been multiple coaches come through, so was it a coaching issue or was it a player culture issue?
I honestly can't speak on that because I was a Jimbo Fisher recruit, so. I signed to Coach Fisher thinking and I'm about to play four years for Coach Fisher. So just as far as the coaching thing, I have nothing to say about that because I signed to somebody who I expected to play for and he left my freshman year.
Just obviously dealing with all the coaches is tough because dealing with the coaches was tough, but dealing of the coaches involuntarily what made it even tougher. Because it's like, just being a kid that has 40-something offers at a school like Florida State and then having that happen, it makes you think about it. Like why me, why did this happen? I signed with some great players. I played with some great players at Florida State. So I just feel like it was a mix of everything.
Just we all could have done things better.
Cory, what's it like playing with a linebacker like Drake Thomas? I know you guys lost Isaiah and Payton, but his plays has continued to elevate each week. What's it like playing with a linebacker like Drake?
It's great playing with somebody like that behind you because, it's just playing with somebody like that, the little mistakes that you do make when you out there, you got somebody like that behind you who just makes up for every mistake.
He's just always there, and just with him playing at such a high level, it pushes other people to play at such a high level. How are you going let one person just play at such a high level and everybody else just not stick out? I feel like with just him stepping in at another position, playing at such a high level, it just motivates everybody else on defense to play at the same level, or try to.
Obviously during the game, you're in front of him and a lot of stuff going on around you, lot of bodies flying. But when you go back and watch film, do you ever see something that he did? You're like, "Man, I can't believe he did this on the film," and you become a fan of his watching tapes.
He does stuff all the time where we're just like, even in meetings, we'll be in film my coach will call it out he'll just like, "Wow, look at this." He does stuff all the time, even in practice, but that's just the type of person he is. He might do something that's just crazy, you never expect it. It could happen any play.
It's fun playing with somebody like that because you don't ever know what to expect. He might catch an interception this play, he might go make the quarterback fumble that play. It's like, you never know what to expect when you're out there with him.
Never miss the latest news from Inside Pack Sports!
Join our free email list