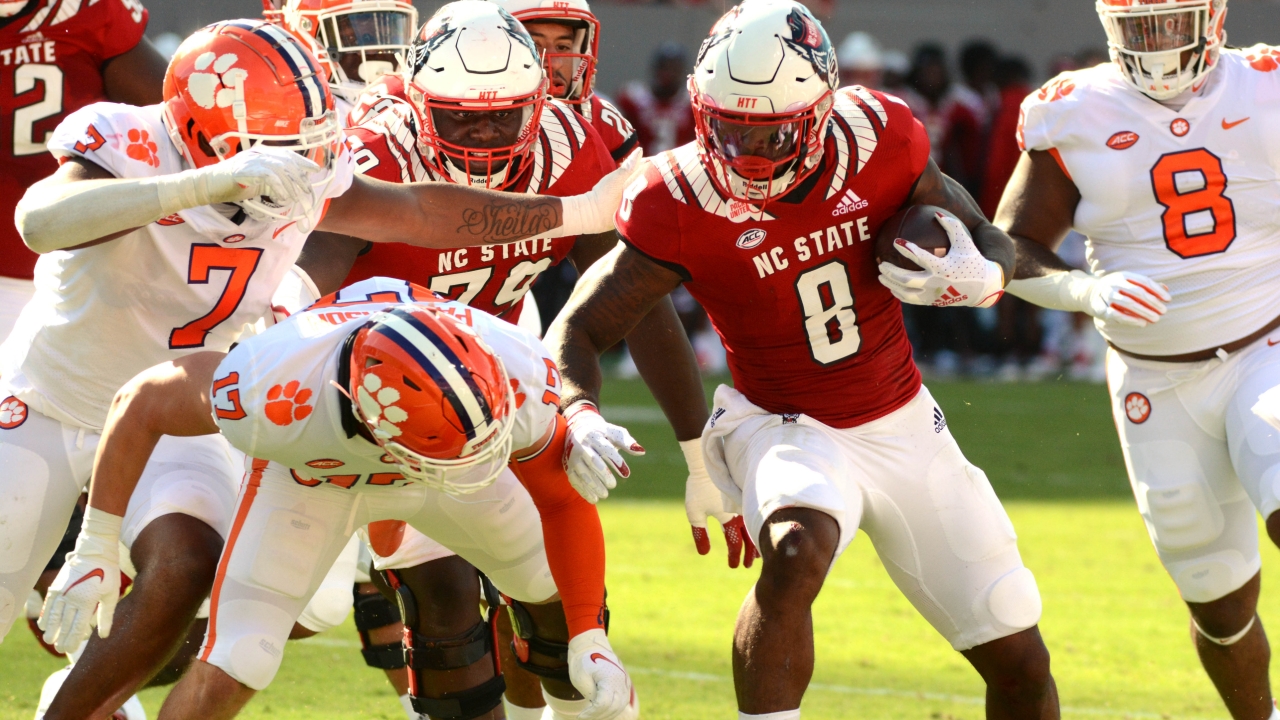 Photo by Rob Kinnan-USA TODAY Sports
NC State Football
Ricky Person: "We Control Our Own Story"
---
NC State running back Ricky Person met with the media to discuss his recent play, the upcoming matchup with Louisville, and much more.
NOTE: Click the video above to watch the interview.
---
Opening Statement...
We wanted to run it again, to get going, but we want to be able to contribute any way we can. If that's in the pass game, us coming out of the backfield, catching the ball in the backfield, and us being out in space against a defender, I'd rather take my chances with us doing that than... we can run the ball.
We know we can, but most teams that we've been playing, they've been studying the film real well, stacking the box. Other than that, it's nothing that we can't handle at the end of the day.
Is it frustrating seeing them stacking the box?
Yeah, of course it's frustrating. It's frustrating for any running back. You run against a loaded box all the time, but that's what you sign up for as a running back. You're not always going to have a clear picture where the box is not going to be loaded.
We contribute the best way we can, whether that's in pass protection, or getting out in the pass game... making one miss and getting up field.
Does that make you guys feel good in the backfield though, that they're giving you guys that much attention? They know how good you guys are?
Of course, that's part of the game.
When you look at this Louisville team, who do they resemble to you defensively?
I want to say they resemble to me almost a Miami team, just because the type of defensive structures they have, and they flow to the ball real well.
They're not as big as Miami but... just studying the film, they look good on film. We've still got to take out the kinks and stuff like that, and go back to the film room after practice today, and study some more and see what their tendencies are on defense.
You had a big pass block right before halftime to spring that touchdown pass. How important is pass blocking to you?What's some of the main traits you need to be good at that?
I take great responsibility in pass protection. That's something that I take a lot of pride in. Coach Roper knows that. When we're in practice and I mess up in pass protection, I'm like, "Okay, I need to right that, right now. Tell me what I need to do."
Pass protection is nothing but understanding the defense, and understanding the stuff that you relied on all week from practice and the film sessions, and just seeing it in real life.
Football is really easy, and just like Coach Roper used to tell us, "If you can count to 11, you can really play ball." Just being good with your eyes and being disciplined to your rules when it comes to the protection.
Coach Doeren talked to us about, "The team has to have the next-man-up mentality." And you guys have it so far but, as an older guy, how much do you preach to the younger guys in any position that, now more than ever, it's important to stay ready, pay attention in practice, watch the film? You never know when your number might be called.
Exactly.
know, for instance, one of my teammates, Khalid Martin, he'll be practicing with the scout team, but he's also looking over at the defense because, just like that, your number can be called. You can be running with the ones on defense.
Like you said, that's something that we preach, and we've been preaching for a minute. You know, next man mentality. And like Coach Thunder said, if you're ready, you don't have to get ready. So, that's you... sitting down with your coach, getting inside the playbook for that game, whether or not they need you, or you don't need you. It's a simple fact that you know having that drive, and that want to be able to help your team out anyway.
As a follow-up one guy who has been thrust into action now is Devon Betty. You've been practicing against him. What's the report on him, for us was who haven't seen him play a lot?
He's a hard worker. He he's been showing up a lot on special teams. It's unfortunate what happened to Zay, but it's a part of the game. Injuries happen.
Zay's coaching Betty up. Betty's taking in all the information from Zay. Zay's been in the meetings, helping Betty any way he can on the field at practice, so Betty's going to be ready to play.
He's just a well-rounded guy. He wants to help his team win, and I love that about him.
Can you just let us know what it's like in the locker room right now coming off that loss, just a couple days later. You guys still have the goal intact. So, where's the mentality, where's everyone in their head space?
Honestly, we all hurt from the game, but it's a whole lot of stuff that's been going on that's been said on social media from certain people.
That honestly just added more fuel to the fire, and it's either you are with us or you're not. Just like I told them, my team, because I talked with the team at the end of the game... we were all hurt, crying. We worked so hard and we just had that one slip up, but we're back to the lab, we're back working.
I imagine you were talking about on Twitter a little bit with Devin Carter, he put out some things about how he was feeling. How does that act as a rallying point?
He's honestly my roommate. He's like my blood brother. We came in together. Our family's are really close, so I understand his frustration. I understand his pain, because we put in so much worked during the offseason, catching over a hundred balls on the jug. I understand the type of frustration, the pain, he has.
But some people in this world need to understand that every man is not perfect. Everybody's not going to have that perfect game. Even Kobe Bryant had an off game... LeBron will have an off game.
It's the simple fact of how you respond to your next task and the simple fact that he's up in good spirits now, he's leading, he's been a leader on this offense as well. He's very vocal and he's still vocal, and it's not just because he had that bad game, but it's the simple fact that we've all been there. We have all experienced something like that before in our life, and that's just part of the game. It's the simple fact of how you respond.
How long does it take you to shake off a loss personallt? When do things go back to normal for you?
Personally I'm right back to it, right after the game honestly. Looking at the tapes, looking at what I could have been doing wrong. Of course, I'm going to be mad. But the simple fact: you can't keep dwelling on the moment. It's the next game. You have to find where you messed up in the game, go back and correct it, so it doesn't show up on film again... so it won't happen when you play the next opponent.
Has there been any discussion about you guys still controlling your destiny? Even though you came off that loss, you guys still control your destiny to win the division and go to the ACC championship. Can you let us in on the conversations that have been had about that?
Always. We know what's at stake, we understand that Miami wasn't a [division] game, but of course we want to win every game. You lose some, you win some, but at the same time we've just been having that same mentality.
We've got to lock in on Louisville, and we just got to win out to be able to do what we want to do.
We control our own story at the end of the day.
I go back and watch the highlights and it's like... Are you seeing that guy and you're like, "Oh, I'm about to give it to him." Is it just naturally the way you play or are you trying to make statements sometimes with, with those hits?
Naturally, that's just how I play. It's just the heat in the moment of the game. I really just don't control what happens. I just play.
How much does that kind of get you pumped up though? You had that big run against Miami. You dragged like six dude,s and you got out and you were feeling yourself. How much does that get you into the flow?
That's just when the game starts to slow down for backs. When you've been there for a while, the defense starts to slow down. After a while everything just starts popping for you. That's when you start getting the feel of the game.
Vice versa for Bam... I know Bam's the same exact way. He'll tell you the same exact thing. When the back starts getting in the flow of the game, that's when things start becoming easy for the back.
Never miss the latest news from Inside Pack Sports!
Join our free email list