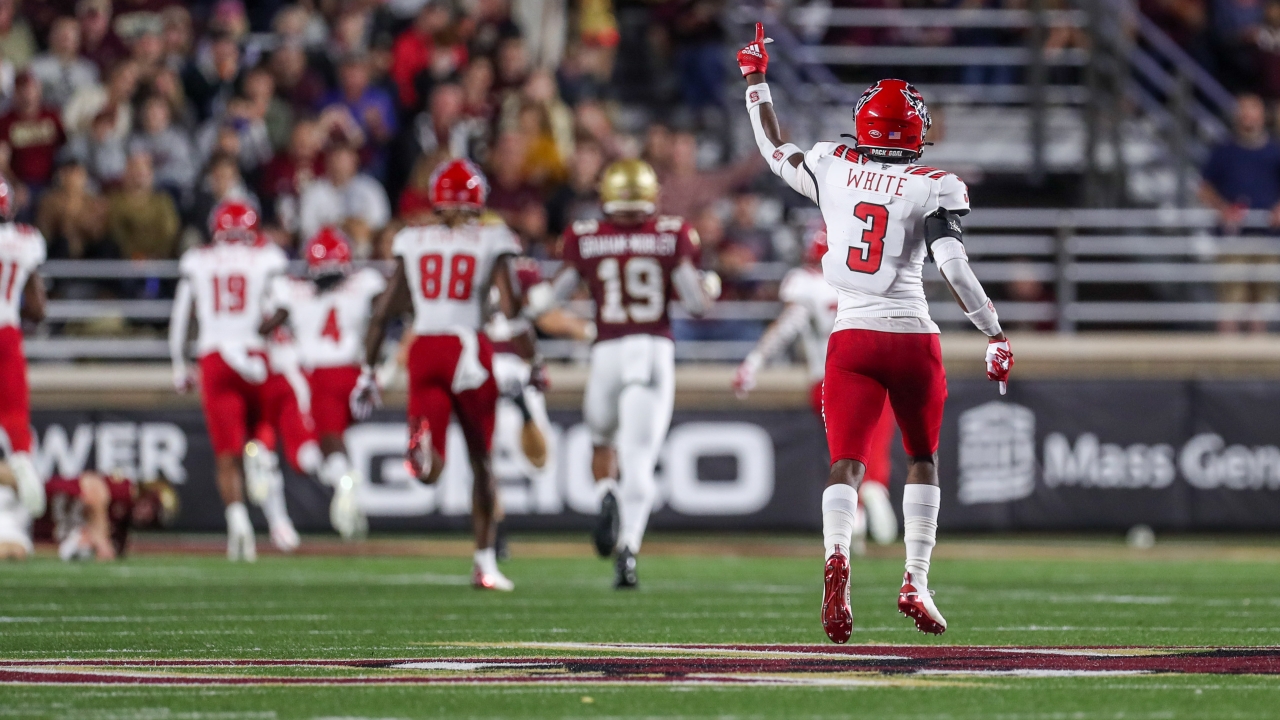 Photo by Paul Rutherford-USA TODAY Sports
NC State Football
Aydan White: "Everybody Is Flying To The Ball"
---
NC State cornerback Aydan White discusses his emerging role, Cyrus Fagan, facing Miami, and much more with the media.
NOTE: Click the video above to watch the interview.
---
You probably heard by now the comments that the Miami quarterback said about we're confident, we think we can move the ball on them. This late in the season, I know you don't need any extra motivation, but does that kind of fire you guys up, and does that kind of spread through the locker room, that kind of talk?
Well, just in a meeting with Coach Doeren, we've just been talking about us, all about us, so we haven't been really looking at the media noise, and we just been focusing on what we can do to be productive on the defensive side.
As a defender, though, now that you've heard it, in the back of your mind, you're like, okay, that's a challenge coming right directly at us.
I don't... It is a challenge, but I try to stay away from the media and not try to feed into any of the hype. Like I said, we just need to focus on what we can do and be productive on the defensive side.
I know it's a different year and there's different players, but as a defense, is there a sense of maybe a challenge or a sense of pride when you're facing a team that did put up a lot of yards and points against you last year, to maybe this year try to kind of erase that and show more what you can do?
Well, this year it's a whole new defense, and we've shown that just on the field by how we've been playing. You see everybody is flying to the ball, everybody's intense every play, so we just come out ready to play every game and just play hard. That's been the main focus, just your effort, every single play,
I know he is not on the field right now, but can you kind of talk about the impact of Cyrus Fagan, like just in the locker room and kind of him as a hype machine for the team right now?
Oh, y'all saw him at Boston College. Even without Cyrus playing, he just brings so much energy to the field. That's just our main man. We just know that he's right there, like he's got us and we got him, no matter what.
I heard that he is kind of like the DJ in the locker room, like he gets the music going. Do you approve of his music choices?
Yeah, that boy is from Florida... he has the good taste of music.
You've worked your way into the starting lineup the last couple games. What's been working for you? Is it just confidence? Was it just a matter of getting more snaps? When did you kind of turn the corner from being a reserve to now you're a starter at the cornerback position?
I wouldn't say it's... I've been confident. I don't think it had to do anything with that because everybody in that corner room can play any time. I just want to say it was next man up at the time, but everybody in that corner room has experience and has played, so it isn't about anything that somebody else has done, it was just next man up.
Tyler Van Dyke is obviously a very different quarterback from D'Eriq King. What have you guys seen from him on tape that he does well, that he maybe does differently, that kind of has made this offense a little different under him, as opposed to how it was with King?
Just that for the defense, we just have to be ready for the deep pass. He's an accurate thrower, so we just have to be ready for the shots. We just got to have a overall good defensive game up front with linebackers, especially with the secondary.
You just mentioned be ready for the deep pass. Miami has explosive receivers. When you watch film, what do they do well, how do they find those creases, and what do you see from them that stands out, that jumps out?
All the Miami boys, they're real athletic, and they know the game of football, so we on the defense have to be technically sound and just play with technique throughout the whole game.
A lot of people looked at last week's game as maybe a trap game. You guys passed that test pretty well. As you look at the rest of the schedule here and the standings in the ACC, there's potentially some big things ahead of you guys, maybe winning the whole conference, who knows, a playoff spot. Has that sunk in yet, and how does that sit with the team?
Well, Coach Doeren just tells us we need to take a 1-0 mentality every single day, so practice, be great that day. Next day, be great. When it comes to the game, be great.
Then, we just are focusing on us, so then we can ... we're not worried about what's at the end of the road right now. We're worried about what's in front of us right now, so just taking a 1-0 mentality.
With the success you guys get, all of a sudden you kind of go from underdogs to favorite, and the more you win, the more that's going to happen. How do you kind of keep the chip on your shoulder, despite the narrative changing a bit?
We just play every game. Everybody wants our best, so that keeps us motivated and hungry, just knowing that everybody wants to take a shot at us. So we just have to keep playing hard and with effort and with technique.
Never miss the latest news from Inside Pack Sports!
Join our free email list