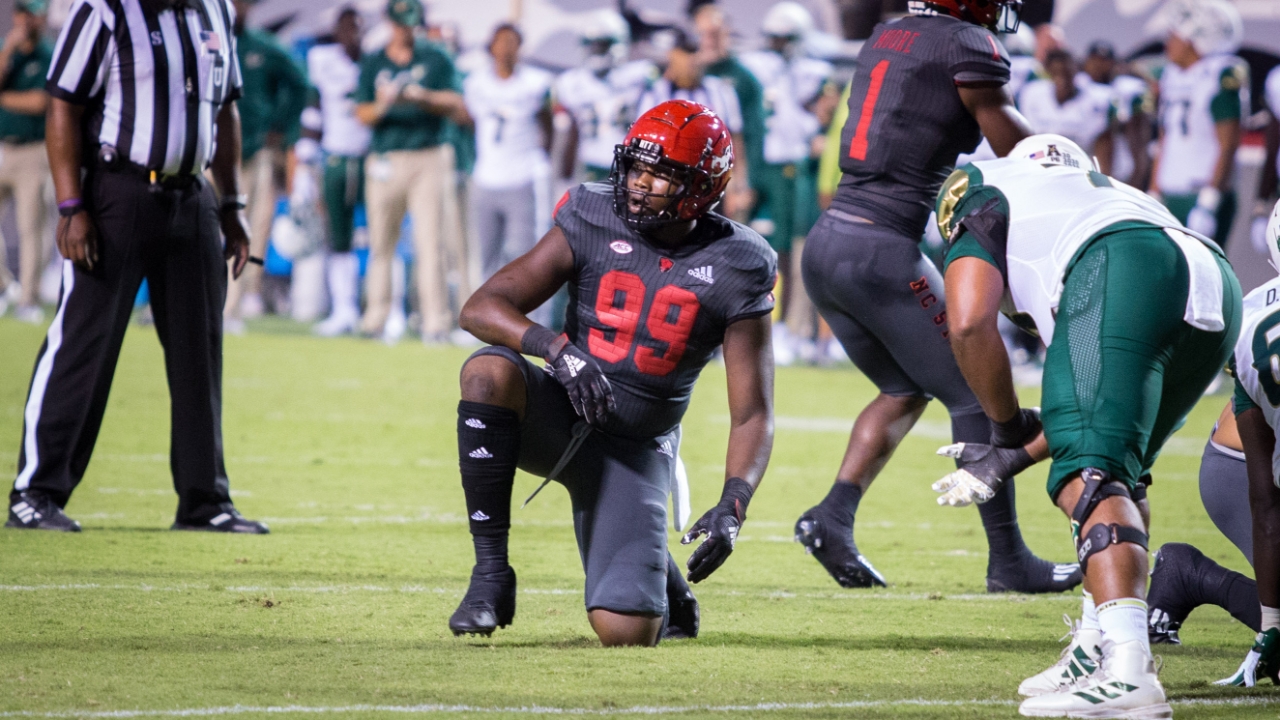 Photo by Steve Murphy/Inside Pack Sports
NC State Football
Daniel Joseph: "It's Not About Them, It's About Us"
---
NC State defensive end Daniel Joseph discusses the Wolfpack's upcoming matchup with Miami, his season, and much more.
NOTE: Click the video above to watch the interview.
---
Did you hear the comments made by the Miami quarterback saying, "Hey, we're confident. We feel like we can move the ball with these guys based off what happened last year?" And if so, what kind of motivation, if any, does that give you guys heading to Miami this weekend?
What comment?
Tyler Van Dyke said, "We scored 44 on those guys last year. They're the same guys. So we're pretty confident. We don't think they can stop us." He said that to the media in Miami.
That's interesting.
Well, last year is last year. Every year is a new year. It may be the same guys, but I know this team's pissed off for greatness, simple as that.
For us it's a matter of just handling what we got to handle and make sure that we handle our daily goals and aspirations and make sure we handle what we got to handle on a daily basis.
It doesn't matter what anyone else thinks or says or does. End of the day, if we control the controllables and control what God has put on our plates, we got it.
So you really hadn't heard that yet?
[Laughing] Nah, I've heard. I'm just messing with y'all.
I was messing with you. I heard it. It didn't add any flare to me because at the end of the day, once again, our mindset here at NC State is you know what, it's not about them, it's about us. It's been like that since day one and it'll continue that way.
You let the opposition say what they want to say. End of the day, when the ball is put down, the ball is put down. The work and the proof is in the pudding.
That's what I'm prepared for, that's what we're brewing up, and that's what we're going to try and make sure we come out on Saturday playing our brand of football and playing the way we know we play.
The whole defensive line... you guys have been very disruptive this year. What's been the key to you guys just causing so much havoc in the passing game against the opponents this season?
It's unity.
I think we've all learned to just play with each other and play for each other. I think that brotherhood that we have in that room is tighter than ever and tighter than I've ever experienced because of the fact that there's only so many guys in that room, so we got to click together.
I love it. I think with us being able to play for the guy next to you and being able to play with that guy you know you've gone through shared stuff, and even not just on the field, but off the field as well, just from hanging out and those experiences.
I think that alone has really been a key factor, and just our ability to really just do what we do on Saturdays.
Tyler Van Dyke, he's a much different quarterback than D'Eriq King. How does that change the way their offense has worked and how you guys have to approach that? Because he is less mobile and effective in that side of the game.
I think just from a standpoint of our mentality on defense, I think it doesn't change too much. I think what it does allow us to do is still play aggressive and stay that way. We've always been a very aggressive team. We want to play fast and play downhill, and I assume that's what we're going to do this Saturday.
Our head man, Coach Gib, is going to make them calls. Whatever he calls, I'm going to run and execute at 110 miles an hour. Whatever that may be, if it's contain him or get to him, whatever it may be, that's going to be what's going to be shown on Saturday.
We've seen how this team's perform with the underdog tag. Now that there's been more success, you guys are favored in games, what changes for you guys? And how do you deal with the spotlight.
Nothing... nothing changes.
It's one thing that you can't do. If you got one foot in the past and one foot in the present, or one foot in the past and one foot in the future based on your present. I know for us, it doesn't matter what we've done in the week's past. It doesn't matter who we got going forward or who's going to give us respect or not give us respect going forward. End of the day, we still got to be that hard, tough, together team that we've always been since week one and since way before that.
I think once again, whatever may come down the line, you got to stay true to that and keep doing that and see where the cards lie by the end of the season.
Never miss the latest news from Inside Pack Sports!
Join our free email list