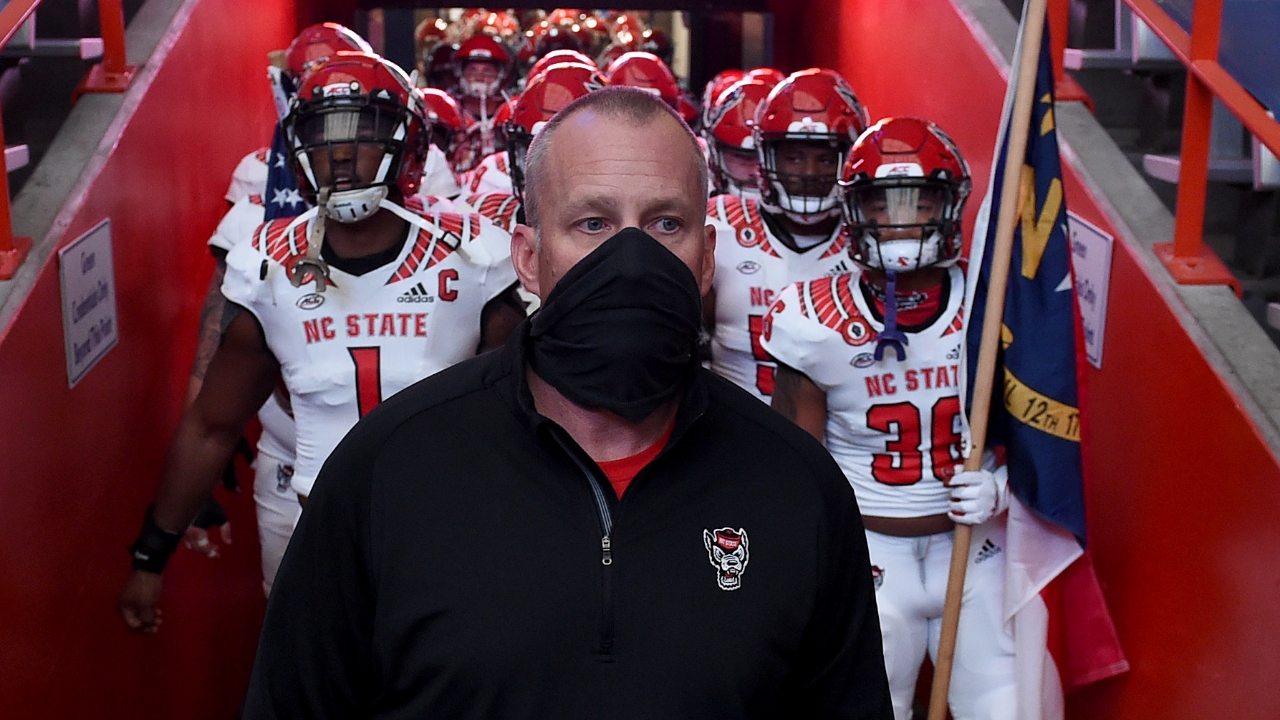 NC State Football
DOEREN: "We're Going To End Up Where We're Supposed To Be"
---
No. 22 NC State head coach Dave Doeren met with the media following the Wolfpack's 33-7 road win over Boston College Saturday evening.
NOTE: Click the video in the player above to watch Doeren's press conference.
---
"Very proud of our football team and our coaching staff. That was a great win. We knew it was going to be a physical game. We were playing a team that we respected. It was a really physical first half. I thought we made some very good adjustments at halftime. The guys had resolve, came out, and really just exploded in the third quarter. It was great to see Emeka [Emezie] break the record for catches. Thayer [Thomas] had a 100-yard game. We took care of the football in the rain and the wind, didn't turn the football over on the road, blocked a punt for a touchdown… things you have to do on the road. We won the turnover margin and didn't give up explosive plays on defense. Really, the only things that hurt us were defensive penalties, and we were able to overcome those obviously. I'm really proud of our team, and we just have to keep working, and we're looking forward to getting home."
"They were doing a lot of motioning out of condensed sets, 'bunches and snugs,' we call them, and that wasn't something they'd done a lot going into our game, so we just had to clean up where we needed to align after the motions and how we were fitting those runs. They did some things we weren't ready for. The kids didn't really understand it at first, and once we were able to draw it up and settle them down, the guys did a much better job after that."
"It's a great feeling. It's complementary football, you know? It's the offense doing their part, the defense doing their part, and the special teams doing their part. We challenged our special teams. [Boston College] made some comments, not about us, but about how good they were on special teams last week, and we took that as a challenge. We told our players, 'If we don't outplay their special teams, we won't win.' The guys did. They played really well across the board. Chris Dunn did a tremendous job tonight. The protection for everybody, the coverage, the punts by Trent Gill… The special teams were a major impact in the game. It's just fun to see the guys seeing blood in the water and not letting them back in the game. That's what championship football teams do. They don't let people back in when you have them on the ropes like that. The guys took advantage of our momentum and never gave any back."
"I hope so. I can't control the lack of respect we seem to get publicly. We know about it. Our team recognizes that people don't think we're good, and we're just going to take care of what we can. We're going to focus on us. We're going to take the next week and try to get better again, and we're just going to keep trying to get better and keep trying to win games. We're going to end up where we're supposed to be at the end of the year, and people will think what they want to think."
"Well, I was hoping we could get the adjustments made when we needed to. I knew we were coming right back out on defense. It was great to get the mayday field goal right before the half. We told Devin [Leary] we can't take a sack. We didn't expect to have to do that, so the guys were ready, and that was awesome to get those three points right before the half with them getting the ball to start the third. I told them, 'You're going to get punched in the mouth in this game. That's who BC is. That doesn't mean they win the game. That just means they hit you. You're just going to have to hit them more.' And they did. They hit them a lot more in the third quarter."
"I didn't get to see it, so I look forward to watching that. One of the things I did with the team on Friday was I showed them contact catches that we need to make, that we've made before in other games. Devin [Carter] has made several this year. I showed them plays from the Clemson game against BC where they didn't make contact catches and could have made it a lot bigger win for them. Because they play tight man-to-man coverage, you have to be able to make contact catches against BC, Devin took that to heart and made a great play for us."
"I don't know. I have to look at that. There were some things called officially that I'm not allowed to say bad things about, but I wouldn't say those things went our way at times, but we were able to overcome some of that stuff. There was a play overturned in the game that hurt us. Our guys just made plays, and the bottom line is that we executed well in the second half, and that was enough to separate the two teams, and they're not built to catch up in a game like that in that kind of weather."
"That's all we've been talking about all season. When you go back to last year, we found different ways to win last year. It was a blocked field goal against Liberty, a blocked punt against UVa for a touchdown, a blocked punt against Duke, offensive scores, defensive stops… Last year, we did that really well, and this year we've been trying to continue that trend. Tonight, I thought we were really good in that fashion."
"Knock on wood, but yeah. [Leary's] playing good ball for us. There's some things he can do better, but he's playing confident. He's executing on offense. He's protecting our defense by not turning the ball over. He's giving our receivers chances to make plays. I'm proud of Devin. He does a lot of things for us to help us win games."
"Devan [Boykin] has practiced really well the last three weeks. He's earned more playing time, and they rewarded him with that, and he capitalized on it. It doesn't surprise me. He's a coach's son. He takes practice very seriously as does [Devon] Betty. He goes in and makes a safety at the end of the game. The guy doesn't know if he's going to play, but he practices as if he's going to start, and that's awesome to see."
"[Cyrus Fagan] is definitely a leader. He loves the game. He loves his teammates. He loves the journey we're on together. He knows he can only control what he can right now, and the best thing he can do right now is help his brothers, and he's doing that. He's doing it with a lot of flair. With the sideline we have, I told the team this: 'When we line up on the opening kickoff, their sideline should be jealous of the energy that we have on ours.' We had great energy to start the game, and that's important for these guys. You're in a sold-out stadium. Their fans were screaming at us, M.F.-ing us and everything. It's great coming out of the tunnel, and they're calling us this, that, and the other, and we've got more energy. It showed our cohesion and brotherhood, and Cyrus leads that group over there."
"We've been playing football at NC State for a long time, and [Emezie's] the all-time reception leader in school history. That's a big deal. There's so many great receivers that have played here, and so I'm proud of him. It's not about how you start your career. It's how you finish. He's finishing it with style by being a great leader and teammate."
"We did. We had to get him one. Even though it was a negative gain, it doesn't matter. It still counts, right?"
Never miss the latest news from Inside Pack Sports!
Join our free email list