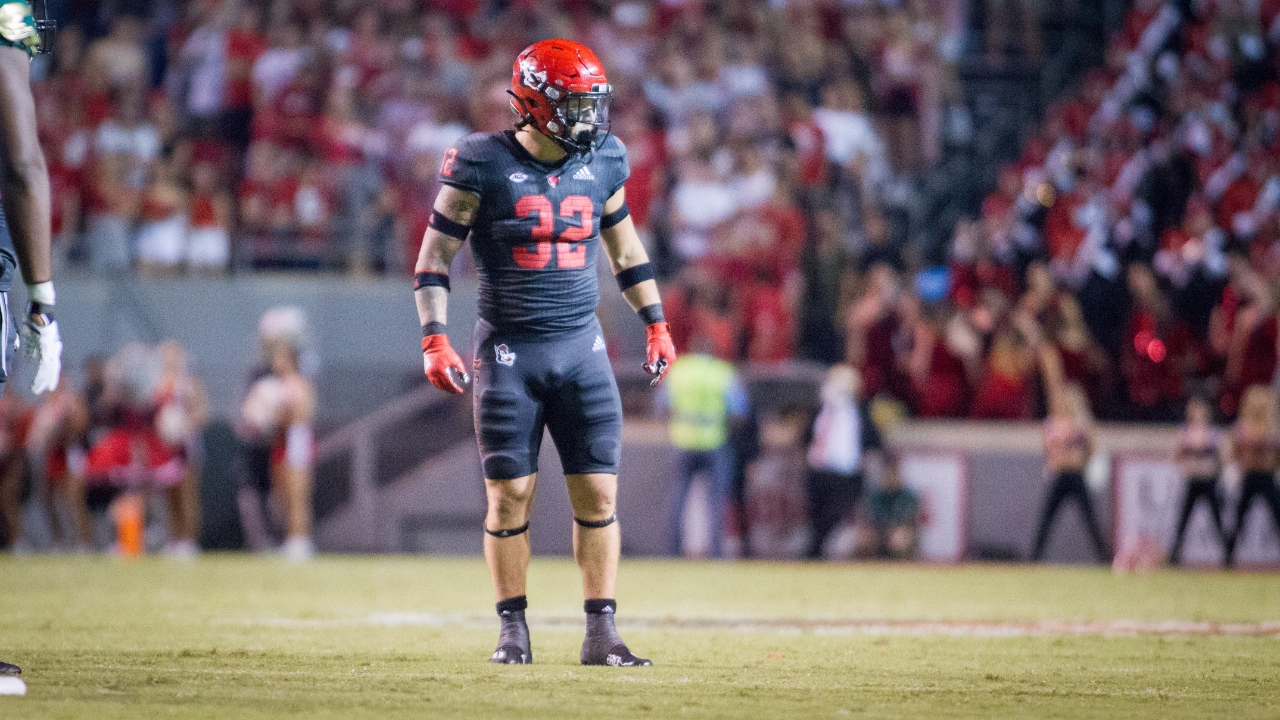 Photo by Steve Murphy/Inside Pack Sports
NC State Football
Drake Thomas: "They Have Good Receivers"
---
NC State sophomore safety Drake Thomas met with the media to discuss the defense, Boston College, his success this season, and much more.
NOTE: Click the video above to watch the interview.
---
"I'd agree with you saying that. I'd say they definitely want to focus on running the ball first, and that's something that myself and the defense takes pride in. I think it'll be fun, and I'm looking forward to competing with them."
"Yeah, for sure. I definitely look forward to these kind of games. It's what I like to do. I play pretty physical, so when these games come around, it's definitely something I look forward to."
"We embrace that for sure. You just want to get better at one thing every single day, and then when you look at it and see how much better you got through the year, I think the progress will speak for itself. Everyone on the team buys into that, and you just go to work every single day focused on what we need to get better at. For me specifically, there's little things like pursuit angles, coverage drops, and just things like that. It's little things every single day that I see on film that I see on the film that I want to correct that I go out there and try to work on."
"I'd say they do a good job of throwing off of their run game. They do a lot of play-action pass. There's not much RPO's from under center but play-action passes and stuff like that. They have good receivers that they get the ball to, so they definitely have a good passing game as well that we're well aware of and ready to defend."
"It honestly started back when I had my surgery after the season last year. I wanted to get myself all the opportunities to be as healthy as possible in every way. I cleaned up my diet. That was a major part of it. I wouldn't say my diet was necessarily bad before, but I really disciplined and focused a lot on the details of it, and like I said, I made sure I'm as healthy as I can be to be able to make plays for our team."
"I'd say it wasn't that hard. Once I have my mind set on something, I'm pretty consistent with it, and I go get it. Once I made my mind up that I was going to do it, it was just like it clicked, and I was focused on it."
"At the beginning of last year, I was between 230 and 235 in that range. Right now on game days, I'll play at 230, so I haven't lost much weight. I've just cleaned it up a little bit."
"I'd say I feel the difference. I feel like I'm playing faster. I definitely feel like it's played a positive impact on the way I've been playing."
"It's the same as every week. These teams, especially when you get into ACC play, have players all over the depth chart, so you don't change your approach because it's a backup or based off who it is. You go and look at the film, and you look at all of the keys and the tells that they're going to give you, and you go off of that."
Never miss the latest news from Inside Pack Sports!
Join our free email list