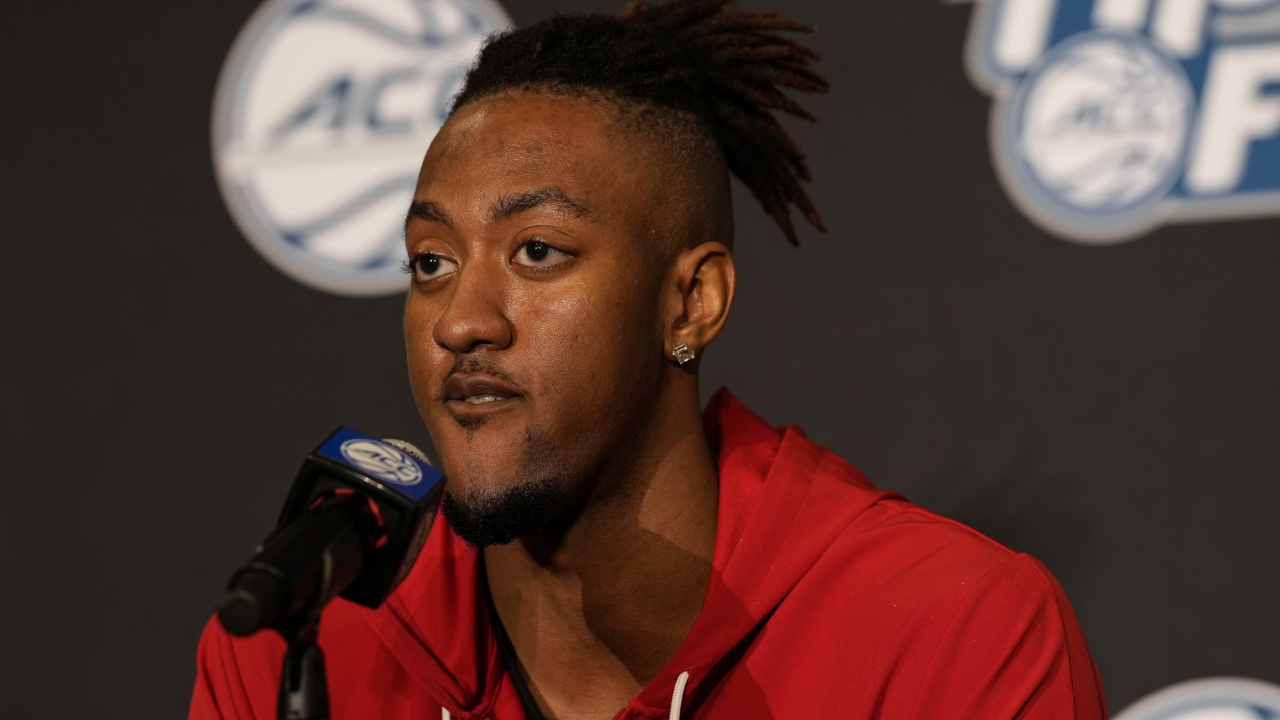 Photo by Jim Dedmon-USA TODAY Sports
NC State Basketball
Manny Bates: "Everybody Is Trying To Win"
---
NC State junior center Manny Bates discussed his role, the Wolfpack's roster, and much more with the media at the ACC Kickoff.
NOTE: Click the video above to watch the interview.
---
On Jericole Hellems' comment about the team being full of dogs...
"I would say a change in mentality because I feel like everybody that I've played with over these past seasons have had a dog in them, especially in the young guys. I feel like they're big competitors. If somebody's losing, we're talking trash to each other. We're beating each other up, but I feel like that makes it so much more fun in practice. I just feel like our young guys are really bringing so much energy to this team. They can bring out that dog in the whole team so that everybody's competing to a different level. Everybody's trying to win, so I feel like that's going to help us even more."
Is that surprising?
"Not really. [...] I already knew about Breon [Pass] and Terquavion [Smith] coming in, but then Ernest [Ross] having that same mentality of wanting to win and having that drive to win is good to see in those young guys."
What steps have you taken in the offseason in your own game?
"I've become a better rebounder. I'm not really focusing on one specific thing. I'm trying to be an all-around player, so [it's been] rebounding, building confidence to shoot 15-foot jumpers, and building confidence on the floor."
What's your role specifically on defense as the anchor?
"My role is to help the team in any way that I can. I've been here long enough, so I know situations, and I know how to get that big stop that can carry us to a win. I feel like my role is being the defensive leader Coach [Kevin Keatts] knows I can be."
Keatts offered some high praise about you and your defense, saying you're one of the best defensive players he's ever coached. What does that mean to you, and how has he helped with your development on that side of the ball?
"Hearing that from my coach is all love, really. I didn't think he held me to that high of a standard. Hearing that took me to a different level. He's taught me the background of the game and expanded my knowledge of the game."
What's going to be the identity of this team?
"Aggressive. We're an aggressive bunch. We're going to get after you, speed you up, turn you over. This team is so special because we're so versatile at every position. I don't feel like anybody has a downside. We have potential with this team, and I've already seen it in the first few weeks of practice. There's so much potential that it's hard not to see the upside of where this team's going."
Never miss the latest news from Inside Pack Sports!
Join our free email list