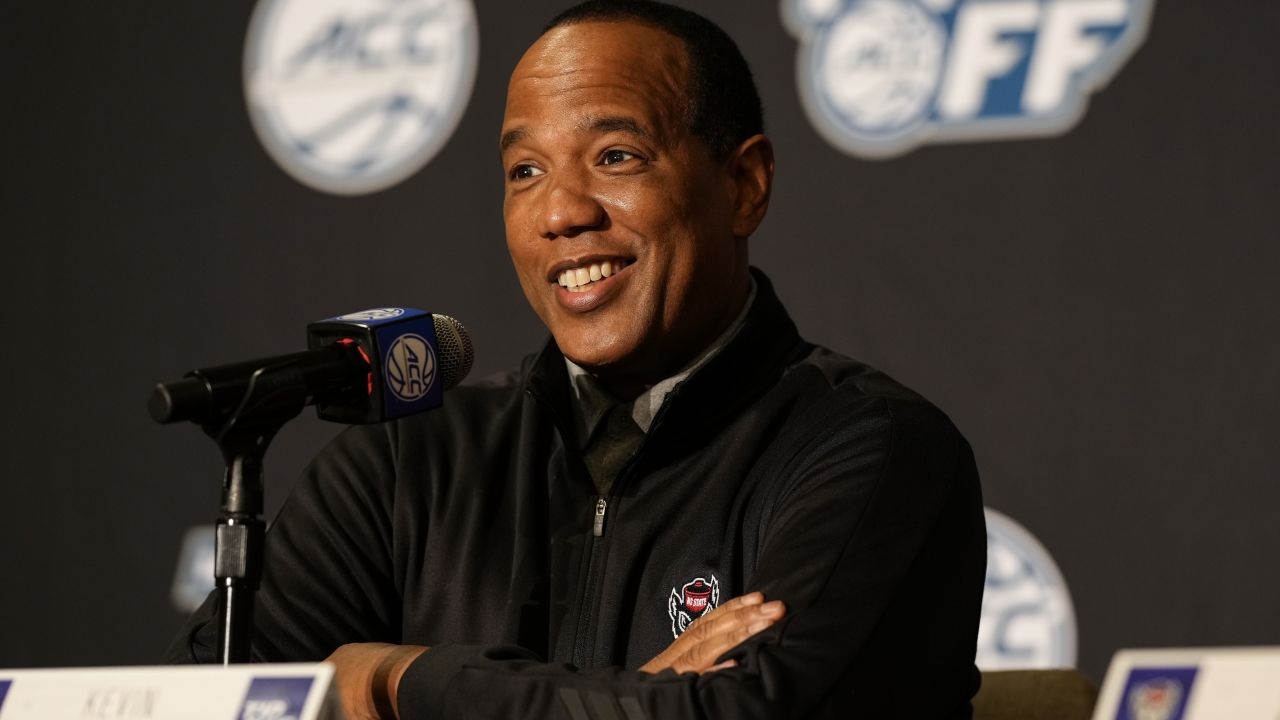 Photo by Jim Dedmon-USA TODAY Sports
NC State Basketball
Kevin Keatts: "We're Moving In The Right Direction"
---
NC State head coach Kevin Keatts discussed his coaching tenure, the upcoming season, and much more with the media at the ACC Kickoff.
NOTE: Click the video above to watch his interview.
---
You're fairly early in your coaching tenure as far as being in the ACC. To see all these pillars of the league leaving, how different of a change do you think it's going to be for this year and beyond?
"I don't look at it as so much of a change right away. When you see change, it's typically three or four years from now. What those guys have done in our league has been tremendous. We cannot deny that. They've done a tremendous job. But there are also opportunities. When I took the job here at N.C. State, it wasn't based on the fact that Coach K or Roy Williams were close to retiring. It's just obviously trying to build a program that can be constant and win championships. We're excited about that. I think we're moving in the right direction. When you look at our first few years, it's been really good, then we ran into the pandemic. It's similar to everybody else. I like what we're building in Raleigh, and we're going to continue to work toward that."
Can you apply lessons from last year into this year, or was it such an anomaly that it doesn't quite apply?
"I think you can throw last year out the window. I could never plan for two pauses. I could never plan for a season-ending injury to my leading scorer. I'm knocking on wood that we don't have to go through that again. That was the most stressful time. I felt bad for our team. I felt bad for our university. I felt bad for Devon Daniels and those type of guys. Hopefully, that was just a one-off and that we don't ever have to deal with that again."
In terms of the growth of the program, looking back to the 2019-20 season before everything shut down, was that an NCAA tournament year for you guys when you think about the upward slope of your team?
"Absolutely. When you look at us and when you look at how things have worked out for us, we've been very successful. We've averaged 20 wins per year. We've never had a losing record in the ACC. We got shorted; we were 35 in the NET, and for whatever reason, and you can pick whatever choice you want, but we didn't get in. And then obviously, the pandemic cut us short. When you look at the resume, the resume looks good, but you also have to look the reasons why there may not be as many NCAA appearances because of the circumstances."
You said you weren't thinking about Krzyzewski and Williams retiring when you took this job. Now that they are leaving, does your perspective on the league and the opportunities naturally change?
"No, I don't think it changes because you don't have to change if that's what we're building toward anyway. Those guys have been tremendous, but our mindset has always been to try and figure out how to build a program to get us to the NCAA Tournament and to win the ACC, and that's where it's going to continue to be. We took over a very tough situation, and for the most part, we've cleaned a lot of things up, and we're going to continue to build on that."
On hitting the ground running with the caliber of guys in practice…
"I love our mixture of team because we've got four guys that took advantage of their opportunities. At one point when Devon Daniels went down which was a low for us, we were 4-8 in the league. They found a way to go 9-8 and win five road games which hadn't been done since 1974 with the championship team. I love the group of guys that's back because they've got valuable experience, but I also had the opportunity to add a top-25 class and a couple of transfers that are hungry and want to win."
Never miss the latest news from Inside Pack Sports!
Join our free email list