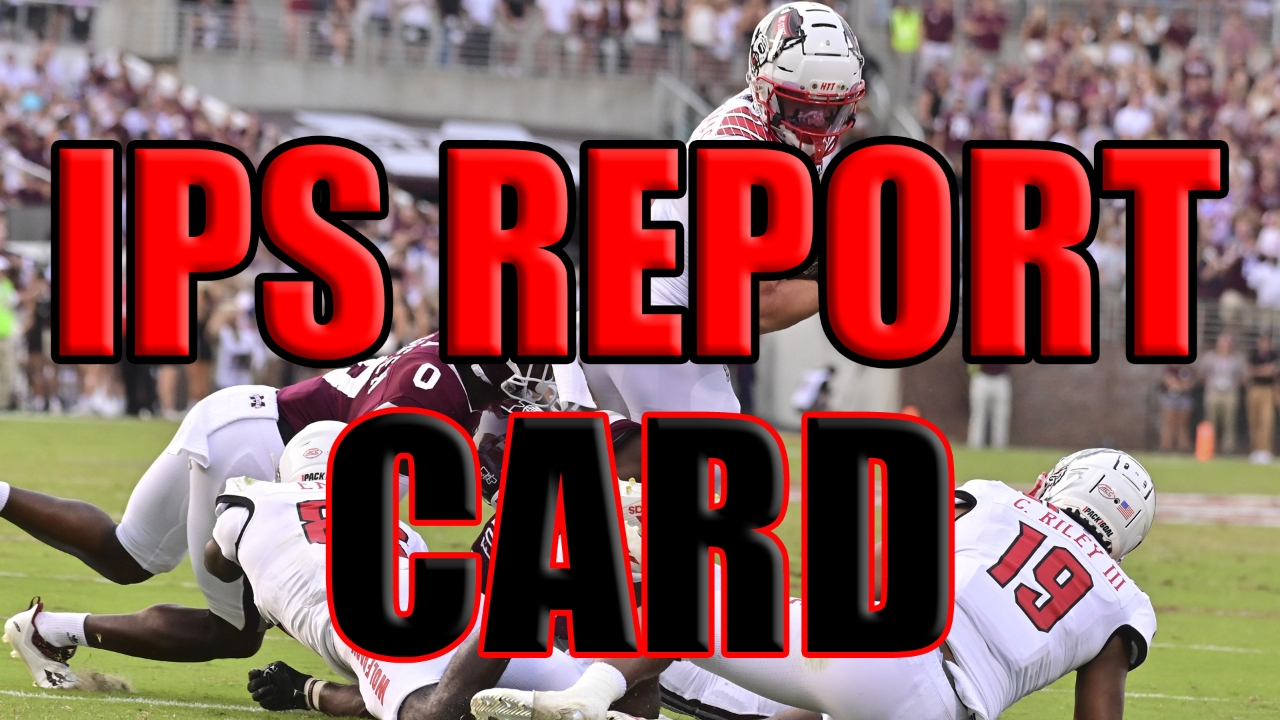 Photo by Matt Bush-USA TODAY Sports
NC State Football
IPS REPORT CARD: Wolfpack survives against Louisiana Tech
---
No. 23 NC State escaped a close shave with Louisiana Tech in week five, beating the Bulldogs 34-27 in a game that came down to the last possession after last week's win over Clemson.
It was a tale of two halves for the Wolfpack: In the first, the defense kept the team in it (and in the lead) while the offense couldn't get much going. In the second half, the offense woke up, while the defense struggled to get stops against Austin Kendall and the Bulldogs' offense.
Such a mixed performance makes for some mixed grades, so let's hand them out, shall we?
Quarterbacks - Devin Leary was solid if unspectacular in this game. He made some good throws and had some good connections with his receivers. There were also plenty of times, especially in the first half, when his offensive line did him no favors and he faced pressure.
Leary made some particularly good throws on the run on NC State's field goal drive to end the first half and, on the Pack's first scoring drive, threw a bullet on the run to Emeka Emezie for a 34-yard gain to set up a touchdown.
On the day, Leary completed 22 of 36 pass attempts for 251 yards, two touchdowns, and no picks. He didn't make any glaring mistakes other than a missed connection here or there. It was a decent day, if a bit of a step back from last week's game against Clemson.
Grade: B
Running backs - NC State could not get anything going with its run game in the first half, but then, in the second, that changed dramatically, with both Ricky Person and Bam Knight showing their ability to find holes and pick up big gains on the ground.
On NC State's second possession of the second half, Person made a spectacular run, finding a hole, juking his way to the end zone, and bowling over a defender for a 24-yard score.
Knight, who had just 10 yards late in the third quarter, factored in in a huge way late in the game, starting with three carries for 38 yards on a touchdown drive that put NC State up 27-13. Knight also had a 25-yard run on NC State's final touchdown drive and scored what ended up being the game winner from four yards out.
Both backs ended up having very strong games, with Person finishing with 90 yards and a score on 15 carries and Knight 85 and a score on 13 carries. The Wolfpack should feel very good about going into its bye week with both backs healthy and running like this. It's hard to give them an A after the first half no-show, but Knight and Person were a big reason NC State won this game.
Grade: B+
Wide Receivers - This group was impressive in the win over LA Tech. They made some strong catches to move the chains throughout the night, with Emeka Emezie (four catches, 67 yards), Thayer Thomas (five catches, 48 yards), and Devin Carter (three catches, 65 yards) leading the way. Carter in particular made two "circus catches," going up over defenders to get the ball and give his team scoring opportunities.
C.J. Riley scored NC State's third touchdown of the game.
While they struggled to get open at times in the first half, the Pack's wide receivers put in a solid day's work in this one.
Grade: B+
Tight Ends - The tight ends did their job in this one. Chris Toudle had a catch to move the chains on NC State's first scoring drive and made an impressive play to stay in bounds and score the first touchdown. Trent Pennix also had a third-down catch to keep NC State's offense on the field on a drive it eventually scored on in the fourth quarter.
Dylan Parham made an excellent seal block on Knight's 25-yard run on that same drive. Nothing to complain about here.
Grade: A
Offensive Line - The first half of this game was the opposite of a banner performance for the Wolfpack's offensive line, as it struggled to provide Leary with a clean pocket or open holes in the run game. NC State had just 37 rushing yards on 15 carries in the first half.
In the second half, however, the offensive line, after Dave Doeren specifically mentioned it as an area that needed to improve during his halftime TV interview, did a much better job, especially in a third quarter in which the Wolfpack piled up 88 rushing yards. Kudos to this group for figuring it out after the break, but a slow first half like that could prove more costly against an ACC opponent.
Grade: C
Defensive Line - The Pack's defensive line didn't have quite as strong of a game against the Bulldogs as it has in other games, but it still did a solid job putting pressure on quarterback Austin Kendall, particularly in the first half. Daniel Joseph, Corey Durden, and Davin Vann combined for seven quarterback hurries, with Vann alone credited with five.
In the second half, however, the Bulldogs' offense really got going, and, though a good chunk of that was on the secondary, a tail off in the ability to pressure the QB also played a role. Kendall also gave NC State some issues with his ability to make plays with his legs, as he ran for 71 yards on 15 carries.
Grade: B-
Linebackers - Another game, another night of playmaking for NC State's linebackers. Isaiah Moore had another monster game, with 10 total tackles, a tackle for a loss, a sack, and a quarterback hurry.
Drake Thomas also put in a big game, with nine tackles and a quarterback hurry. Another good day's work for the Pack's linebackers.
Grade: B
Secondary - Saturday's game was a dramatic drop off from the first three games of the year for NC State's secondary. They were mostly good for three quarters, especially in the first half, as NC State only gave up 13 points through three frames.
But, in the fourth quarter especially, the Wolfpack gave up way too many big plays through the air, with the Bulldogs able to quickly move the ball down the field to stay in the game. There were simply too many blown coverages, leading to open receivers for Kendall to find.
The secondary did come up with two takeaways, including a first-half pick for Aydan White and game sealer for Jakeen Harris in the end zone. But this group played a large role in this game being closer than it needed to be.
Grade: D
Special Teams - The Wolfpack's special teams units had a great bounce back from last week's debacle. Chris Dunn made both his field goal attempts and all his extra points. Trenton Gill had some booming punts to flip the field, especially in the first half with NC State struggling on offense. Thayer Thomas and Bam Knight had some strong returns, and NC State's returners did well handling the Bulldogs' squib kicks. No issues with this group.
Grade: A
Intangibles - NC State came out understandably a bit sluggish following last week's big win, but the offensive coaching staff made the necessary adjustments to move the ball in the second half. NC State was the more disciplined team, with just four penalties for 49 yards compared to eight for 62 for LA Tech.
There were multiple times in the second half where the Bulldogs scored to make it a one-score game, and NC State answered with a strong drive of its own. The Pack did enough of "the little things" well to avoid the trap game.
Grade: B+
Overall - There's no reason to get too worked up over this one. This was far from a banner performance for NC State, but that's not overly surprising coming off a huge win and going into the bye. And Louisiana Tech is a solid team that's given many opponents problems this year; all of its games have been decided by one score.
The team knows it needs to be better on both sides of the ball than it was in this game, but ultimately NC State did enough to win against an opponent that's better than its record.
Grade: B-
Never miss the latest news from Inside Pack Sports!
Join our free email list