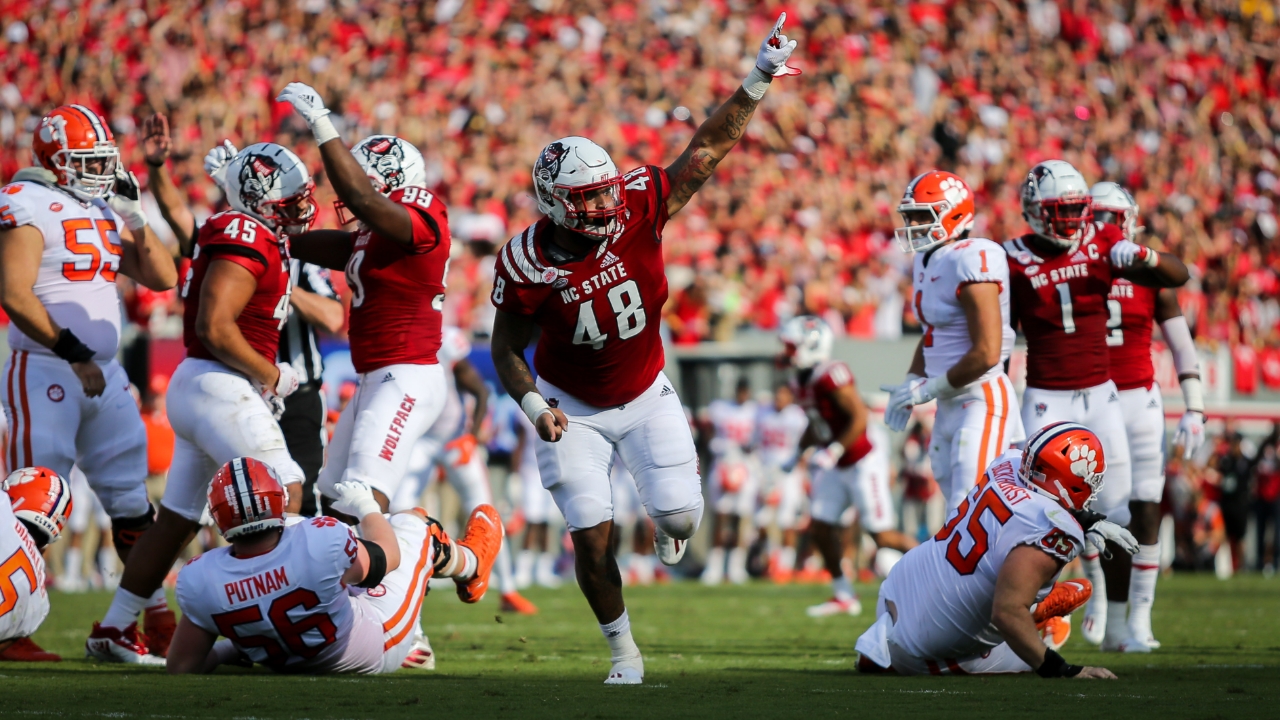 Photo by Steve Murphy/Inside Pack Sports
NC State Football
Cory Durden Looking To Build On Breakout Performance
---
NC State nose tackle Cory Durden discusses his breakout performance against Clemson, prepping for Louisiana Tech, and much more.
NOTE: Click the video above to watch the interview with Durden.
---
Coming out of that game, you've got Louisiana Tech this week, what's the mindset like for the defense through the first couple of days of practice?
I feel like the mindset going into this week was to not let our highs be too high. Obviously, the Clemson win was a big win, but to build off that instead of just being complacent and settled with that. I feel that a big thing that we approached on defense was going out there, building off of that game as a point of making that game the peak.
We're building off that game to get better. We're not satisfied with beating Clemson. Obviously, LA Tech's a good team, and they definitely could beat you, so we're not going to overlook these guys. That's been the mindset in practice all week.
You've been on several teams now, obviously at FSU and now NC State. What's the chemistry like on this team?
The chemistry is great. Being surrounded by a lot of great guys, that means a lot. I came from an in-conference team. I was pretty nervous coming here and being accepted by the team, but I'm surrounded by great teammates.
On offense, on defense, everybody. There are so many great people on this team, so the chemistry is amazing... compared to what I was used to.
How much time did you have to prepare to be the starter, to replace CJ, and what that was it like for you accelerate at your role in the biggest game of the season?
In all honesty, Coach Wiles has pretty much been carrying me along as a starter for the whole season. It was really no transition.
I was just ready for my number to be called. It's unfortunate that CJ got hurt, but they needed me to step up, and I was able to step up for the team and do what I could to help the team win.
Can you take us through how you guys come back on Tuesday, get your game plan, get your style of play in, and then execute it on Saturday, and then have to switch it up again the next week to go face a different whole type of offense?
Obviously it's difficult in aspects if we have to switch up our play calls every week. The way that we play different style of offenses, as opposed to Mississippi State, they're going to spread you out and throw the ball.
You have Clemson and they want to run the ball, and then Furman... I don't know. It's all about attention to details. With Furman, the details that week were just over the talk, because they're [seen as] an inferior team.
But their offense... you don't want to give up big plays to any team. So it's having the attention to details and being able... the biggest that the coaches say, because we got a lot of playmakers on our defense, but the biggest thing that the coaches say is, "Don't try to do too much. Just do your job and the play will come to you."
I feel like that's what everybody has bought into... by living by that saying. We don't have too many people out there just trying to do too much. Everybody just does their job. It allows everybody on the field to make plays.
For example, the Furman week it was the details that were over the top? When you guys find that first day on that Tuesday and Tony Gibson comes out and meets with you guys, how much did he throw with you guys on that first day based on the team you guys are playing that weekend?
The first day is our most important day, because the first day is first and second down, so he's going to throw everything. We are going to see everything as far as the run, the RPO, just, we're going to see everything on that first day.
Tuesday is definitely the hardest practice, because Thursday... I mean, Wednesday is more of like a pass-heavy third down. Everybody passes. Everybody throws the ball the same way, in a sense. That's the one thing I will say that on Tuesdays, they throw a lot at us to see how we react. I feel like we react just how we're supposed to every week.
How important is football IQ, in that sense? You get a lot thrown at you on Tuesday. That's completely different from the previous week. How important is it to have a high football IQ on that side of the ball?
I feel like having that IQ to be able to transition week after week to different offenses is big time. I feel like it shows in just who makes plays, and not necessarily who doesn't make plays. The guys who make the most plays, I'm not saying they have the most football IQ, but they're more than likely more prepared than some of the others, if that makes sense.
So that IQ aspect is a big thing, because one week you could get this look, and then the next week you get a totally different look, totally different blocking scheme. If you don't watch film and if you don't have the IQ to be able to just read all your pre-snap keys, then you're not going to be very successful.
When we talked to you after the game the other night, you talked about wanting to celebrate with your mom and finding her. I wanted to ask you about your relationship with her, and how much she has meant to you throughout your whole career. Obviously, transferring is not easy. How much did she help you through that? Then also, how special was it to have her there on Saturday night?
My mom, she means a lot. She's my mom. She's the most important. She's one of the most important women in my life. This is ironically the first game that she was able to come to in North Carolina, so it was amazing to be able to have an okay game with my mom in the stands.
My relationship with my mom has honestly grown so much since I became a grown man. The way that football could beat down your mental. On top of that, having to deal with the everyday things of being a regular person, being a student.
It's a lot, and it could become a lot. As a man, men normally don't open up. We deal with our problems on our own, and we have stuff that we go through every day.
We might not say nothing to nobody, so to have a woman like my mother who is innocent, she doesn't understand what I go through because she don't do it. To have somebody like that in my corner who I can ask anything, and she's not going to tell me what I want to hear, she's going to tell me what I need to hear.
It was amazing. To have an okay performance. I really don't even feel like I did that good, but to play good in a big game like that, ironically, her first game, there is amazing. I don't know. She might just be my good luck charm. It might be what it is.
Corey, do you have a son?
I do. I have a two year old.
Was he at the game, and how was that? How has having a child helped you mature or grow up, and has that changed your whole life? Being a college student?
It honestly changed my life dramatically all together. I was still a college student, but I wasn't in aspects because I couldn't do all that stuff to you do as a everyday college student. I had times in Tallahassee where I would stay up all night when my son wouldn't go to sleep, and I would go to workouts at 6:00.
Dealing with that, finding the little loopholes to balance it. It's been amazing. At first, it was just overwhelming, because it was football, school, and then now I have this young child who stays up at all times of night. Then I just got into a schedule, and it became so easy. I have a lot of people who, when I tell people, "I got a child," they would be like, "wow, isn't it so much?"
It really isn't. Especially because football is like my escape. I love my child to death. He is a blessing, but when I'm on the football field, I don't really think about anything. I could just... Everything that I got going on... Even in practice... That's why today, for example, I could have so much on my mind. I could just go out there, and just forget about everything around me because I'm out there with my teammates doing something I love. Balancing that has helped me tremendously on the football aspect, because I'm so much more on top of so many different things because I had to grow up so much faster.
I don't think like a 22-year old college student anymore. I had to mature. It was definitely a transition, but it took some time to get used to.
Was he at the game with your mom on Saturday?
He wasn't. They are actually moving up here tomorrow. So I'm excited about that.
Through four games, how would you assess, or grade, or talk about how the defense performed through the first four games of the season?
That's a tough one. Cause the football player in me wants to sit here and tell you, "We've been playing great. We're one of the best defenses in the country," but that's not the case. We've had good games, and we've had times where we didn't show up. I feel like as a defense, we got to get better all around. We got so many different... We got to get better in the takeaway aspect, the big players. I feel like we'll play 45 minutes of good football, then the last 15 minutes that will come back to bite us in the butt.
Becoming a more consistent defense and holding other players more accountable in practice and stuff, that's going to make us level up. Take our defense to a whole other level. So I feel like our defense is... I know our defense is good, but I feel like for us to be great, we got so much stuff that we got to work on.
Never miss the latest news from Inside Pack Sports!
Join our free email list