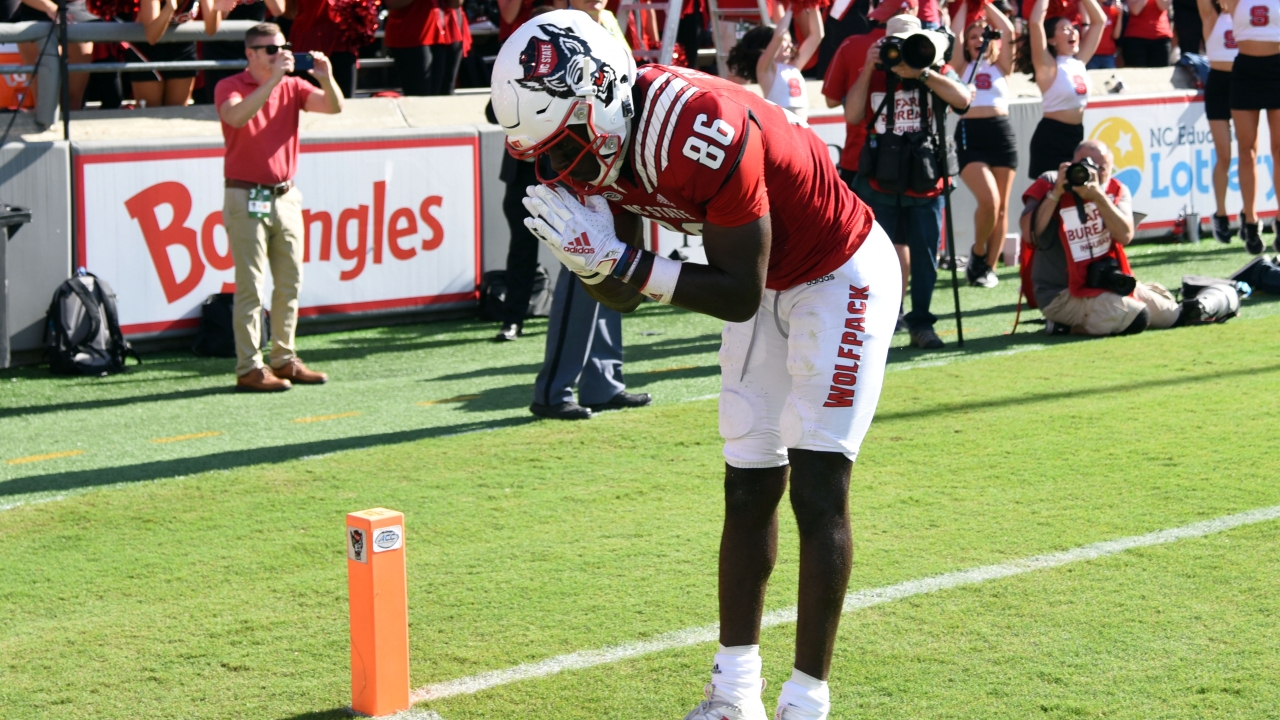 Photo by Rob Kinnan-USA TODAY Sports
NC State Football
Emeka Emezie: "We Just Have So Many Playmakers"
---
NC State star wide receiver Emeka Emezie discusses facing Louisiana Tech, his mentality going forward, and much more!
NOTE: Click the video above to watch the interview.
---
An observation that I had Saturday was it seemed like maybe when things weren't going the offense's way, maybe there was an overthrown ball or a dropped pass here or there, you were there for a catch. Thayer was there for a big-time catch. On moments like that, and with Devin being around the program so long, how have you guys, as upperclassmen, when stuff might not be going your way, how do you help settle things down and make sure the offense stays on track with the experienced guys like you have?
I feel like it just goes for our experience, just how much time we put in. If you put in that much time, you're going to obviously see things that don't go right. It's just football. It's never going to go perfect. So just bouncing back and just being able to lead the team.
We understand there's going to be times where... during '19 like we had one time, we had a problem. It's okay, just keep going. And then you put your head down, just keep going. Really just, we understood what was at task and the way the flow of the game was going, we were able just to just keep our head down, just keep chopping up yards or whatever the case may be.
Is there a moment in a game like that where you have to talk to some of the guys and say, "Hey, we're still good," or do you just let things play out?
Just on the sideline, I don't really try to say too much because I feel like we all have our own way that we take the game and I don't want to ruin that for anybody. And some people might need to say a lot of things, but I just learn.
That's not really what I need to do. But if I need something done, I'll say it, then people will be able to listen that way. But I just feel like I'm able to bring in positive energy. If anybody says anything about me, they'll just say I try to be as positive as possible.
I try to keep good energy. Just don't bring any negative energy over because it's just going to affect us. It will spread. So I just try to stay as positive as possible, no matter what the case may be. That's what I bring.
You had a big performance in this game. Did you know going in, just based on the game plan, that this could be that type of a game for you?
Honestly, personally, I set goals for every week, I set goals for every single day. And then I think the best way to do it is just set goals. And then once the game time comes is put the goals away. I don't even think about it, go out and play, and it just happened.
I felt like I put in a lot of time; my goal every single week is to be the hardest working player between the two of the teams. So I felt like that was probably the case this week. And football listens, the world listens, and it just happened that football was able to find me a lot, which is a blessing. I thank God for that really.
That game ended with the defense on the field. So as an offensive player, you really don't have any say at that point. What's going through your mind there, fourth and five, and then obviously when you see that ball sail out of bounds?
Yeah. It's tough because we didn't get that two-point conversion. It's just such a tough play. Two-point conversion is so tough.
So having T-Bake, our best cover guy, I feel like I can go up against him in one-on-ones. He's a tough guy to get open against, and having him on a great player like Justin Ross was awesome, being able to go our way.
I have faith in all of our defensive players, and having it to go that way and having it again in their hands, it's just awesome for all of them. I'm just very excited, very happy for that to happen.
You guys are getting a lot of pats on the back right now. How do you put that behind you now, knowing that you've got a game coming up Saturday, that a lot of people are saying, this is a trap game, it's not an ACC contest? How do you put that behind you and get the things taken care of on Saturday?
It's already behind me. I wanted to go as hard as possible. I wanted to win every single one-on-one today. I wanted to practice as hard as possible and be able to give as much energy to the offense as possible.
So I spent a lot of hours yesterday studying La. Tech already, and I'm going to do the same thing today. So just going back into a routine, I think the best thing to put it behind you is getting back on the practice field, because this is what you do playing football. We have things we have to work on, obviously.
I just believe we're going out, preparing like we were last week. Doing that every week, I feel like it's just a good way to go about it.
Do you feel this team is mature enough to put that behind them, and like I said, do what you need to do on Saturday?
Definitely. I think we practiced really hard today. And then when we get out to the game, it's another game. It's not like you're going to go out there and say, "All right, we beat Clemson. We're good." It's still football, so you have to go out there and play and play hard. So that's what we're going to do.
When you open conference play and open division play against the six or seven-time defending conference champion and you beat them, your goals are still right very much in front of you, but what does it do for your confidence when you knock off the six or seven-time defending champ right out the gate?
It's awesome. I think that's a good way to start off the season. And I really just want to know as anybody, really that's the biggest thing from here on out, just keep doing that – stacking days upon days. We always felt like we can do anything we put our minds to, this team, and we had the Mississippi State game where we bounced back.
That's how you can tell we have a mature team because we bounced back. We didn't play a good game, but we were able to bounce back. We put our heads down like, all right, it is what it is. And we came out and just played a really good game that game. So just do that every single week. Demand it from each other.
Does having a common opponent in Mississippi State maybe help you guys get back focused on Louisiana Tech knowing they almost went down there and beat them?
Yeah, I think we're just not too worried about those things. I'm not too worried about all that. I think it's just about just focusing on ourselves really. Just do what needs to be done. Take care of what needs to be done and play the game well.
We fixed the mistakes from Mississippi State, so it's not like we're carrying those over because of La Tech. Just fix what needs to be fixed from the Clemson game then going on from there building like that. Not trying to regress back to two weeks and looking at that and then going from there, if that makes sense.
Four games into the season, how has the offense grown? And are you guys... I know you guys haven't peaked yet, obviously, but are you trending in the right direction, heading where you expected you guys would go when the season started?
I think it just starts with the O-line really. We have such a great O-line. I'm so confident in every single one of them with Ickey and Grant and Dylan and Speas and all those guys; it's awesome to have all of them. And then Zonovan and Ricky and all the receivers we have, it's just such a great team. I feel like just so many playmakers that we go out hard and we just play well.
I feel like we just have so many playmakers, anything can happen, and that we can count on so many different people – and that's what we did this past Saturday. So we're going to keep growing.
Coming into the season, everybody knew about, like you said, Bam, Ricky, and you and Thayer. But Devon and Ant Smith and Keyon, some of the other guys are getting the ball, and Devon literally spreading around. Can you just expand on those weapons, other guys were stepping up for you guys at the receiver room this season?
I feel like, they've always been good, but you just mature year to year. And Keyon and Porter and Anthony and Devon, they've always been good. It's just about you get another year and you mature more like everybody does; everybody gets better.
There's a lot of weapons. If I wasn't here right now... I feel like they're just real good players. It's just a blessing and they're going to have extra years. Keyon and Ant, they have so many years to grow and they're going to be really, really good players for us. So that's awesome.
You were a guy who decided to come back for this extra year. I'm watching the videos after the game for the celebration, you were on the field with the fans, just taking it all in. Was that going [through] your mind at that moment, "Well, I came back for moments like this, and I'm glad I came back to experience this."
Yeah. Thayer was a huge reason. That's one of my best friends really, Thayer. And he just texted me before I was making my decision. He was just like, "We have a really special team. We're bringing back a lot of great guys. We can really do this thing," saying it.
At the time it's just like, it's a tough decision because it's a tough decision and whatever, I made a decision obviously. And then being here, that's a game that you need to capitalize on, and to be able to do that and really just envision it before the game and see all of it happen just like you envisioned it, it was so surreal. It kind of did settle in already, but at the time, it was crazy.
I'm very thankful, very blessed.
Never miss the latest news from Inside Pack Sports!
Join our free email list