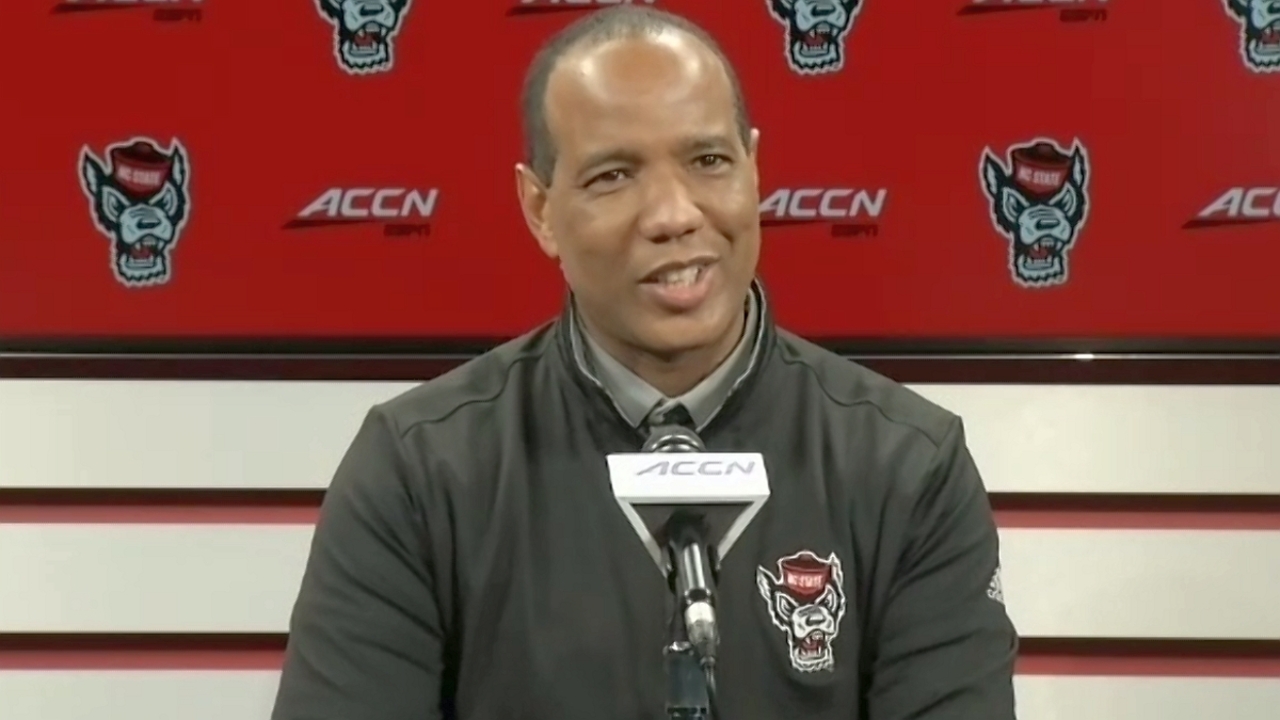 NC State Basketball
Kevin Keatts: "I Like Our Pieces"
---
NC State head coach Kevin Keatts met with the media to discuss his program and much more.
NOTE: Click the video above to watch the full PC. Below is a selection of quotes from Keatts.
---
"What an unbelievable win for coach Doeren and his staff. I thought our fanbase was tremendous. It was the best environment I've seen since I've been here going in year five. Now you have to come back in the stadium after halftime and it's big for our team."
I'm excited. We're trying to get back to normal and in some type of routine. Last year everybody's routine was messed up. I'm not claiming the pandemic is over because it's not but we're getting back to some normal things. We just didn't have a lot of fans there... I'm hoping we get to the point where we're selling out PNC like we have in the past.
We want that homecourt advantage and want the fans back in the seats. I like our team, I like our pieces. When you bring in five new guys... my biggest challenge is developing chemistry. Which combinations will play better together?
I'm excited about the returning veterans. When Devon Daniels went down we had to shift things but it helped guys grow. Manny is better, Jericole played more on the perimeter, and we were able to add Seabron into the mix.
Our three freshmen are talented, they will play. I love our two transfers, Casey Morsell, who is going to be really good in our system, and Greg Gantt. It will be a little different with an indoor sport. We're going to make sure our fans are comfortable."
We have the most passionate fans in the country. There is always an opportunity for a kid to leave your program with the transfer portal. I think every kid and coaching staff should evaluate their players.
I think a lot of people jumped the gun and assumed Manny Bates was leaving. I didn't. I felt comfortable about it. Manny and I have a tremendous relationship. We prepared for him to be here and he's a good player. He's got better. He's got better from the day he got here to right now.
Those guys benefited more than anybody as far as the playing time opportunity. Cam and Dereon were able to get on the floor as freshmen, and the game experience has paid off for them. When you see Cam Hayes, he's going to look like a different guy. He's got bulk on him.
"Seabron has worked on his outside shot... both of those guys were instrumental last season."
"The rules have changed so much... I remember seeing Casey Morsell in high school. Top 50 player who could really shoot the basketball and get out in transition. He picked up a lot of great things playing for coach Bennett at Virginia. I just felt in our system he'd be better with how we play. That's no knock against Virginia. Tony has done a tremendous job there. For what we needed. He'll be better."
He's a good player... he'll have a chance to start here and that's a big selling point for him. I don't think it's a confidence thing. If you know NC State and Virginia, we play completely different. I have to get him back to practicing and playing the way we need him to play to be successful for us.
My entire program, managers, staff, coaches, players, are all vaccinated. Everyone eligible.. we have one in our Tier 1 until mid-November. I don't want to talk about future recruits, but what I will say is how can you not like that atmosphere from Saturday? It was tremendous.
The freshmen are already a little ahead of the freshmen from last year. By being able to get those guys on campus and interact with us and practice with us. It's made a big difference."
I don't know that we'll have a huge question. I think when you see some of our younger guys and hopefully they don't drop off. Manny has a chance to be an all-conference guy as a post." We call them big guards... we have a lot of guys who can play that Funderburk role. Jericole can play it, Greg Gantt... Earnest Ross and if I'll take myself back 10 years... I'd say Terquavion is a bucket. He scores the basketball. He loves to play. We need to get him to work out as hard as he competes. If I call it a competition his energy level goes to another level.
It's going to be really, really hard to keep [Terquavion] out of the starting lineup at times. Two Hall of Fame coaches with tremendous careers, I don't think it changes how I'm going to do my job. We're going to recruit guys who fit NC State and play the system we fit in. I don't like being called the oldest guy in the Triangle, but I'm the coach at NC State and that's really the only thing that matters.
Never miss the latest news from Inside Pack Sports!
Join our free email list