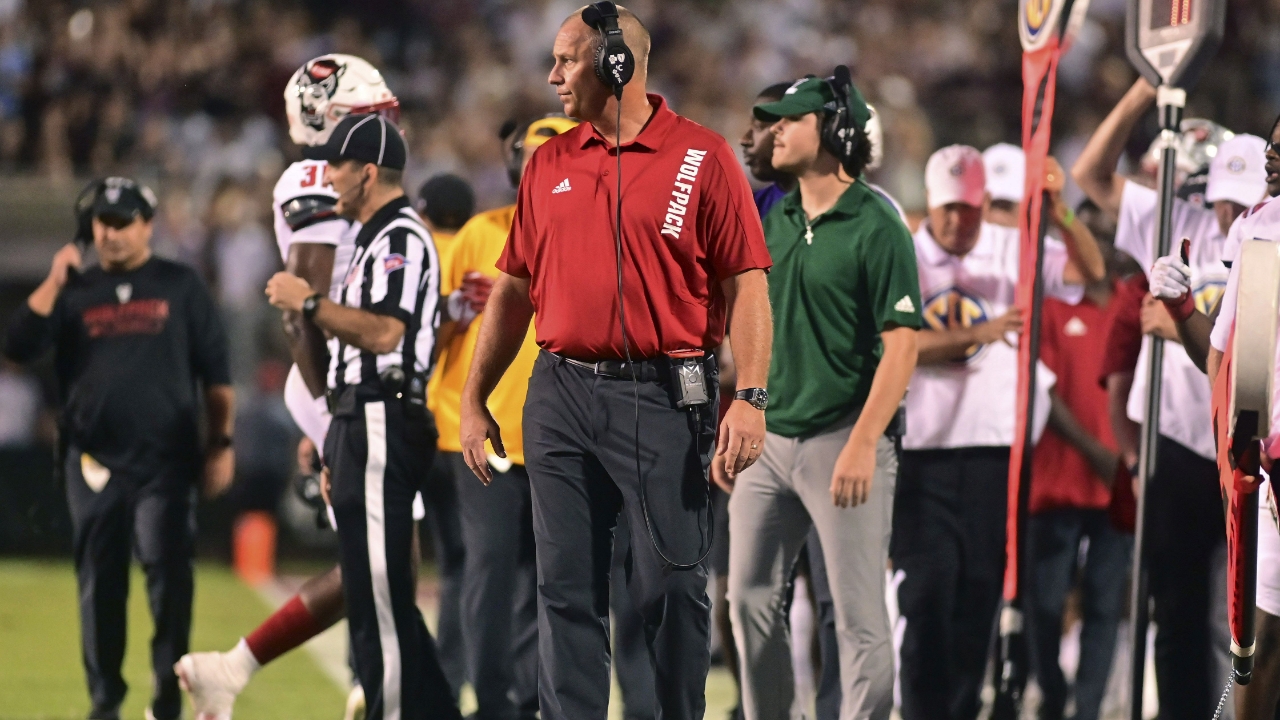 Photo by Matt Bush-USA TODAY Sports
NC State Football
Dave Doeren: "We Have To Show Our Maturity And Leadership"
September 27, 2021
13,098
---
NC State head coach Dave Doeren met with the media to discuss the upcoming game against Louisiana Tech.
NOTE: Click the video above to watch the full PC. Below is a selection of quotes from Doeren.
---
Opening Statement..
"It was an incredible night, afternoon, I guess you'd say. I want to start by thanking our students and band. The fans, families of our players, coaches... all the recruits who came and supported the team and staff. It was a championship environment and what we need. It's what this team can feed off of, and you guys helped us win that game. The energy created in the stadium is what we talk about here."
"We have unity on this team, our campus, and now with the fanbase, you guys make us a weapon... it's about supporting our athletes and coaches and a mission to make us special. The impact is felt in recruiting. We had over 30 recruits we've offered at that game. You played a huge part in that environment and it wasn't just us.What you're doing for us and if we continue to do it, you're going to elevate us even more. I'm putting that out there because it's really critical. "It was awesome, the whole thing was a lot of fun."
"C.J. Clark is out for the year, unfortunately. He had a freakish thing happen in practice, just planting and cutting. He injured his knee and our heart goes out to C.J. He'll have surgery this week and have a full recovery. I know he'll work diligently to come back and be a great player for us. That's three defensive starters out for us. So I know our kids will play hard for them."
"Outside of those things, we came out of the game very healthy, that was good. The offense and defense played off each other and helped each other."
"Chris Dunn had a bad night, and Chris is the best field goal kicker I've been around. He's going to bounce back... the coaches and players believe in him."
"He's a guy who has done nothing but make kicks since he's been here. Our players were physical and played with heart and emotion. It was big for us to make plays in those key moments."
"We made that a closer game than we needed to. With the time of possession and the way we were playing on third down, the penalties and missed field goals kept them in it. The positive is we overcame it."
"We were balanced and used the tempo well. Our offensive line played 100 plays and they were fresh, physical. They were really good. Devin Leary played a great game. His four touchdowns, his accuracy... had eight throwaways. He just got us to the next play. He's well-coached and he has great poise. The wide receivers and tight ends were really physical. They battled and I like what we're doing on the perimeter. A lot of different screens, RPOs, good motions... being physical."
"The running backs were physical and protected the football. Ricky sparked us catching the football well too. Dylan Parham, he doesn't get talked about... you want to have fun watching a dude be physical, watch him. He's knocking people around, No. 28. I love watching what Dylan is doing."
"On defense we had eight three and outs and a takeaway. We stopped the run. When we fumbled, the next series we were three-and-out on defense. Cory Durden played his butt off. Davin Vann, it was good to see him get a sack. Savion and Daniel Joseph... those four guys played most of the games in the three spots for us."
"We dominated on third down. I thought Tanner Ingle's taunting penalty was completely selfish and something he has to take off film. He got caught up in the moment and he's better than that. I think we can play better in the secondary... it wasn't horrible but it can be a lot better."
On La Tech...
They are scoring a lot of points. They really should be 4-0. They lost on the last play of the game to SMU... had a 20-point lead in the fourth quarter at Mississippi State.
Their quarterback, Austin Kendall, didn't play against North Texas... we know Austin well... good football player who we offered out of high school. I don't know what that status is, they kept that on the down-low.
On defense they play both four-down and three-down. They do play hard. They gave Mississippi State a lot of fits. It's a test of our maturity. People will talk about trap games, let downs. I've already addressed that with the team. We aren't going to do that. This game is about being better than we were last week. That's our goal. It's going to be a challenge.
We have to show our maturity and our leadership. I know we will. I'm going to be all over them this week about it. As great as that win was, and it was, it was special.It can definitely be something we'll have the rest of our lives but it's the next game. I'll be disappointed if we don't come out and play really good football.
On school potentially being fined for fans on the field...
I don't know what the fine will be, but it's worth it. I thought it was awesome. I'm sure there's a donor out there who will help us out if we need them to. It was a great environment and awesome for the kids. It was a special moment at NC State. If you don't allow people to celebrate in special moments I don't know what we're doing.
On his happiness...
It was an accumulation of a lot of misery for me. Definitely a team that has been in our cross-hairs a long time and a team we respect... it meant a lot to get that win and to get it the way we did. When we lined up to kick the game-winner I'm like, this is redemption. This is the exact thing I wanted to have happen to win this game. To go to overtime and double-overtime, how much adversity can a team have? To have Sarah on the field afterwards... my sons. It was special, really special.
On the defense preparing for multiple quarterbacks...
That's what it is, week to week. They are good on offense. Their tailback was a really good player at App. State. They have a wide receiver from Tennessee. Their slot is lightning, he's really fast.
It's going to be a challenge. For 3.5 quarters, they got after Miss. State. We didn't play well against that team. We have to show up to play. It's not who we play, it's how we play. You want to be a team that's ranked and have all these things, you have to play well every single week. That's what we have to do now, move on.
Goals are in front of you... does anything change in looking at the Atlantic Division goal?
No. Our goal wasn't to beat Clemson. It was to win every game we play this year and to be in contention to win this league. All we've done is move closer to the goal. That's it. Are we going to savor it? Yeah, at the banquet we'll talk all about it, but we had 48 hours to have fun and now we're on to Louisiana Tech.
We've seen enough football to know there are teams who don't handle winning well. We aren't going to be one of them.
The ACC could be more wide open. After what you've done and as the highest-ranked team in the AP poll, do you see it wide open?
I'm not getting into rankings.We need to keep winning. Teams who don't do that take losses they shouldn't take. You earn that respect and you get people's best. You have to give them yours.
Do you sense additional confidence from Devin and maybe the offense coming out of the Clemson game?
That's a big confidence deal for our offense. We had a really good gameplan with a lot of things in it. They executed very well. We understood they were a really good front. They believe in what coach Beck is talking about. They believe in their quarterback, and their quarterback believes in them.
More on offense..
An RPO offense is based on numbers, it's math. We put the ball where the numbers aren't.
Do you worry with COVID... do you worry about an increased risk?
We're 100 percent vaccinated, every player, every staff member. We are in the best protected place we can be. We're outside and not having close contact very long with anybody.
We should focus more on NC State winning a big game and no one got hurt. Let's just call it a great night, instead of trying to make it into something it wasn't.
After a huge win do you double down on recruits?
Absolutely. You're going to strike while the iron is hot. There are kids calling us and there were a lot of recruits there. There were recruits who maybe dropped off on us who are back in. If you didn't like what you saw in that game, this isn't the right place for you. That's all I can say.
Bam limped off a couple of times. Is he ok?
Yes, he just cramped up. He's fine.
More on Cory Durden…
I was really happy for Cory. He's done everything we've asked him to do. He's been a tremendous teammate and learned how to play our end position and nose position. He's said he doesn't care if he starts, he just wants to help us win and play.
He wen tout there and played his best. He got off blocks, he was disruptive, he strained. He was getting off double teams. He did a lot of good things. He played a lot. it will make him better.
Has he earned the starting spot?
Yes, he's our starting nose guard.
How close to a P5 game do you see Louisiana Tech?
They are a good football team. It's hard for me to compare people like that. On film they are fast, well-coached. They know what they are doing.It's about the skill and there are a lot of guys in the NFL from Louisiana Tech.
Who moves up from 2nd or 3rd team to take Clark's spot at nose guard?
Cory Durden is the starter, and Josh Harris/Davin Vann will rotate in there at nose guard. Davin can play end and nose.
Did you ever consider going for two after the first touchdown in overtime?
No.
Never miss the latest news from Inside Pack Sports!
Join our free email list