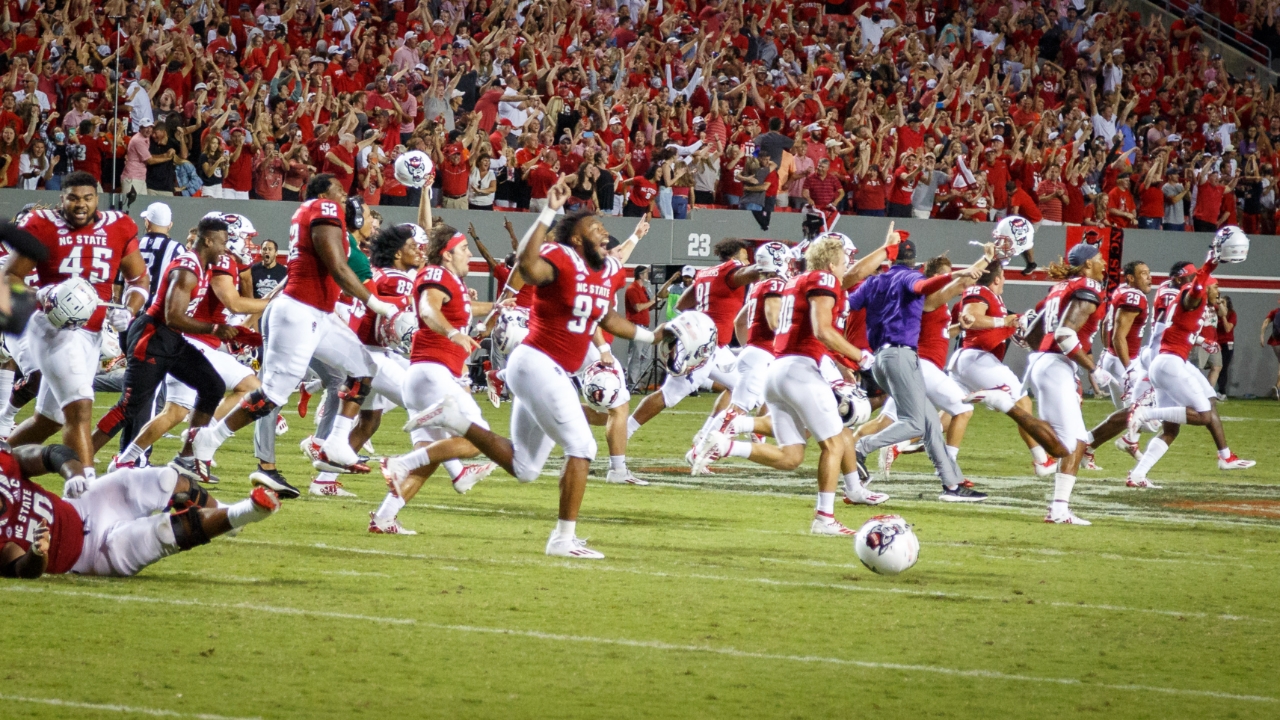 Photo by Steve Murphy/Inside Pack Sports
NC State Football
MCLAMB: Stick to Sports
---
There cannot be many teams in sports that have such a wide variety of narratives thrust on them as the North Carolina State Wolfpack. Each NC State win or loss gets dissected for some type of deeper meaning. Then the analysis occurs.
Socrates drank poison after being convicted of impiety. He would at least bang his head against a wall trying to navigate the bevy of jinxes and curses that the Wolfpack seems to wade in. Things have reached a point where most who follow NC State seem to embrace the paranormal, especially during moments of failure.
The best way to succeed in a sporting endeavor is to simplify things.
Stripping the matchup with Clemson to its simplest form, NC State had three things to deal with going into the contest. The losing streak to the Tigers, getting off to a good start in ACC play, and the Wolfpack's dud at Mississippi State.
The Pack settled all three.
After the loss at Mississippi State, the concern was wondering what the Pack would do against an elite team, as the Bulldogs were allegedly just an average team in an elite conference.
Clemson might just be an average team (for a change) in a decent conference. If that turns out to be the case, there will likely be new points of view to emerge.
Now freed from the burden of never beating Clemson in the Dave Doeren Era, the Wolfpack would be wise to disentangle itself from all the melodrama, jinxes, and theories that hover like clouds over Raleigh and focus on the task at hand in the purest way – by winning reps and winning plays. That leads to winning drives, and the team that does that the most will win the actual games.
It seems cliché, and that's because it is. NC State – the hands in the dirt school, according to Doeren – works significantly better when they are basking in workmanlike coachspeak instead of some sort of bizarre sports-related sorcery.
Doeren woke up Saturday morning winless in eight games against Clemson and went to bed with a big win over the Tigers. He is not suddenly smarter than he was only hours earlier just by winning one game. This is the win that he, his team, and Wolfpack fans craved for several years, but life will wobble on.
And now NC State is at a place where they have created a special moment.
It is alright for the Pack and its fan base to celebrate the long-awaited win over Clemson. Beating top-10 teams at home should be a field storming event. Amens to all involved. The program has many of these moments, and they all endure in some form.
If NC State truly values its win over Clemson and wants it to mean as much as possible, they will treat the next eight games with the same sense of urgency and resolve in critical moments that they put into Saturday's contest.
Any long-term focus on the Atlantic Division of the ACC is foolish. Father Time is undefeated. Win the moment, and more significant moments will come as the hands of time march on. NCSU is a 3-1 team overall, 1-0 in the ACC, and has eight games remaining in the regular season. Bowl reservations to exotic locales can wait.
Other schools in the Atlantic Division, like Wake Forest and Boston College, are readying themselves to pounce on the opening that Clemson's slippage has created. Unlike NC State, those two schools have won division titles before (albeit many years ago). The Wolfpack has road games against both, as well as matchups with Miami and North Carolina.
There is nothing supernatural about any of it, so folks can have a nice joyous moment of reflection but must also remember that last week's work will not earn this week's paycheck. That is not buzzkill but, in fact, the perspective a champion must take on its journey.
Never miss the latest news from Inside Pack Sports!
Join our free email list