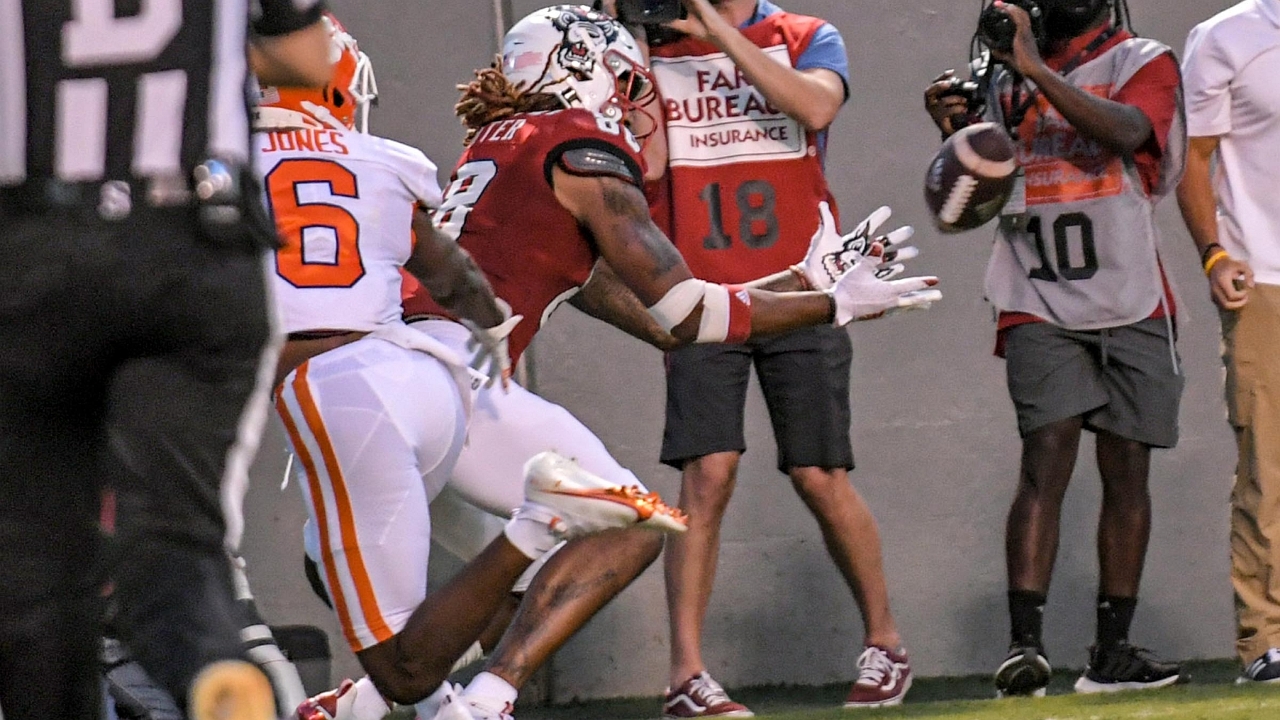 Devin Carter & Cory Durden
Isaiah Moore
Devin Carter
NC State Football
LOCKER ROOM REPORT: Wolfpack Players
---
Several NC State players met with the media following the Wolfpack's 27-21 win over No. 9 Clemson Saturday evening.
NOTE: Click each respective thumbnail to watch each player's respective interview.
---
Devin Leary
How do you keep your mindset in the game and reassure the team that you've got this?
Coming into this game, we knew it was going to be a four-quarter game at least. When we found out we were going to go to overtime, we didn't flinch at all. We knew we were going to have to go 1-0 every single snap. We know Clemson is a great team. They're going to battle as long as they need to, but it was just that extra effort that we gave, and I'm really proud of all my teammates on all three phases of the field.
What stories do you and Durden have from celebrating the win? Where were you at? What was going on around you as the students stormed the field?
For me, the first person I was able to hug was Coach [Dave] Doeren. It was such a surreal feeling. I kind of got caught with everyone storming the field. I was looking for my mom and looking for my dad. I eventually got to them. They were still in the crowd, but the first person I was able to hug and celebrate with was Coach Doeren.
How do you balance playing aggressive against the Clemson defense and minimizing risk? Also, as the game went on, did your confidence in your receivers grow as the game progressed?
I was confident in them going into the game, even before the game. Going into any game, I'm confident in my receivers, confident in my offensive line, and confident in my running backs. They did a great job. Clemson is well known for their defensive schemes. Coach [Tim] Beck had a great plan going into this game of being able to take what they give us and, when the opportunity presents itself, to capitalize on the shots. Early on, we missed a couple of opportunities, but toward the end, we were able to capitalize when it mattered.
How important was the offensive line on the final touchdown throw that you made to Carter?
It was huge. It was a huge play. We called a shot to both receivers. I actually checked one side of the field. They gave me enough time to reset, check to the other side, and be able to complete the ball to Devin. They balled out the entire game, so huge credit to them. I love all those guys, and I'm very proud of the way they played.
Was there anything you did to calm the offense down on that final offensive drive?
You know, it was actually the entire game. Going into the game, we were preaching that it was going to be a four-quarter game. Going into that last drive, everyone was preaching in the huddle, 'Let's go 1-0. One play at a time.' Just that reflection of what I would always preach to them going into big moments like this, being able to get their confidence up, everyone else was reflecting that to each other, and that helped us all as a group and showed growth within our team.
Can you speak to the pressures of overtime?
For me and for our entire team, we love playing football. We love the adversity. Once we realized we were going into overtime, no one flinched. I'm just very proud of my teammates. I'm very proud of this coaching staff. We just love playing football together.
Cory Durden
What stories do you and Leary have from celebrating the win? Where were you at? What was going on around you as the students stormed the field?
I'll go first. I had found my mom earlier in the game in the stands, so the first thing I did was walk over to my mom and give her a hug. I worked so hard to get here, and I felt like she was the one person who should share this special moment with me.
What does only allowing 214 yards of total offense against a top-10 team say about the defense? Also, can you take us through those final four plays to seal the win?
As a defense, we know how good we are. The confidence factor is there, but that's what we've been preaching all week: 'We're going to show everybody we're the best defense in the country. We're going to establish the goal going into the game.' In that last drive after the offense gave us that score, we were confident. Everybody on defense was confident. At the end of the day, as a defense, we want the game to be on us. That was where it was, and that's what happened. It's a great feeling to win the game on defense.
How do you plan to celebrate this win that Coach Doeren's already calling his biggest?
The crazy thing is this is actually my mom's first game here, and it might have been the reason I played so well. Since I've been at NC State, this is the first game she's come to, so I'm about to spend time with my mom. That's how I'm going to celebrate my win.
Can you speak to the pressures of overtime?
With us, obviously the way we went into overtime wasn't fun in that sense, but it's football. You don't know what's going to happen, and in football, you don't have time to dwell on stuff that's happened in the past. As soon as we missed that kick, it was like, 'All right, it's go time, defense. It's time to step up. This is a game that we can win.' We knew that we could win this game, and we won the game on defense.
Isaiah Moore
What does this win over Clemson mean for you and for this program?
It's huge. It's definitely huge to beat a team like that that's been the standard in our conference for the last few years. To come out with a win like that is definitely huge, but for our team and the program moving forward, it puts us in a place we want to be.
Have you seen Doeren as emotional as he was following tonight's win?
He does a good job of staying stoic as much as possible, staying even-keeled as much as possible. Any time he shows emotion, it's definitely a real situation, and we definitely felt it. It's definitely a great moment to see him share that emotion with us, and we gave it back to him.
How much did the maturity of this team kick in, especially toward the end? Also, were you aware of the game against the Tigers in 2016? Were there any flashbacks to that game?
I wasn't here in 2016, but I remember watching it from home. When we went into overtime, I looked at the other captains, Grant [Gibson], Leary, and Drake [Thomas], and said, 'Not again. We're going to win it this time.' We believed that. As for the maturity of the team, I think you saw that through the whole game. It was a very up-and-down game from the start. They came out and scored on the first drive, and the defense rallied back together and got them under control the entire second half aside from one drive. The offense responded every time. They were getting knocked back, and then they'd push forward five. I just think that you just saw a team that's just not going to quit no matter what happens, and that's what we preach: we're not going to quit.
How exciting was it to have the game on your shoulders and to be able to close it out with a defensive play?
That's how we wanted it. That's how we approached practice all week: that this game was going to be on us. When it came down to it, nobody flinched at all. That's exactly how we wanted it.
Devin Carter
Can you talk us through playing on a big stage like this and making the clutch plays when you needed it most?
We play football everyday whether it's practice or a game. Making it bigger can hurt you mentally, but you've got to keep it small and go one play at a time, and that's it really.
Can you take us through your moment of celebration right after the game ended?
Right after we won, it was with everybody on the sideline. We are a very close team. After we won, everybody was celebrating with everybody. Then, we ran on the field, and everybody stormed. That was that.
What did it mean to put your head down, get the job done in overtime, and overcome adversity?
You've just got to believe, and I was very proud of us for keeping our maturity throughout the game. Before the game, [Moore] and I were talking, and he said, 'There's going to be a lot of ups and downs, but I need you to keep the offense going.' So every drive, I just tried to keep the offense going, and we went 1-0, and we made plays. We scored more points than them, and we won the game.
Can you take us through the touchdown in overtime?
It was crazy because we called a play that we had repped in practice all week. It works, and we found a way to make a play.
Did you have to adjust on the fly?
It was just a fake bubble screen. I got behind the defense, and Leary found me.
Never miss the latest news from Inside Pack Sports!
Join our free email list