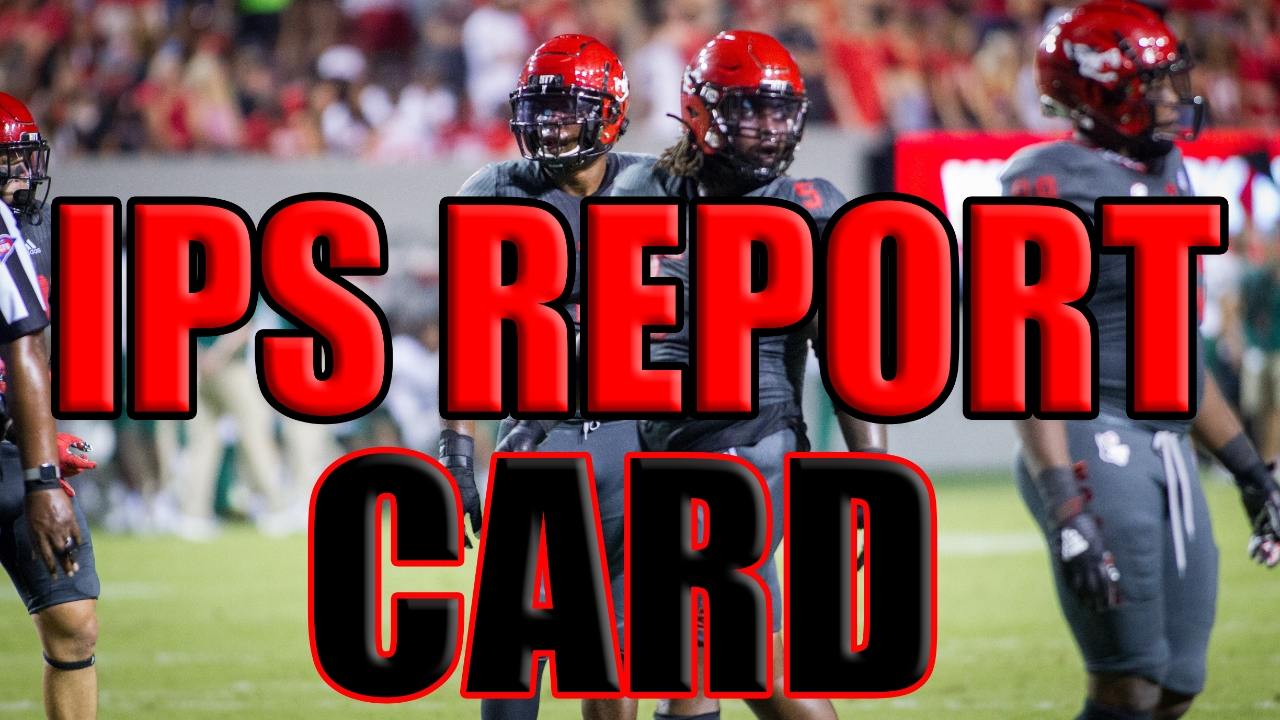 Photo by Steve Murphy/Inside Pack Sports
NC State Football
IPS Report Card: Wolfpack defense tames Tigers in huge win
---
NC State football picked up the biggest win of head coach Dave Doeren's tenure, and its biggest win in about a decade, Saturday at Carter-Finley, knocking off No. 9 Clemson 27-21 in double overtime to claim a win in the Textile Bowl for the first time since 2011 and beat a top-10 team for the first time since 2012.
The Pack overcame special teams miscues galore by playing absolutely lights out on defense and making the plays it needed to in key moments on offense. Let's hand out some grades for this big win.
Quarterbacks - Devin Leary's stat line - 32 of 44 for 238 yards, four touchdowns, no picks and a fumble, isn't overly eye popping, but he was facing one of the best defenses in the country. Clemson came into this game allowing just 157 passing yards per game, 263 total yards per game and had not allowed a touchdown on defense.
Leary made the plays he needed to make when they mattered most, including on two great throws for touchdowns in the first half to Emeka Emezie and Devin Carter. In overtime, with the Pack trailing and needing a score to stay alive, Leary connected with Thayer Thomas.
He saved his best for last, making a beautiful throw to Carter in the corner of the end zone for what ended up being a game-winning touchdown in double overtime.
Leary got better and better as the game went along, and did what a team needs its quarterback to do in the biggest moments. He wasn't perfect, but made the plays when it mattered most.
Grade: A
Running backs - You have to grade the running backs on a curve when you're talking about running against Clemson runs. Both Ricky Person (4.3 yards per carry) and Bam Knight (3.4 yards per carry), made runs and picked up key yardage and first downs when needed. On the team's first touchdown drive in overtime, Knight had three straight runs for 15 yards to set his team up at Clemson's 10.
Person played a big role in the last drive of regulation that gave NC State a chance at a game-winning field goal (more on that later). And, perhaps most importantly, neither back put the ball on the ground in a tight game.
Grade: B
Wide receivers - NC State's receivers had some misses - there were missed connections for both Carter and Anthony Smith on what would have been deep touchdowns that it looked like both receivers should have had.
But this was ultimately a strong performance for NC State's receiving corps, which like their QB, made the big plays when it mattered most. On NC State's first scoring drive of the game to tie the game in the first quarter (the first touchdown Clemson's defense had allowed this season), Emeka Emezie made a spectacular catch for the score, which Dave Doeren called a "big-boy play" after the game.
Emezie was Leary's favorite target in this one, with 14 grabs for 114 yards and the touchdown. Several of his catches were of the important variety and picked up first downs. All four of Leary's touchdown passes were to wideouts, including the aforementioned fantastic catch by Carter in overtime and Thomas' game-tying score.
NC State needed its receivers to make plays in this game, and, ultimately, they did.
Grade: B+
Tight ends- The tight ends weren't asked to do much in this game, with Chris Toudle and Trent Pennix each picking up one catch. But they were both big catches to move the chains on third down in the fourth quarter. You can only make the play when your name is called, and NC State's tight ends did that.
Grade: A
Offensive line - This group wasn't perfect, but again, you can't ask for that against Clemson's front. There were a couple third-down plays where Leary was pretty much instantly sacked in this one (he was sacked three times), but also plenty of instances where they bought him time to make the plays.
The game-winning touchdown was a masterclass by the offensive line, as Leary had all day to eventually make the throw to Carter; he had time so survey one side of the end zone, see his read was covered and eventually make the pass to Carter.
As was the theme of the night for NC State's offense, this group made plays when it needed to.
Grade: B+
Defensive line - The defensive line was simply outstanding in this game. Clemson had just 103 rushing yards on 23 attempts, and outside of its lone scoring drive in the fourth quarter, never really found room to run.
The Wolfpack got a ton of pressure on DJ Uiagalelei, with seven hurries and two sacks, which affected the Tigers' QBs ability to make plays all night. Defensive tackle Corey Durden, who started in place of the injured C.J. Clark, had a monster game, with 1.5 sacks and six total tackles.
I'll list one impressive stat on the night with each group of the defense: Clemson had just five drives in regulation that weren't three and outs. One was a drive that ended in an interception, and one was a kneel down at the end of the half.
Grade: A+
Linebackers - So far it's been no Payton Wilson, no problem for this linebacking corps. NC State's linebackers did their usual flying around the field Saturday, making plays against the run, blowing up screen plays before they got started and getting pressure on Uiagalelei.
Isaiah Moore had an exceptional outing, with eight total tackles, two tackles for a loss, three quarterback hurries and a pass breakup that led to an interception. The pick was Drake Thomas' second of the year, and ended one of the few drives in which Clemson was able to move the ball in regulation.
NC State ran 96 offensive plays to Clemson's 49 tonight.
Grade: A+
Secondary - The Wolfpack's secondary continued its excellent start to the season, breaking up passes, making plays against the run and taking away Uiagalelei's options, especially on third downs.
Even the Clemson quarterback's first touchdown pass, which went 32 yards, was a perfect throw by Uiagalelei and a perfect catch by Justyn Ross. The secondary locked it down on Clemson's last chance in double OT, and ultimately gave Uiagalelei no options on his final fourth-down attempt.
Clemson went 2 for 11 on third down in this game.
Grade: A+
Special Teams - If NC State won the game in spite of any group, it was definitely this one. Chris Dunn, usually so reliable, missed three kicks. Two were from 50+ yards, which it's hard to give a college kicker too much grief for not making, and there was a bad snap and hold on the first. But the third and final miss, which would have given the Pack a win at the buzzer in regulation, was from 39 yards out, and missed wide left. This conjured memories of the heartbreaker in Death Valley in 2016. That kick has to be made, and the Pack will have to hope Dunn can put this game behind him going forward.
Trent Gill also didn't have his best game, and punted into the end zone for touchbacks multiple times when he had a chance to pin Clemson deep.
An ill-advised penalty on Ezemdi Udoh in the first half at the end of a punt return also cost the Pack valuable field position. This can't be a passing grade.
Grade: F
Intangibles - This one's a bit of a mixed bag. Early in the game, the Pack had some critical pre-snap penalties, with an offsides on defense giving the Tigers a first down, and back-to-back false starts killing a drive. A couple curious trick play calls by the coaches also nearly proved disastrous, with one nearly ending in a pick and the other ending in a fumble.
However, this got better and better as the game went along. The offensive coaching staff made adjustments to taking what was there underneath and over the middle, and Tony Gibson and friends coached a hell of a game. While the Pack had more penalty yardage than Clemson, with 11 for 105 yards, the Tigers weren't far behind with 13 for 94, and their errors seemed to be more costly.
And, as mentioned time and again, this team made the big plays all over the field when it mattered most, and that's why NC State has its first win in the Textile Bowl since 2011.
Overall - This is NC State's biggest win since 2012. It finally gave the team a win over the ACC's top dog for most of the past decade, and, while it's early, gives the Wolfpack a strong chance to represent the Atlantic Division in the ACC Championship Game.
The Pack did it with a lights-out effort on defense and a clutch offense. Other than the special teams blunders, this was, to use a coaching cliche "A great team win."
Grade: A
Never miss the latest news from Inside Pack Sports!
Join our free email list