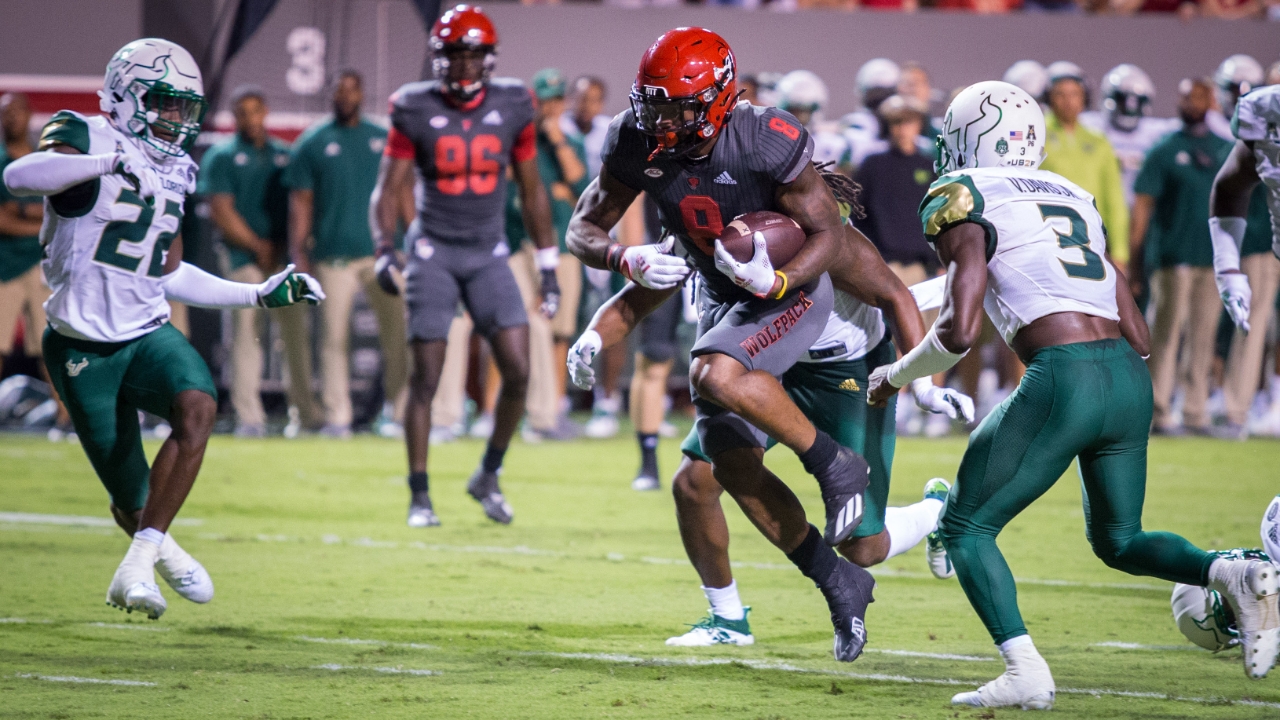 Photo by Steve Murphy/Inside Pack Sports
NC State Football
Ricky Person: "We're A Blue-Collar School"
---
As NC State tries to beat Clemson for the first time since 2011 this week, running back Ricky Person will look to play a major role after two losses to the Tigers earlier in his college career.
Person spoke to the media ahead of Saturday's game, and here's some highlights of what he had to say:
---
Do you guys look at Clemson as vulnerable, and does that give you more confidence?
We look at every opponent the same, because anything can happen on Saturday -- anything. Just like with Toledo and the other team they were playing. Anything can happen; it's football. So you don't want to overlook an opponent, and then the next thing you know you play down to their level or whatever the case may be, and then boom, you get smacked in the face. It's like a wake-up call, so no, we treat every opponent like it's a championship game for us.
What makes Clemson's defense so good?
Clemson's got a good defensive line. Their defense is really good. Their linebacker, [James] Skalski, he's a solid guy that they have inside their linebacker corps. They move well. They flow around. They've got a good defense. We're just looking at tape, studying the tape, looking at what we need to do to have success on our offensive side of the ball.
If you guys win this game, what is the statement that makes?
It's just the statement that we've always had ever since last year. We just want people to know that we're here, we're hungry, and we have a chip on our shoulder. We're a blue-collar school. So we're going to get our hands dirty if your hands didn't get dirty, and we don't want to be the team that gets overlooked.
Dave Doeren singled you out as having a couple really good blocks. How much pride do you take in that?
Honestly, we take a lot of pride in that. That's something that we harp on. That's something that I take in the younger guys and we study the tape, whether it's with coach [Roper] or by ourselves, the type of defensive schemes that we have. We look at what type of rusher a person is, and we put in our mentality that we don't want to have the quarterback touched, because we can always make the protection right.
What are you looking for from the time the play comes in until the time the ball is snapped when you look at the front seven?
Honestly, when I look at the front seven, I'm just getting my read keys on who I need to key in, whether it's a run or whether it's a pass. I have keys for whether it's three down or whether it's four down. So basically, it's just applying my rules because we have rule breakers for everything. And just applying my rules, just rely on them, my coaching, my ability, my talent that God gave me. And just going by the keys, trusting the process and everything that I've been taught thus far.
Never miss the latest news from Inside Pack Sports!
Join our free email list