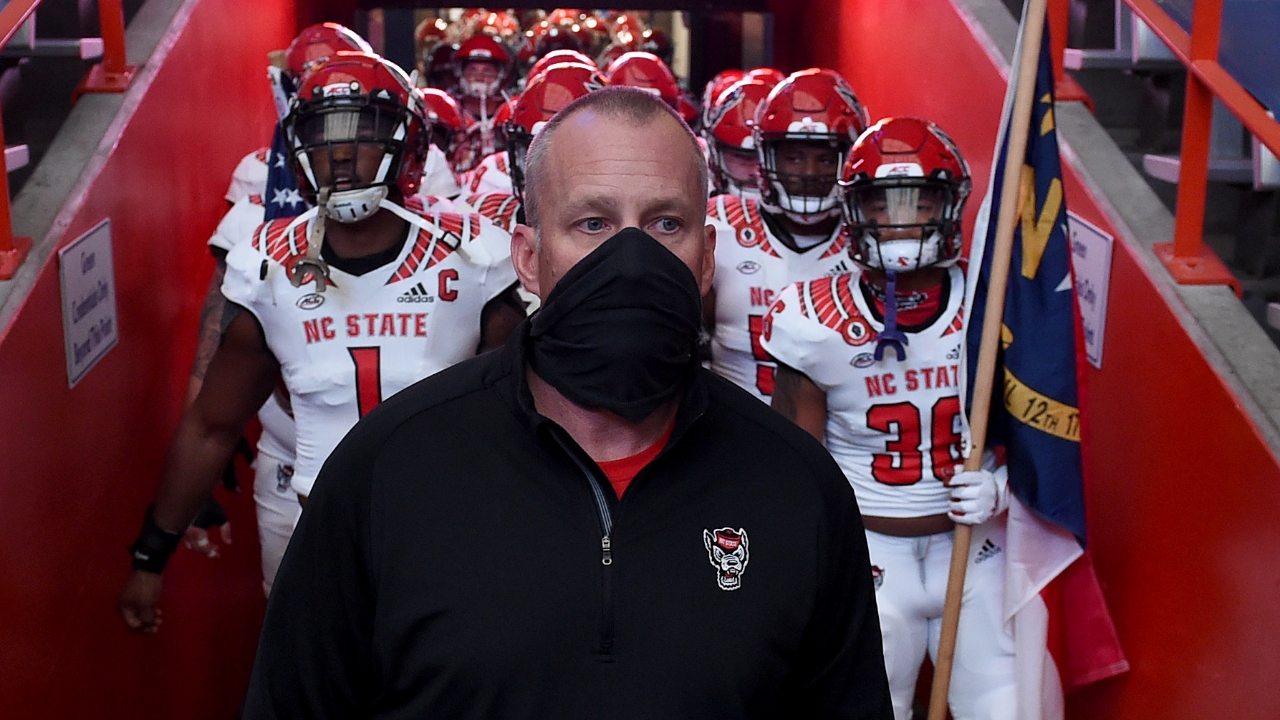 NC State Football
Dave Doeren: 'It's good to play well'
---
Following NC State's 45-7 win over Furman Saturday night, there was plenty for Wolfpack head coach Dave Doeren to be happy about, including a strong game from Devin Leary, the defense continuing its excellent start to the season and a plethora of reserves seeing action.
Doeren spoke to the media following the win, here's a full breakdown of everything he had to say:
Opening statement
I'm really proud of the guys. It was a tough week coming off a game a week ago where we felt like we did not play complementary football, did not finish drives with scores. I thought we responded well, and that's what I was looking for was a response. I want to thank the crowd. I know it was crazy there with all of the different things as far as getting people into the stadium, and people were there on time, did a great job cheering for our players and our coaches. I just want to thank you all for that and I hope you enjoyed it.
Obviously the game itself, we were able to play a lot of players, a lot of firsts, a lot of guys getting in there for the first time. I thought [Devin Leary] played a pretty good game. It was good to see him and Thayer connecting so much. I liked our perimeter game tonight. I thought some of the things we did on the perimeter will help us. In the run game, it was good to see [Zonovan Knight] bounce back after turning the ball over.
Defensively, we did what we needed to do. It's a difficult offense. They did a bunch of tackle over. I don't know how many people were watching what they were doing, but it was a lot of stuff they hadn't shown on tape. Kids did a nice job listening to the coaches on the sideline and adjusting. It's good to get a win, it's good to get back into that and then start our conference play here.
You said the team responded well, but did you see that they did enough on the field to make you feel like they heard your message this week about executing?
I think so. It was 38-0 at the half. I thought in the second quarter in particular, we did some good things. We'll watch the film, there will be other things we're going to coach them on and correct them on. But when you're up and able to play all three quarterbacks and basically get guys that we didn't expect to play at all in the game, Jalen Coit got a catch, Jakolbe Baldwin got a catch. So we got a lot of players in. We'll watch the film, and it's time to really, really hone in on what we have to do. When you get up on a team like that and start playing all your guys, it's hard for me to sit here and tell you how clean it was. There are guys that were on the scout team all week that didn't take one rep on offense or defense that played a whole quarter there. I'm proud of them for going in and executing.
Was that what were you looking for in terms of a bounce-back game from Devin and his receivers?
I think so. I thought last week, offensive players, I don't know the right way to explain this, but they weren't playing 11 as one. There were guys that wanted this play called or wanted that play called, and weren't just doing what they were supposed to do. We addressed it, we talked a lot about it. I thought they played for each other tonight on offense. The rhythm was better for Devin. He just needs guys to be where they're supposed to be and play hard, and he'll get the ball to them. I felt like that was accomplished tonight. Coach [Tim Beck] and the staff on offense did a nice job. I think the players really learned a lot from last week's game, and there's a lot more plays where you could see 11 guys doing what they were supposed to do.
What are some specific things that impressed you from the starting defense in that first-half shutout?
We didn't give up any explosive plays. We tackled well. The guys adjusted. There were a lot of different option plays out of the tackle over, like I mentioned. But the guys responded, read their keys and did what they were supposed to do. I think option football, understand this, we played the air raid last week and this week we played a wishbone offense basically at times, so the kids had to adjust a lot this week and I'm proud of them for that.
How important was it to play a game like this knowing what you have coming up next week?
It's good to play well. It's good to get a bunch of guys in the game. It's good to get a rhythm. It's good to fix things that we needed to fix. There's still more. I think our gunner play, our missile play or whatever you want to call it on our punt team can still get better. But we're going into the conference play now with the exception of LA Tech, and as we know, this league's got a lot of teams in it that can win every Saturday. We just need to build on each week, and continue to try to be better than we were the week before.
You mentioned Bam putting it on the turf again. How critical was it to get him back out there and go back to him?
I'm proud of him for going back in and running the way he did. I'm disappointed, and I know he is too, in the fumble. It can't happen. We've got to take care of the ball as runners, as passers, whoever has it, it's the team, and he's got to get that fixed. But I am proud of how he went to the next play, didn't let it affect him and had some really nice runs after that.
Never miss the latest news from Inside Pack Sports!
Join our free email list