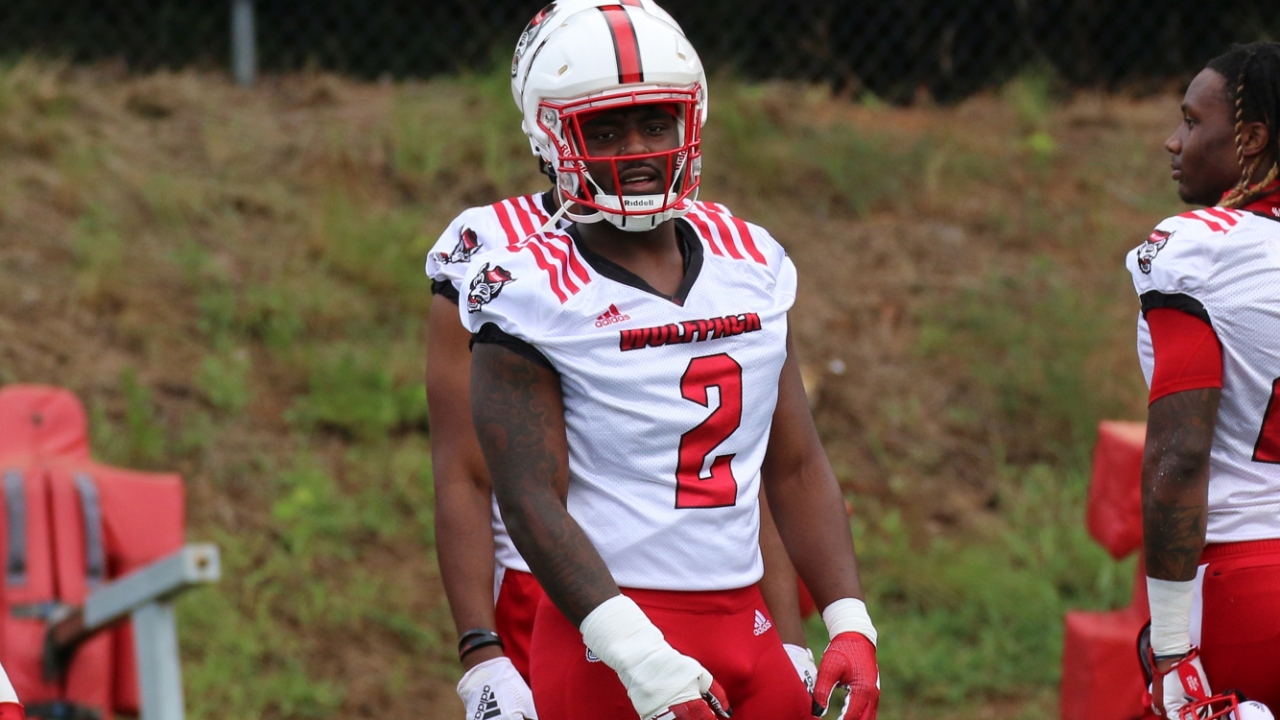 NC State Football
Jaylon Scott, C.J. Clark on Wolfpack defense, preparing for Furman
---
NC State's defense will have to play the rest of the season without two important starters in safety Cyrus Fagan and linebacker Payton Wilson. The team knows it is "next man up," however, and that includes linebacker Jaylon Scott, who is primed to step into Wilson's starting role.
Wilson and defensive tackle C.J. Clark spoke with the media ahead of Saturday's game against Furman, and here's some highlights of what they had to say:
---

Jaylon Scott
Have you talked to Payton? How are you feeling about stepping into that starting role?
I've talked to him. He's going to be good. We all know he's a warrior, he's a dog. He always fights through everything. It's big, but we all prepare every day like we're starters. It's just a next man up type thing.
Does the chemistry and leadership in the linebacker room make it easier for everyone involved, and all the depth guys, to be that next man up and keep playing, keep going about it like you have been?
For sure, especially with someone like Isaiah [Moore]. Isaiah makes sure we know what we know, know the fits, know the pass game, he even comes in and invites us to watch film [with him] on his own. He's a great person to have, especially being a younger player.
When you talked to Payton, did he give you any kind of advice or message about stepping up into his role?
He just told me that I'm prepared for this, 'You know what to do, just go ball out.' He's a straightforward guy. He'll tell you if you mess up on something. I did ask him when we came out last game to stay on the sideline and tell me whatever I don't see, just stay engaged.
Can you describe your style of play?
I feel like I'm balanced. I know the game, just because I've been here three years, so the mental aspect of things, I'm not really worried about it. I can set edges. I do really well setting edges. I like to run the field. Sometimes I like to play ball and that hurts us sometimes, but I just play.
You said you asked Payton to stay on the sideline. What did it mean to you for him to do that?
That meant a lot. The feeling that I had whenever he actually stayed through what he could and just talked to me, because he still stayed engaged with me on the sideline when we would meet and stuff, and he was actually giving me really valuable information. So that just proves that he cares about me and he cares about the team.
What's one thing he was able to help you out with?
My alignment, because when we're in specific coverages, I tend to get too far offside, too far inside, I'll get too close to the line of scrimmage, it's just small things like that that will help me just be in position to get the job done.
C.J. Clark
You guys have done a really good job stopping the run in these two games. What's been the key to that?
I would say the key is just coming to practice every day and focusing on that. That's one of our main things, stopping the run so we can get our DBs having fun, getting some action back there. So that's one of our keys for every day is just to stop the run. So that's the main thing for our defense, is to stop the run.
What can you tell everyone about Jaylon's game and what to expect?
For people that don't know about Jaylon, he's a very good athlete. He's sneaky just based off the people that were ahead of him, Payton and them, they're good players as well. But Jaylon is a great player. I'm excited to see him play now that he's got his chance to start. I know he's going to help us a lot.
How big was it for you guys to see Payton on the sideline Saturday?
It just makes you want to go harder. I remember telling him when I talked to him on the sidelines that I was going to give everything I had this whole game, and that I was just sad to see that he went out like that. But things are still going to work out for him. It was just sad, but, other than that, I appreciate him doing that, showing that side that he really cares. That helped the team and the defense a lot.
How excited are you to get back out on the field?
I'm very excited. Every week is going to be a great week for us. Step one, you've got to handle your business Monday through Tuesday, Wednesday in practice, stuff like that. So we just take it day by day, but I'm very excited for Saturday, very excited.
What can you expect from Furman's offense?
They run a lot of different types of formations and stuff, but it's very fundamental. You've just got to play your responsibilities. You can't overthink situations, you've just got to play your responsibilities that you've been going through, throughout the week, throughout practice, that's really the main key for us. Don't ever be at a point where you're not knowing what you're doing. So that's really it. Just being fundamentally sound.
Never miss the latest news from Inside Pack Sports!
Join our free email list