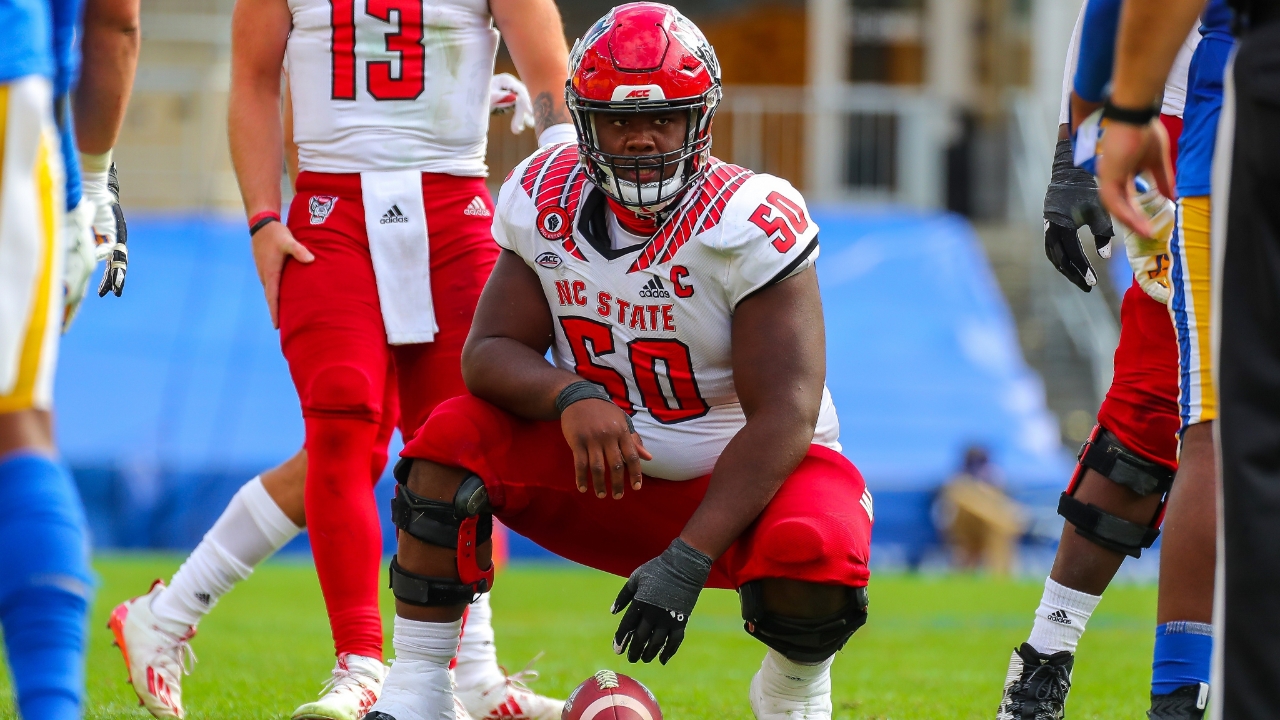 NC State Football
Grant Gibson: "We Just Have To Execute"
---
Coming off last week's disappointing effort against Mississippi State, center Grant Gibson will try to help NC State's offense get back on track against Furman this week.
Gibson spoke to the media ahead of Saturday's game, here's some highlights of what he had to say:
---
As a captain, as an older guy, when you see two of your teammates go down and get the news that they're done for the year, how does that affect the team, and is it something you can kind of rally around?
When we first found out, the first thing is that I feel bad for both of those guys. I've seen how hard they work and I see how badly they want to help this team. But we also understand that we can go out there and honor them with our play. So that's what we're trying to do this year. We understand that they can't play, but we want to play hard for them, because we know if they were out there on the field with us, then they would give us everything that they had. So that's we plan on doing the rest of the year.
Does it make it a little bit more real that injuries happen in football when someone like Payton Wilson, who's been through so much already, has this happen?
I think this shows guys that you can't take this game for granted. It can be gone like that. Payton, just seeing how hard he worked to get back, I feel so bad for him. But that also shows guys on this team to not take this game for granted at all, and to go out there and play hard every snap, because it can be gone just like that. So that's what we're trying to do for the rest of the year, is just honor those guys with the way we play.
Why is Drake Thomas the right guy to replace Payton as a captain?
When you look at the linebacker room, all three of those guys could be captains, which two of them were. And now you add Drake. But Drake, just with the way that he works on the field, Drake does the hard things, taking on lead blockers and things like that. He puts himself on the line to help out the team. I think with a captain, that's what you want, is someone that puts the team before themselves. That's what we've seen Drake do. Drake also uses his voice all the time trying to lead guys and point guys in the right direction. So I think when you look at something like that that you want someone to step up and lead, Drake's the right guy. I think that we can all agree on that as a team.
What's it going to take for this program to get that signature win?
We just have to execute. I think that's something that we saw that we didn't do this past weekend. We beat ourselves in some ways. We played a great team and they played well, but we've got to execute better. That's something that we know as a team. The small things beat us, the small details. We have to play better and we have to fix those things. But we also know that one game does not define the team. We know that we can bounce back from this and we can learn from our mistakes. It's only a loss if you don't learn from it. We learned from it a lot this past week. So we're just trying to learn from it and move forward so that it doesn't happen again.
Do you get off social media after a loss or do what you've been doing?
I really just try and tune out all of the negative things. I have a saying, PVO, positive vibes only. So I try to tune out all the bad things. Obviously I see those things, but I don't listen to it. I know the only thing that matters is this team and the guys that we have in this building. We all believe that we can still do everything that we've set our goals for.
Do you like the fact that Wolfpack fans are so passionate about this team?
Absolutely. NC State has the best fans. We understand that they want us to win, but we want to win also. I don't want them to think that we go out there and we lose and we don't care. We're upset that we lost that game too. But we also understand that it's a long year, we can bounce back and we can play better. So that's what we're going to do. We're going to keep playing hard and just try to prep for this next game against Furman.
Never miss the latest news from Inside Pack Sports!
Join our free email list