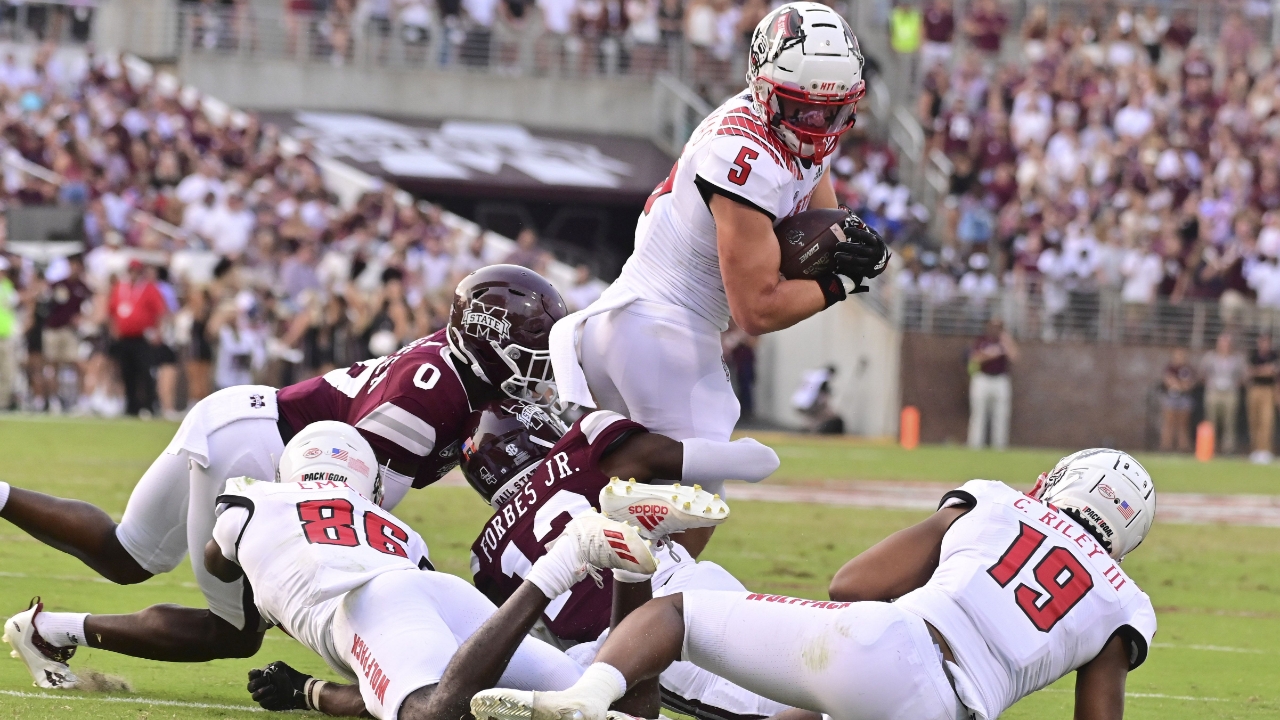 Photo by Matt Bush-USA TODAY Sports
NC State Football
Thayer Thomas: 'We still have our goals ahead of us'
---
After a disappointing performance in a 24-10 loss to Mississippi State, NC State's offense is looking to get back on track against Furman. Veteran receiver Thayer Thomas will likely play a key role in that.
Thomas spoke to the media ahead of this week's game, and here's some highlights of what he had to say:
---
I just wanted to ask, with the news about Payton Wilson and Cyrus Fagan being out, can you guys rally around that, and what was the reaction?
Personally, it was a little bit more for me, because I've roomed with Payton two or three different stints over my career here. I've known him for a while. I hosted him on his official visit here. It's just been tough. He's dealt with a lot since he's been playing here. He's pretty high in spirit. He just wants us to go out there, play hard and continue to have our chip on our shoulders the rest of the season. Now that I'm rooming with Cyrus now, it's been tough. I live in a two-bedroom apartment with him. But he's one of the most positive people I've ever been around. But he's still positive and it's been good to hear both of them be as positive as they are. But we're definitely rallying around him going into this game and pushing forward for the rest of the season.
When you hear the two of those guys be positive, does it help you guys have a better mindset?
For sure, especially when someone gets hurt and they're the ones that are being positive. It only fuels us to go in there and perform better and for them, with a little bit of an edge, for sure.
Your brother [Drake Thomas] was named the next captain, and I know you and the Wilson family are close. What does it mean to you and your family for your brother to be captain?
It's pretty cool, just because I've been a captain for half a season when I was here my sophomore year, and now he's been named a captain. It's just a great honor to wear that C on your chest, and he's been playing his butt off the last two games and even the whole offseason. I just saw him transform his mind, his body, his whole game, really taking it seriously. Me and him sort of having the same plan in the offseason in what we're doing training wise, and just seeing the fruition of it, of him performing the way he is performing, it's pretty special and it's only going to get better from here.
What's it going to take to get over the hump and get a signature win?
I think it's just being prepared is part of it. I don't think anybody quite understands what the life of a college athlete is. We don't try to lose those games. We also believe in ourselves more than anybody believes in ourselves. We have the confidence that we're going to go in there and win those games. Sometimes it just doesn't work out. The chips don't fall where they need to be. That's the one thing that people need to understand. We don't go into those games not having the confidence and not believing in ourselves. We definitely have the ability to win those games, it's just sometimes things don't go our way.
I think we've just got to keep chopping at it, keep believing in ourselves, keep being positive. I think the one thing that we really need right now is just positivity. We don't need negativity around the building, we don't need negativity from outside, we've just got to keep our head down, keep working, keep believing in ourselves. I think that's one thing we can just take from that game. It's a long season. The ACC isn't won from out-of-conference game, so we still have our goals ahead of us, and we've just got to be positive.
The fans are passionate about the Pack. Wolfpack fans are the most passionate. You wouldn't want it any other way, right?
It's great. They show out at every home game. They show their passion, their love and everything. It's great. I even saw it first hand when I went to Omaha to watch the baseball team. That was special. It's special the first Thursday night home game that we played here, and it's been special every home game that we've played here. I just think we've just got to continue to be positive as a program, as a university, and just keep the main thing the main thing and look, the future's still ahead of us. Our goals are still ahead of us. We can't just let one game derail us.
Coach Doeren talked about owning his mistakes and asking you guys to do the same. Is that something you guys take to heart?
After any game, even a win, we do the same thing win or loss and look at we could win a game, but if I don't do the right thing, I'm still going to hear about it, I'm still going to feel it. I might have a good game and still might do one thing wrong and still might feel it. I'm a person that tends to focus on the negatives that I do rather than the positives. So we definitely just look at what we need to do better, go to practice and try to fix those things. That's what practice is for. And then our next opportunity to show that we've fixed our issues is our next game, so that's what we're going to try and do.
Coach Doeren mentioned that the receivers could help out Devin Leary a little bit better. Are there some examples that you could give?
There's a lot of plays in the game, I know there were a bunch of plays that we did make that helped him. I know [Emeka Emezie] had two or three really really great catches. Devin Carter had a crazy catch over four people in the middle field, and then had one on the sideline on fourth down, a huge fourth down to continue the drive. And then, there's a deep ball that Leary and [Carter] don't connect on, but that happens. It's football. You're going to miss your shots sometimes, but in the course of a game, you can't let that rattle you and have an opinion on it. But sometimes you make them, sometimes you don't. But that's a hard play to make. Sometimes you've got to make hard plays, and sometimes it doesn't go your way. You've just got to move on from that. But looking back to the film, there's so many different plays that happened. I think in the course of my career here and then the last couple years, like even in that game, there's been a lot of plays that we did make, in my opinion, that helped the team and helped keep the drives going. I couldn't really point those out.
Never miss the latest news from Inside Pack Sports!
Join our free email list