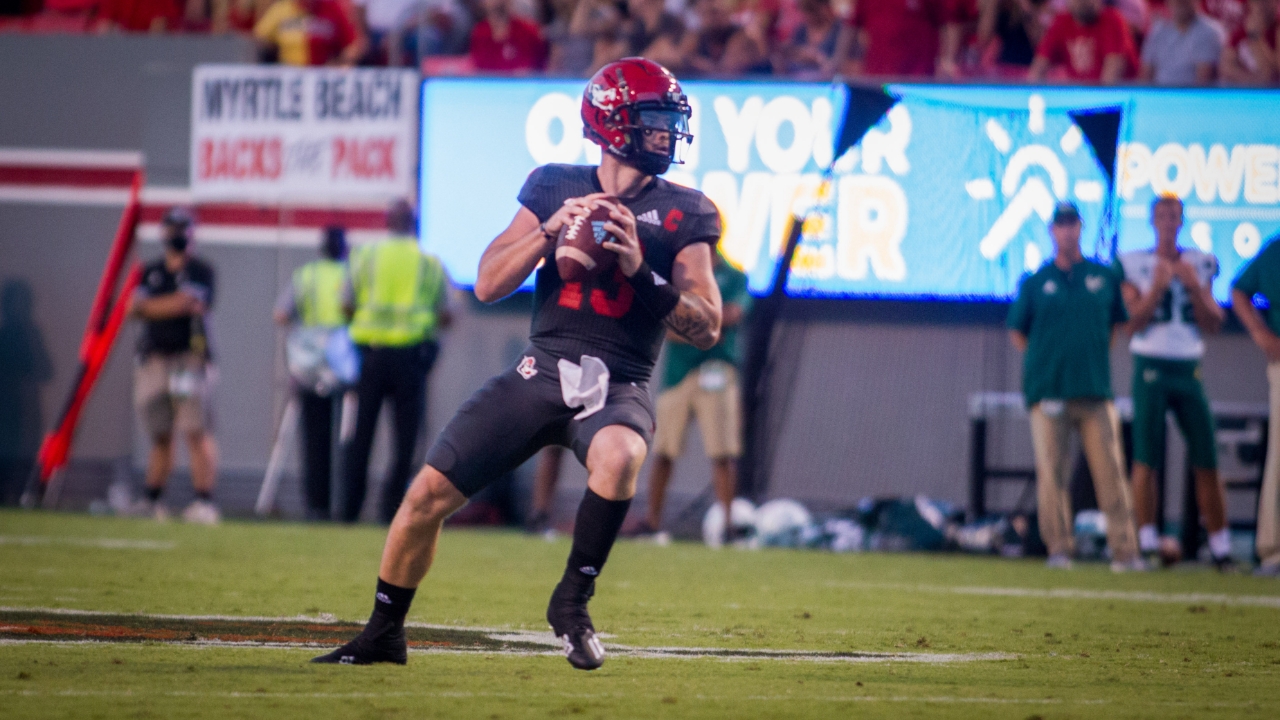 Photo by Steve Murphy/Inside Pack Sports
NC State Football
LOCKER ROOM REPORT: Wolfpack Players
---
NC State quarterback Devin Leary and safety Tanner Ingle met with the media following the Wolfpack's 24-10 road loss to Mississippi State Saturday evening.
Leary finished the game with 30-for-49 passing for 303 yards, one touchdown, and one interception. Ingle led the Pack on defense with 11 tackles while also breaking up two passes.
A transcript of the players' comments is posted below.
---
Devin Leary
It seemed like the chances were right there tonight, but for whatever reason, they didn't all work out.
Yeah, I think it's always frustrating. Being able to move the ball the way that we did and the lack of execution on finishing drives was really what hurt us at the end. Give a ton of credit to our defense for giving us the ball back, giving us many chances. On our behalf, we just failed at executing on those chances, executing on those opportunities. That's just something that we have to get back in the film room: learn our mistakes, learn how we need to get better, and learn how to finish those drives.
Did you feel like the maturity of this team is something you can rely on to put this game to bed?
Absolutely. Obviously, the guys are frustrated. Obviously, this is not the outcome that we wanted at all. It was good to see some type of positivity at the end. Guys were picking each other up. Ickey, Dylan McMahon, and Grant Gibson were speaking up, saying, 'We're going to bounce back. We're going to learn from our mistakes.' That's just the maturity coming out in our team. Being able to see that, even after our poor performance, was very rewarding.
What was it like experiencing this crowd in real time?
I thought it was a really cool atmosphere. I thought it was a really cool field. As far as the crowd noise, I don't think that had much effect on the way that we executed or didn't execute. Overall, I thought it was a really cool field experience.
Is it frustrating to not have the ball in your hands when moments like Ricky Person's interception don't go your way?
No, it's not really frustrating necessarily not to have the ball in my hands. It's more so frustrating when it's plays we practice all the time that we just can't execute in the red zone or at the goal line like we do each and every week in practice. It's not even about not having the ball in my hands. It's just more so the frustration of not seeing the play itself execute.
Was there anything in the preparation stages that made you feel like something like this was going to happen?
No, not at all.
Did you feel like the opening kickoff return touchdown deflated the team?
No, I just think that that's part of the game. Obviously, it's unfortunate that the first kickoff of the game was returned for a touchdown, but that's football. It's going to happen no matter who we play. It's just all about the response. I thought we responded pretty well, but we didn't respond well enough to finish out on top. That's just part of football.
What can you take from last season's loss at Virginia Tech and apply it to this year and this game?
It's a very similar situation. I think it all starts tomorrow: just being able to wipe everything that's happened tonight, put it in our past, and learn from it on Monday. Our next focus would really just to be to have the best possible practice on Tuesday, the best possible practice on Wednesday, and so on. With this group here, everyone is very focused, and we don't want anything like this to happen again. We want to bounce back as best as possible, and it all starts tomorrow.
Tanner Ingle
What are your initial thoughts on tonight's game?
We didn't play complementary football. First play of the game, we gave a kick return [touchdown]. We gave 17 points on defense. Overall, we've got to do a better job of playing off of each other, and that's that.
Is it encouraging from the defensive perspective when you look at how well you were able to shut down their offense to see how well you can play against a team like this?
It feels good to go out and play against a high-caliber team like that and be able to show off what we did right, but at the end of the day, we've got to win the game. At the end of the day, it's not a good feeling to lose at all.
With how many plays the defense was on the field in the second half, did the fatigue set in at any point?
We were ready for whatever they gave us. We worked on this in the offseason. We ran our 110s all the time. We ran our 55s. We did our conditioning. We're ready for whatever came to us. We weren't tired at all.
Is it encouraging to see the fight in the team in the later stages of the game?
For sure. During the whole game, everyone had positive vibes on the sideline. Everyone's talking and encouraging each other. Nobody's pointing fingers. We don't do that. We're grown. We've been through that. We did that when we went 4-8. We learned from that. We have positive vibes on the sideline. We're working on building on the loss we just had. Overall, it's a good atmosphere. We're ready to get back in on Monday and get better.
Can you take something from the same kind of experience from last year's loss at Virginia Tech?
We've got to understand that we've got to be consistent every week. Moving forward, we can't have six penalties for 59 yards or penalties that stop drives or penalties on defense that give them a first down. It's stuff like that that we have to learn from and then move on. Going forward, I feel like we're going to do a good job of doing that, considering how much we've been through as a team.
Never miss the latest news from Inside Pack Sports!
Join our free email list