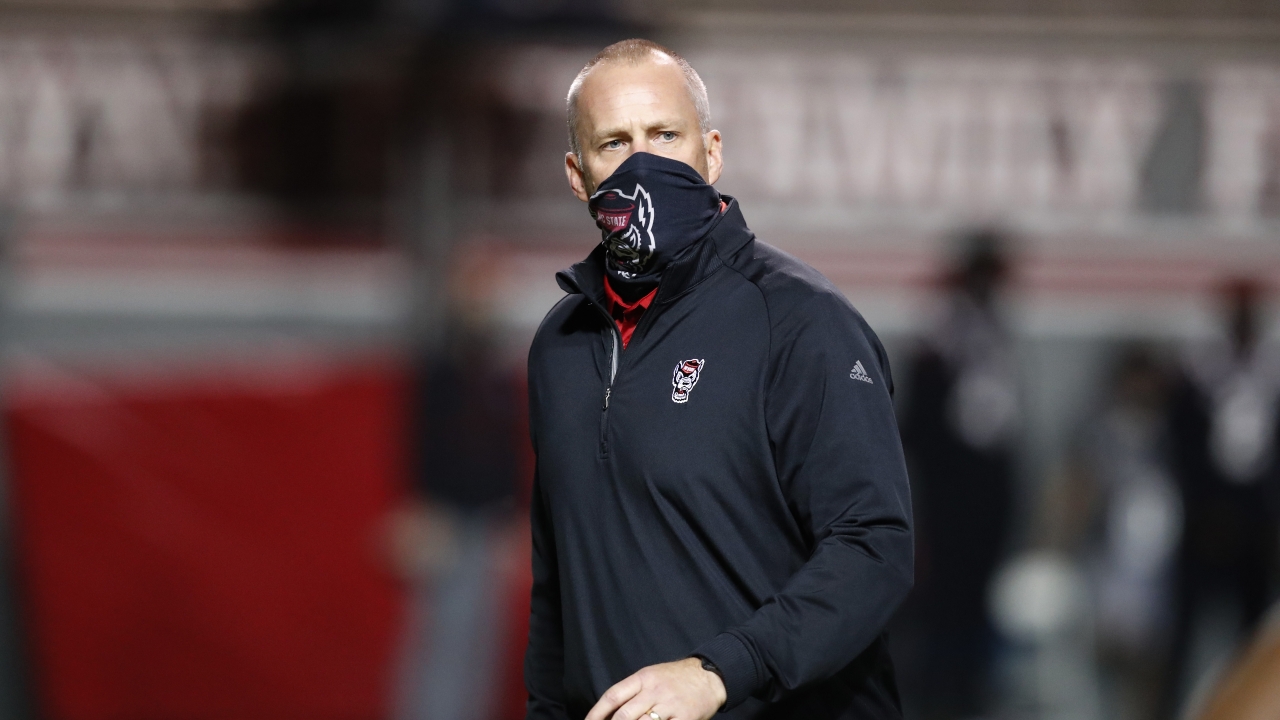 Photo by ehyman@newsobserver.com
NC State Football
Dave Doeren on loss to Mississippi State
September 11, 2021
14,176
---
While the defense stepped up and did its job, NC State will face plenty of questions following an ugly offensive performance in Saturday night's 24-10 loss to Mississippi State in Starkville.
Head coach Dave Doeren spoke to the media in Starkville following the loss, here's a full breakdown of everything he had to say:
Opening statement
First of all, you've got to give Mississippi State credit. They outplayed us. I think their offense did some good things, they were smart with the football, didn't turn it over. I thought defensively, we kept ourselves in the game. We were really good on third down on defense. They were only 3 of 13. Special teams, we opened up giving them a kickoff return for a touchdown, and then offensively we just shot ourselves in the foot repetitively as we moved the football. We just couldn't in rhythm. [Devin Leary] missed a few throws down the field. It just wasn't what I thought I was going to see offensively in this game. I thought we would play much better than we did. I'm not blaming it on them. It's a team loss, and it starts with me, the head coach, all the time. But these kids kept fighting, they battled. I'm proud of them for that. The onside kick at the end and the chance to score another touchdown. But we got in the red zone against them several times and got ourselves out of the red zone with bad plays. You've got to score points on the road when you're playing against a team like this that can score and will score. I thought we did a good job of keeping ourselves in the game as bad as we were at times. Obviously the turnovers we had offensively hurt us and put us in a bad situation.
Do you think their style of play wore you out?
It's a lot. When you throw the ball like that, you're going to move more on pass plays than you do on runs. So the number of plays we had to play defensively over time, we did get fatigued at some positions I think. We had a rotation that we lost at some positions because some guys were out. I'm not sure what the severity of those injuries are yet. But I was proud the defense kept us in the game. To win a game on the road against a team like that, you have to play complementary football. We didn't do that.
It seems like they did a pretty good job of getting to Devin, pressuring him and making him uncomfortable. Was there something specific that they did there?
They mixed it up a lot. They were bluffing, dropping guys and blitzing guys. They brought different guys throghout the game. Their defensive coordinator did a nice job mixing things up.
What was the impact of that first kickoff?
The worst thing that could happen to start a game is that. I thought we battled back. Offensively, we didn't score, but we kept it a 7-0 game. Someting like that on the road with the way their crowd is can get you in a funk pretty fast, but I didn't think that happened. But you hate to spot a team a touchdown like we did.
What do you take from a game like this? What do you hope to learn?
There's a lot to learn from it. Without watching it, I can't tell you the specifics of that. I told the team I think there was a lot of missed opportunities. I think that's the biggest thing we're going ot see. I equate it to basketball, you've got to make your layups. I thought we had several that we didn't make offensively that would have made it a different game. And then we got frustrated and guys did some stupid things penalty wise. It's the opposite of what I expected with that part of it. They're going to be disappointed. They put themselves in a positon to make that a lot different football game.
Is that the most frustrating part of it, not making the layups?
Yeah, that turnover [in the red zone], [Bam Knight] fumbled when we were driving, you get down in there with the kicker that we have, we've got to at least get three. We didn't even get that. And then he missed a kick, so their defense did a good job, man. You've got to give them credit. Offensively, we're going to learn a lot from this film. Our guys will stick together and battle back. It's going to be a really good learning experience for us when we get in there on Monday to watch it.
Do you expect them to take the best part of this, put it behind them and use it as a learning experience?
I do. And I told them in there, no one's to blame, everybody is. The whole team wins, the whole team loses. So let's all start right from there, and from there, let's look at the film, let's look at the opportunities that we thought we had and could have done this done this different or that different. As coaches, we'll have to look at the same thing. There's obviously play calls in there that we're going to question ourselves on. We've got to learn from it.
Never miss the latest news from Inside Pack Sports!
Join our free email list