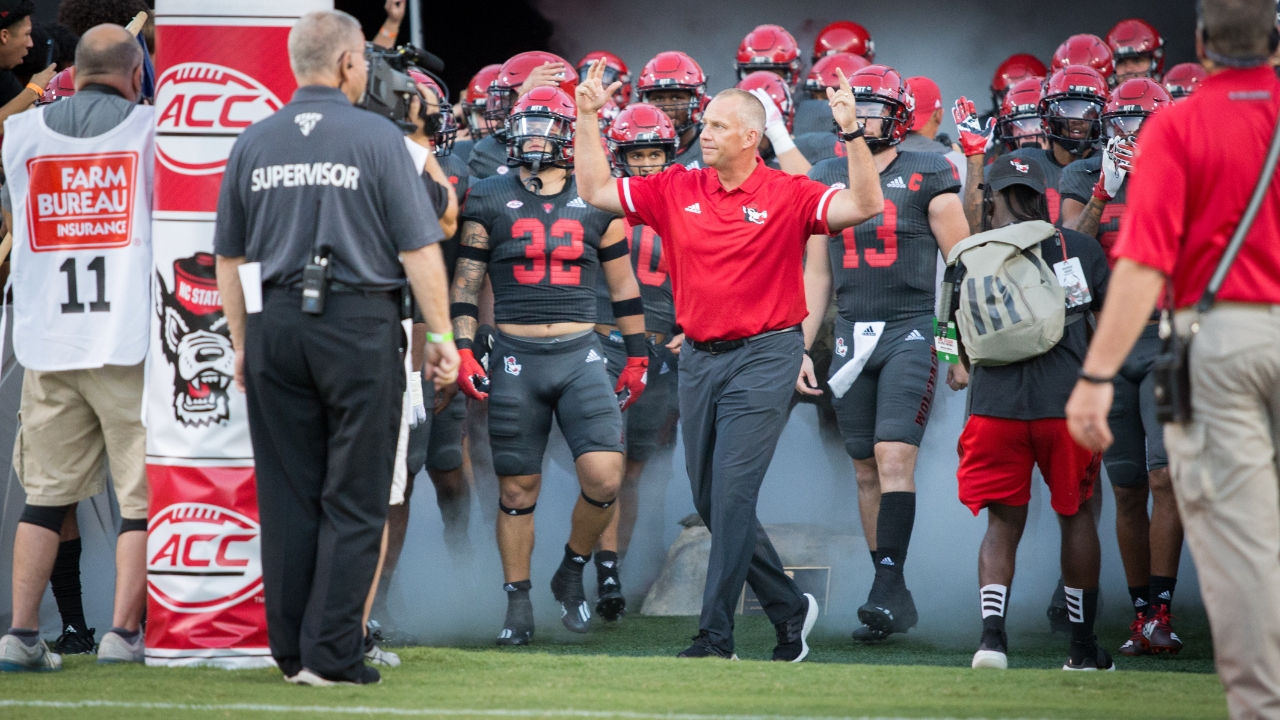 Photo by Steve Murphy/Inside Pack Sports
NC State Football
OUR FINAL TAKE: NC State vs. Mississippi State
September 11, 2021
47,885
---
Several members of the Inside Pack Sports staff predict the winner of the NC State-Mississippi State matchup.
---
James Henderson (IPS Publisher)
State 34, Mississippi State 17
I rarely go into games predicting a team to play poorly, and I believe that's probably the only way NC State will lose this one.
I think the Pack is the better team with more overall experience, explosiveness, and playmaking ability.
Steve Williams (IPS Football Recruiting Analyst)
State 38, Mississippi State 28
There's a lot of things that could go wrong, but going into the game I feel NC State is not only the more talented team but, more importantly, I believe they're the more disciplined team. NC State is deep. They're experienced, and they've shown they can win on the road. If they don't gift wrap this game to Mississippi State then I think they'll come out of it 2-0.
Bryant Carson (IPS Football Analyst)
Miss. State 38, NC State 34
This is more about the situation, the atmosphere, and the importance of the game than it is NC State vs. Miss St. At this early point in the season I think State is the better team one to one, but this feels to me like one the Pack drops in an extremely frustrating fashion (similar to that 2017 opener against So. Car).
Phillip Danford (IPS Football Analyst)
State 34, Mississippi State 23
I've been high on NC State's chances in this game for the last several months after watching Mississippi State tape. I think NC State has better personnel at key positions and an offensive design better equipped for explosive plays.
Ultimately, my biggest concern has surrounded the road environment, as I expect this to be rowdiest crowd of the year. But, this is where NC State's maturity we've heard about through the offseason should surface.
Ethan Barry (IPS Writer)
State 28, Mississippi State 27
I don't think there's any question that we will find out if the Pack is going to have a special season this week. My answer... maybe. I think NC State will stay on track to do so but will not win in convincing fashion to make it seem likely. I'm not sold on the Pack winning this game, but I'm picking them based on what I saw in week one. As good as State looked, and as bad as Miss State looked, I can't bring myself to not pick the Wolfpack. I think it will be a nailbiter late, but NC State will hang on and move to 2-0.
Andrew Schnittker (IPS Writer)
State 32, Mississippi State 28
I think NC State gets it done. I think the Pack does enough defensively to limit Mike Leach's offense and maybe forces a turnover or two. Offensively, I think Leary builds on last week and hits some shots down the field, and the Wolfpack gets its run game going again to control the clock. I'll say NC State wins 32-28 and picks up a big road win that would probably push the team into next week's AP Top 25.
Daniel Wilson (IPS Writer)
NC State 38, Mississippi State 27
I originally thought the Wolfpack would drop this game. It'd be a typical Power Five loss that would temper expectations after an easy season-opening win. Now, there's something about this NC State team, a certain je ne seis quoi, that makes me think this Pack squad will buck the expected trend.
This Pack team seems more equipped to handle a pass-heavy offense than years past, and I think that's the deciding factor. If NC State's offense flourishes, then the Wolfpack will be able to grab the attention of the conference, if not rest of the college football landscape.
It'll be far from a blowout (because we can't all have nice things), but expect the victory bells to toll (or, rather, clank relentlessly) in favor of the Red & White.
Jake McSwain (IPS Writer)
State 38, Mississippi State 17
Color me optimistic, but I feel really good about NC State's chances in this one. The crowd should be pretty good, and as long as that doesn't cause any problems, there are a lot of reasons to be confident here.
NC States defense is set up to defend offenses like MSU's. And I look for them to continue to impress this week.
The ground game is critical on offense, but I sincerely think you are going to see MSU load up the box early and often – which could lead to some isolated man coverage. Leary will have several opportunities to attack, and I think you see more than one 30+ yard long scoring plays.
BP Cox (IPS Photographer)
State 37, Mississippi State 27
The Wolfpack travels to Stark-Vegas to play their newfound "ally" (via the CWS) in Mississippi State. The big question will naturally be how can the Wolfpack defense match up versus the air attack of Mike Leach's offense.

While USF was not much of a challenge for NC State, it did present a good warm up for the Wolfpack backfield. Devin Leary shook any rust off and managed a solid performance (17-26, 232 yds, 2 td, 1 int). The offense was paced by the rushing attack of Zonovan Knight (16 att, 163 yds, 1 td) and Ricky Person Jr (16 att, 105 yds, 2 td). Emeka Emezie showed off his "Moss Skills" by making an outstanding catch and ended the game as the leading Pack receiver (5 rec, 71 yds). The offense might have found a new weapon in Christopher Toudle as he displayed edge control blocking and great hands catching a tipped pass that was not intended for him and later his first collegiate touchdown.

The offense will face a Bulldog defense that gave up 34 points to Lousiana Tech in week one. Expect more of the ground game from the Wolfpack as they lean on the vaunted backfield to not only wear down Mississippi State's defense but also to control the time of possession stat and keep the Bulldog offense limited.

The Wolfpack defense will have to follow up their shutout vs USF with continued focus on the passing attack. Look for NC State to throw multiple looks at the opposing offensive line in order to open lanes for Peyton Wilson and Isiah Moore to find their way in the Bulldog backfield. Newcomer Cyrus Fagan made an impact his first game for the Pack with seven tackles, just behind team leader Drake Thomas.

The Bulldog fans will have their cowbells in full effect, but the only bells that will matter will be the bells on the Memorial Belltower back in Raleigh ringing and lighting up red following a Wolfpack road win.
Never miss the latest news from Inside Pack Sports!
Join our free email list