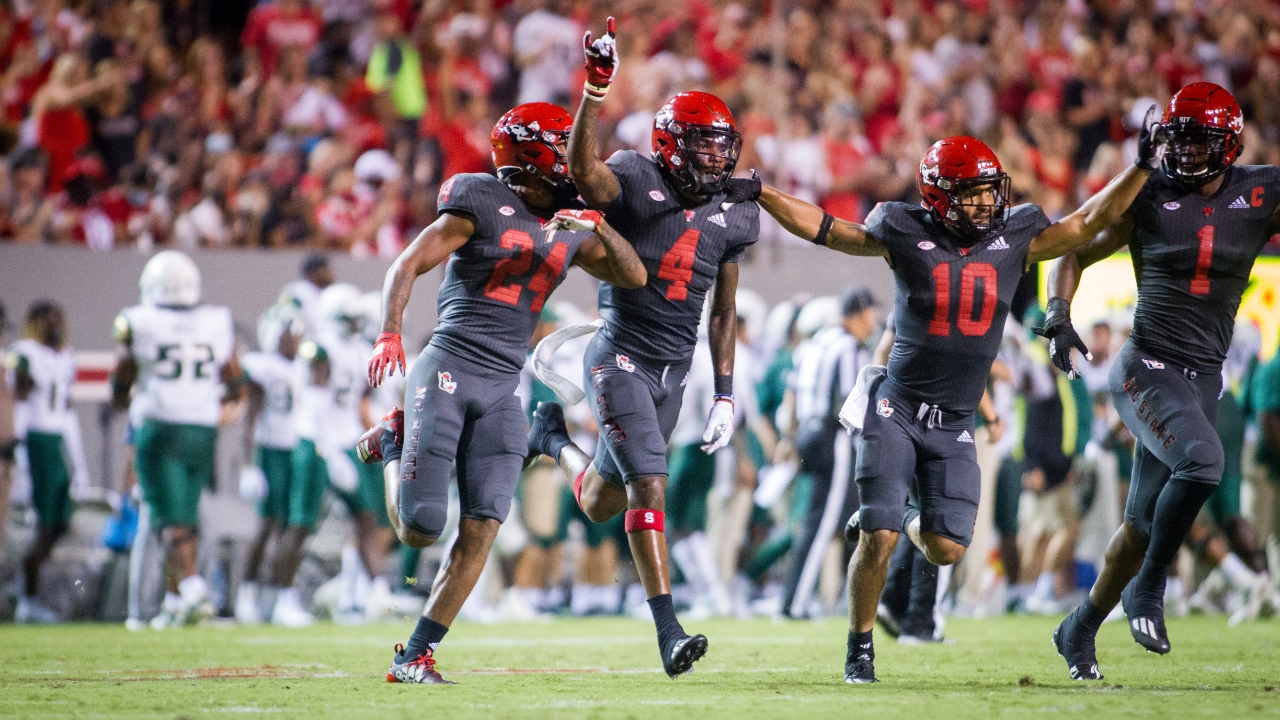 Photo by Steve Murphy/Inside Pack Sports
NC State Football
Cyrus Fagan making immediate impact for Wolfpack secondary
---
NC State added a number of experienced transfers to the defensive side of the ball over the course of the 2021 offseason. One of them, former Florida State safety Cyrus Fagan, has wasted little time in making an impact both on and off the field for the Wolfpack.
In NC State's 45-0, season-opening win over South Florida last week, Fagan made his presence felt with the first interception of his NC State career and seven total tackles. For Fagan's teammates, after seeing what he could do in the spring and summer, his immediate impact came as no surprise.
"When Cyrus came in, it was an immediate gel," said senior linebacker Isaiah Moore. "He fit in well right from the get go. He came in and wanted to work as hard as he could, and he did that. We definitely appreciate hard work here in our program. On Thursday night, he didn't surprise any of us. That's what he's been doing in practice since the spring. He came in there, was confident, played well, played really fast and I'm excited to see what he d,oes the rest of the season."
After playing parts of four seasons with the Seminoles, Fagan grad transferred and found a landing spot with the Wolfpack.
Though the Florida native has played just one game in an NC State uniform, he already feels strongly bonded to his new home and team.
"I love it here at NC State," Fagan said. "Just how the coaches treat you, how your teammates work with you, it's been nothing but great. I don't have anything but great things to say about this place. I love it here. I'm going to give my all for this place. It's in my blood. … I love NC State. One Pack, one goal, I live by that."
On Thursday, Fagan's night started with getting to experience the game-day atmosphere at Carter-Finley for the first time as part of the home side, something he's not likely to forget in a hurry.
"It was the best college experience yet," Fagan said. "I tell everybody, coming through that smoke and not being able to see anybody next to me, and then running out in front of thousands of fans and displaying all our talents in front of everybody was the best feeling I ever could ask for."
Fagan then stepped onto the field and started making plays for the Wolfpack. He was an effective tackler against the run, and he played his part in the Pack allowing just 3.3 yards per carry on the night.
And, late in the third quarter, with the Bulls driving, he stepped up big time with an interception at NC State's 10-yard line, one of two red-zone takeaways on the night that played a pivotal role in the Pack recording its first season-opening shutout victory since 2004.
"Cyrus plays the ball well," said head coach Dave Doeren. "He reads the quarterback well. He breaks on it before the ball gets there a lot. He does it in practice, too. He's a ball hawk. As far as the tackling aspect, he did [have a good game]. They ran a perimeter screen, Tyler Baker-Williams turned it back, and he came back and hit it. He brings a lot of energy. He does it every day. He's one of those enthusiasm type of players that feeds the team in a positive fashion. We're glad he's here."
That energy that Fagan brings is something his teammates feel, too, as the transfer safety makes an impact beyond just his physical abilities on the field.
"He brings a lot of energy to that back end," Moore said. "Having him and [Tanner Ingle] back there is like two energizer bunnies back there, just running all over the place. He brings a lot energy, he's very live, very talkative calling out what he says, and we need that in the backend."
At safety, Fagan joined what's turned out to be a very deep unit for this team in the secondary. Doeren said that another important factor in Fagan joining the team has been the competition he's created at the safety position with players such as Jakeen Harris.
Fagan and Harris are listed as "ORs" on the Wolfpack's depth chart at strong safety, and that competition is something that's elevated both players' games.
"It's a great feeling that we have depth," Fagan said. "Me and Jakeen have been competing every day since we've been here. He brought something out of me that I didn't know I had either. I'm pretty sure I did the same. Me and Jakeen, and the competition level in the safety room, we compete every day. I ask him questions, I tell him things so he can be great too. We're always working with each other, and we're always competing with each other as well. We want to see everybody shine on our team. Knowing we've got depth is just a great feeling, because we know that if I can't get my job done, the next man's going to come in and get this job done. He's going to do his job for sure."
Fagan knows he and his teammates in the secondary will have their work cut out for them this week. They'll be playing in an SEC environment, something Fagan has experience with from his days as a Semionle in the Florida State-Florida rivalry.
He also knows that, in facing a Mike Leach offense that's likely to throw the ball around 50 times, he and his teammates in the secondary will have a critical role to play if the Wolfpack is to come up with a road win over an SEC opponent in a tough environment.
"As a DB core, we know the game is on us," Fagan said. "Win, lose or draw, it's one us. So we've got to know our responsibilities and know what we've got to do as a team. We know that if we want to see the team succeed, it starts in that DB room. So with them throwing the ball a lot, it just means we've got to come to play, bring our A-game, and show the world what we're about."
Never miss the latest news from Inside Pack Sports!
Join our free email list