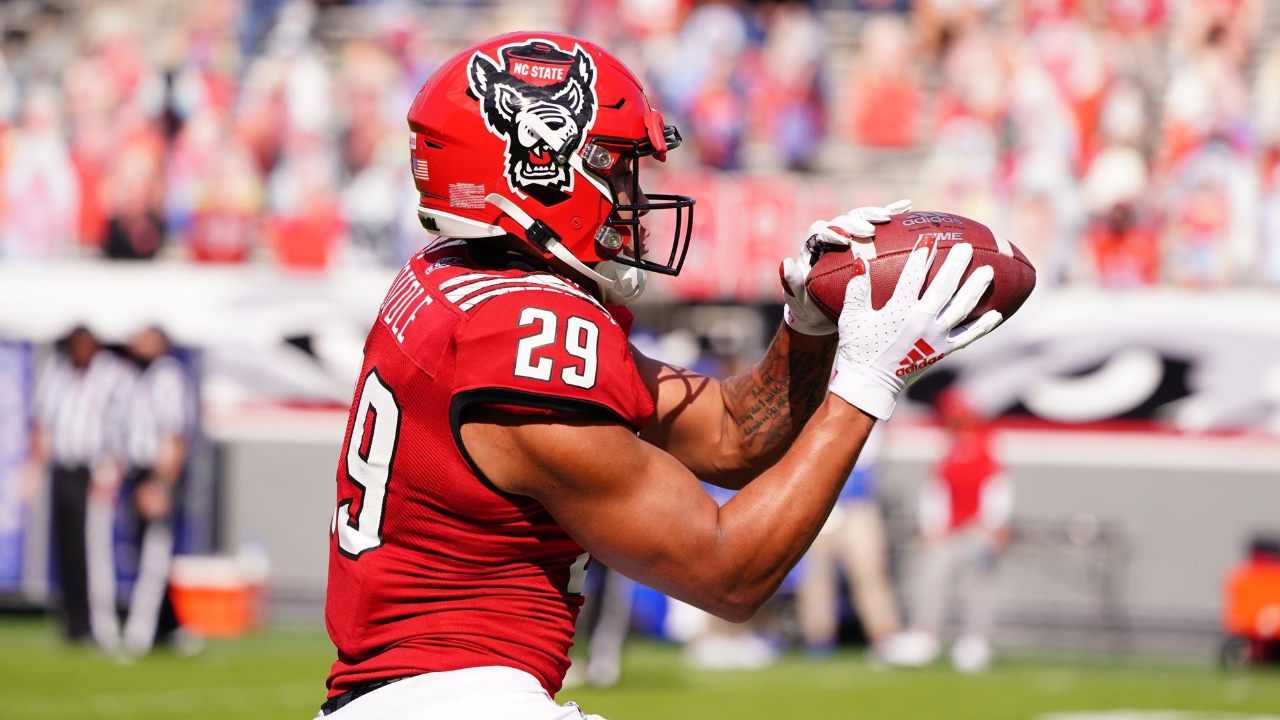 NC State Football
Chris Toudle: "We Know How Important This Game Is"
---
NC State freshman tight end Chris Toudle made an impact in the Wolfpack's 45-0 win over South Florida last week with his first touchdown, and he is looking to keep his momentum going into this week's matchup against Mississippi State.
Toudle spoke with the media this week, and here's a full breakdown of everything he had to say:
---
What's the process like of celebrating a big win, putting it behind you, and getting ready for the next game?
I just think we do a really good job of putting the game behind us. We have the 24-hour rule, so we really enjoy that game for 24 hours and then it's just on to the next mission once we're done with those 24 hours. In terms of having a big game and the process of it, it's just a mindset. We just come in with a different type of mindset. We already know who we're preparing for; we've got a big game this weekend. I guess that's just our mission. We transition quickly from last game to this game. We know how important this game is.
Is it something coach Doeren has to drive home, or is it player driven at this point?
It's completely player driven around here. I think we do a really good job holding each other accountable as teammates and players, especially even if a coach is not doing what we as players, we'll hold them accountable, too, in a good way -- not in a negative way or anything like that. But we hold each other accountable and everything to better benefit us as a team. I feel like that's why we're so good as a team right now.
What was it like to get into the end zone?
It was a huge blessing, a big blessing from God. It was just a crazy opportunity. I just couldn't imagine it being the way it was, but I don't take it for granted. It was a huge blessing for me.
There's been a lot of guys on this team who have switched positions in the past. How has that been going for you?
It's been fun. Just going back to the spring when I first switched, it was the guys in the room that really brought me along here. I couldn't do it without any of those guys. It's been fun. They made the process so easy and so fun to grow into a tight end. Especially coach [Todd Goebbel]. Coach Goebbel's made it just a really easy transition. I've just been having more fun playing tight end.
What makes this such a confident team?
I really think it goes back to the season ending last year and getting back to work in the spring. I think all of us knew the mission, what we wanted as a team. Our ultimate goal is to get to the ACC Championship, College Football Playoff, National Championship. We have a lot of goals. I really think that the team just took a step back to look in the mirror and just really evaluate ourselves. We know that we have the right pieces to make it work, it's just all about us holding each accountable, holding each other to the standard that we've set for ourselves here, and just being that team that is on the lookout in college football.
What would a win on Saturday do for this team? I think it would take the confidence to an even higher level.
I think so too. I don't really look at our opponent just as an SEC team. I think a lot of people on the outside are looking at it as an SEC-ACC thing, but we just look at it as the next challenge, the next opportunity, and the next opponent. We don't really pay attention to conferences or anything, but this one is just another win in the books, but if we get a win this weekend, I think any win is going to boost our confidence up. So I feel like that's what we're looking for.
Is there anything else you guys are doing besides the cow bells to prepare for the atmosphere at Mississippi State?
We've had the cow bells just ringing in our ears continuously all the time, but as an offense, the last couple days, we've been in the indoor facility and they're cranking the volume up on the sound in the indoor, so we're having a really great simulation of fans in the indoor, because we know how it's going to be at Mississippi State, but I think we've been taking it really well. I don't think the crowd noise and all that's going to get to us. We're just ready to go and play some football. I think we're all excited.
What is it like playing in that atmosphere?
To be honest, I really haven't experienced it yet. I haven't been looking at it differently than the games from last year or in practice. I feel like once you get on the field, you tune the crowd noise out once you get into the play. It'll be a factor at first, but I don't think it's going to mess with anybody.
Never miss the latest news from Inside Pack Sports!
Join our free email list