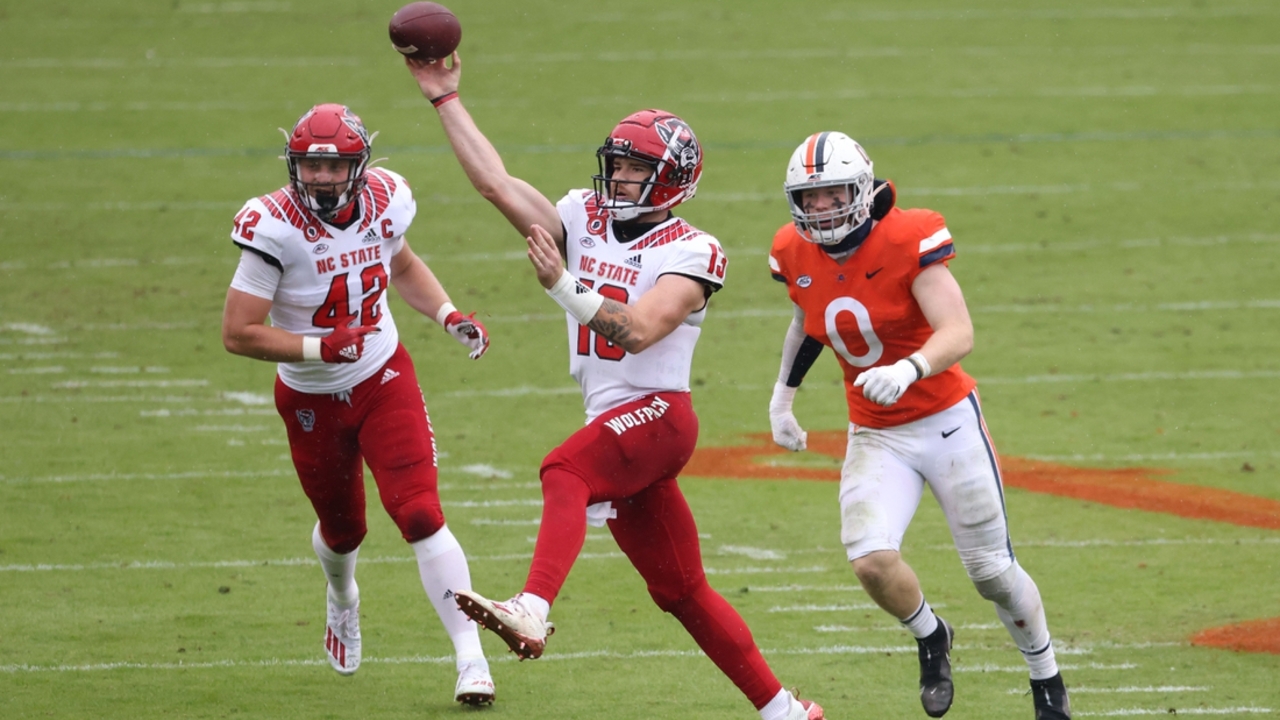 NC State Football
Devin Leary: 'Our quarterback room is very tight'
---
After missing the final seven games of the 2020 season with a fractured fibula, NC State quarterback Devin Leary is back and ready to help lead the Wolfpack's offense to new heights in 2021, starting with next Thursday's season opener against South Florida.
Leary spoke to the media following Thursday's practice, here's a full breakdown of everything he had to say:
---
Can you describe your emotions to being so close to getting back on the field in a game situation with your teammates?
I'm super excited. The biggest thing, like you said, is being back out there with my teammates, being able to feel that same energy that I felt back against Duke running into the stadium with all my guys right next to me. And being able to watch all of them perform is just a surreal feeling that I can't wait to experience again.
How excited are you to play in Carter-Finley with fans again?
It's gonna be awesome. We can't wait to hear the Wolfpack chants and everyone just cheering us on. Like I said, that feeling of just running onto the field and being able to hear the crowd walking out into the white smoke is such a surreal feeling. You can't really describe it. I know me as well as everyone else on the staff and the team is excited to experience it again.
How has the offense been coming together?
The offense has been doing really good. I'm very excited. I think we have a great game plan going forward. Coach [Tim Beck] has done a great job of mentally and physically preparing us for what we're about to face. Everything starts up front, as well. Coach [John Garrison] has been doing a great job with the offensive line. I'm excited to see those guys play. Just going into this first week, I think everyone is very eager. Everyone is very excited, very hungry. I can't wait to watch guys ball out on both sides of the ball.
What's been your comfort level working with coach Beck?
Being able to have him for this whole season and not having COVID interrupt, it just makes me extremely comfortable in the offense. Just being able to lead other guys and get a grasp of the full system. Coach Beck has been doing a great job of letting us learn as best we can. Whatever he presents to us, I've been doing a really good job of grasping everything.
How have you helped the rest of the quarterbacks prepare to be game ready?
Our quarterback room is very tight. One thing I really like about our quarterback room is that everyone is dialed in at all times. Whether they are getting reps on the day or are getting 0 reps, everyone is taking mental reps. Everyone is coming back and watching film later at night. Just being around [Ben Finley], [Aaron McLaughlin], even [Zo Wallace] and Andrew Harvey, those guys push me every day. They hold me accountable. Just being able to see that and know that they are in tune to the game plan and in tune to watching football as much as I am, it's very exciting.
What have you seen from Finley and McLaughlin on the field?
I think they're both extremely talented. I think they both have their own personal qualities that they bring to the table that are different from each other. I also think that they do a great job of running this offense. They do a great job of leading guys. Ben is very smart. He understands the game very well. Aaron as well. He's a smart player, too. He just got here this past spring and he's been doing a great job of asking many questions, grasping the offense. Just in the short period of time that both of them have been here, I've seen tremendous growth.
What strides has the offense made in camp and what are you looking for in this next week before the first game?
Really what we've been focusing on is the little details, not being able to beat ourselves as far as penalties or any type of unnecessary calls that we are going to get that's going to hurt ourselves. That's kind of been our main focus, just eliminating all the self-inflicted wounds. I think going forward what I'm very excited to see is the O-line. Those guys are all in tune each and every day. They are very exciting to watch. I think going forward, like coach Beck and coach Garrison always tell us, is that it starts up front. That's something that we've really embraced. I'm excited to watch that.
How much does having Emeka Emezie back help?
It's huge. I think even when Emeka wasn't necessarily able to practice with us, we all knew what he's meant over the past couple years. Just being able to have him back brings a different type of energy on the field, brings a different type of mojo that not only myself can observe and attract to, that our whole entire offense can as well. As soon as Emeka came back, all the eyes were on him, and that's exactly what he expected because he put himself in that position. Just being able to have a teammate like him and a receiver like him is a true blessing.
It came out that NC State won't allow unvaccinated players to travel during road games. What are your thoughts on that policy?
Coach Doeren and the whole staff, this entire time period of going through the vaccine and everything, they've always tried to inform us and tried to educate us as best as possible. We've had different people come in and talk to us, different doctors come in and just speak to us, trying to inform us as best as possible. But like the coaches always told us since the beginning, at the end of the day, it is your own body, it is your own choice. Due to the circumstances now, it is unfortunate that guys that decide not to get vaccinated won't be able to necessarily travel with us, but at the same time, everyone had a great understanding that it was the choice that whether you did or didn't, there were consequences that came with it.
How exciting is it for you to have a lot of depth at receiver?
It's very exciting. It's very rewarding, too, to see all the young guys. If any one of the older guys goes down or anyone needs a break, just being able to see those young guys come in and fill that role instantly, just knowing what they're doing. You can just tell that they're always engaged, always looking for that next play of when they're going to get their opportunity, because they know eventually it's going to come. We always say you don't have to necessarily be getting all the reps to get all the mental reps as well. That's something that I've seen from that young receiver group, as well as the older guys leading them in the right direction too. So just the depth that we have at that position is extremely exciting to be in my position as well.
I've been watching the ACC Road Trips and you and Payton Wilson went first with the how well do you know your teammate/roommate questions. How close are you and Payton?
I'll admit those questions didn't do us justice. It was kind of brutal. My final score was not very good. Even off the field, Payton is one of my best friends. As far as on the field, he's just a guy that people attract to, a guy that knows when he walks into the building, the energy is just different. Myself, I've even linked up with Payton back in high school when we were recruits, and I've been over to his house down in Hillsborough. We're very close. Just to have a guy like that, not only as my roommate but as a teammate is really an honor. It's very exciting to watch him work on his craft every single day.
When it's down time after a game is it all football talk or do you guys kind of separate from that?
Honestly yeah, usually a lot of it is football talk. We both love the game, the majority of all of our conversations are football. But other than that, we're very similar as far as what we have in common. But mostly it is a lot of football talk, I'll admit.
With you being the leader on offense and him being the leader on defense, have you guys swapped pointers and ideas?
What I think is really special about this team is whether it's offense or defense, the leaders are just collectively leaders. I think whether Payton has a point to bring up from the defensive standpoint to the offensive standpoint, it's going to be well respected as vice versa in my situation if I had an offensive perspective to give to the defense. Us two being guys that are looked at as leaders on this team, I think just as a whole, what's very special about this team is we're well respected on both sides of the ball and collectively, always be able to come together no matter where each other stand.
We asked Derrek Pitts today what his favorite restaurant was and he said The Dankery. Is that also high up on your list and if so, why is that such a hot spot with NC State players?
I love The Dankery. It's good food, it's advertised well on their Instagram page and that was one of the first food spots I went to when I came to North Carolina, because just through Instagram and being able to hear it from all my teammates, that was the spot to go. So I really like there and I also liked this Italian restaurant in downtown Raleigh called Vics that's also very good too. So those have been my two main spots to go to.
Never miss the latest news from Inside Pack Sports!
Join our free email list