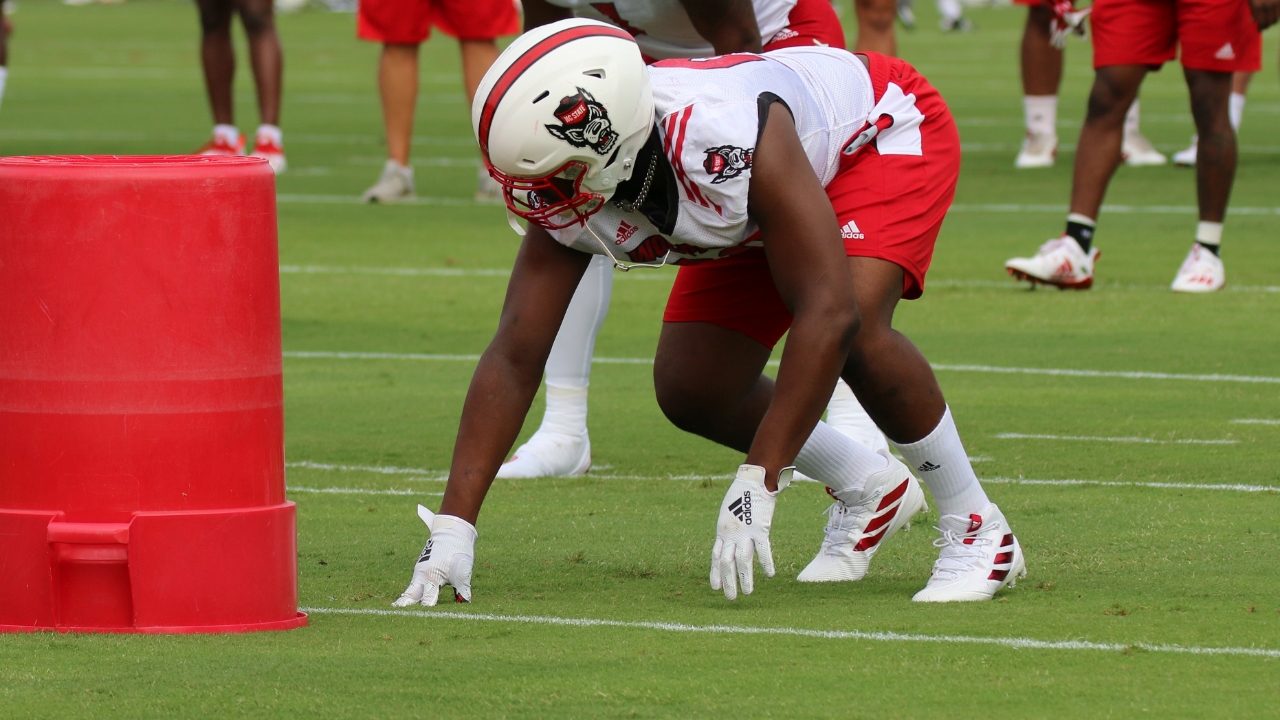 NC State Football
Daniel Joseph: 'I think we've taken those steps forward'
---
NC State brings back a lot of experience and production from last year's defense, and that includes defensive end Daniel Joseph and his team-leading 6.5 sacks from a year ago.
Joseph spoke to the media after practice this week; here's a full breakdown of everything he had to say:
---
You guys have a couple transfers on the defensive side of the ball in Corey Durden and Derrek Pitts. What have you seen from them?
They've been fitting in wonderfully. I think having those two guys come in has been a tremendous blessing to our program and our defense. I don't know what else to say. Having them here has been wonderful because they both add wonderful athleticism and talent in ways that I feel like our defense has benefitted from, with Durden being a much bigger guy and a lot heavier, and still very, very athletic. He gives us a lot more versatility and depth on our D-Line, and Derrek in the secondary only allows us up front to do our jobs that much better. So I think adding those two guys to our defense has been wonderful.
They're in a similar position to where you were last year coming in as a transfer. Have you tried to help them and give them some advice about acclimating to this team and this group?
Honestly, I think it's been a collective effort. Our whole defensive unit in this whole program has kind of led them along. I think I haven't been the only one they've had to rely on, and they've all had wonderful people around them, just like I did when I first transferred here. I think that same network was able to give them just as much advice as I was. So with them coming in it wasn't just me giving them advice, it was a collective unit that got them up to speed and acclimated into our family.
With 10 starters back on defense, the expectations are pretty high for that unit. Can you look around and tell a difference from last year?
I think so. I think we've taken those steps forward. I think we truly won't know until this upcoming Thursday. I'm looking forward to that and kind of just focused on that and seeing those steps that I think we've taken show forth on the field on Thursday.
What can you tell us about South Florida?
They're a wonderful team. They have great talent up front and on the offensive side of the ball. I think overall when it really comes down to it, we've got to focus on us first and make sure that we're clicking on all cylinders.
Do you have a personal goal for the first game?
Go out there and play my heart out. Simple as that.
How much are you looking forward to experiencing a full Carter-Finley?
I think it's been a long time coming. I don't really get excited until the day of things, so I don't like getting my hopes up way too early. So in terms of excitement, I think that once that day comes, it'll just be one of those days where I've got to just take it all in and live in that moment.
Never miss the latest news from Inside Pack Sports!
Join our free email list