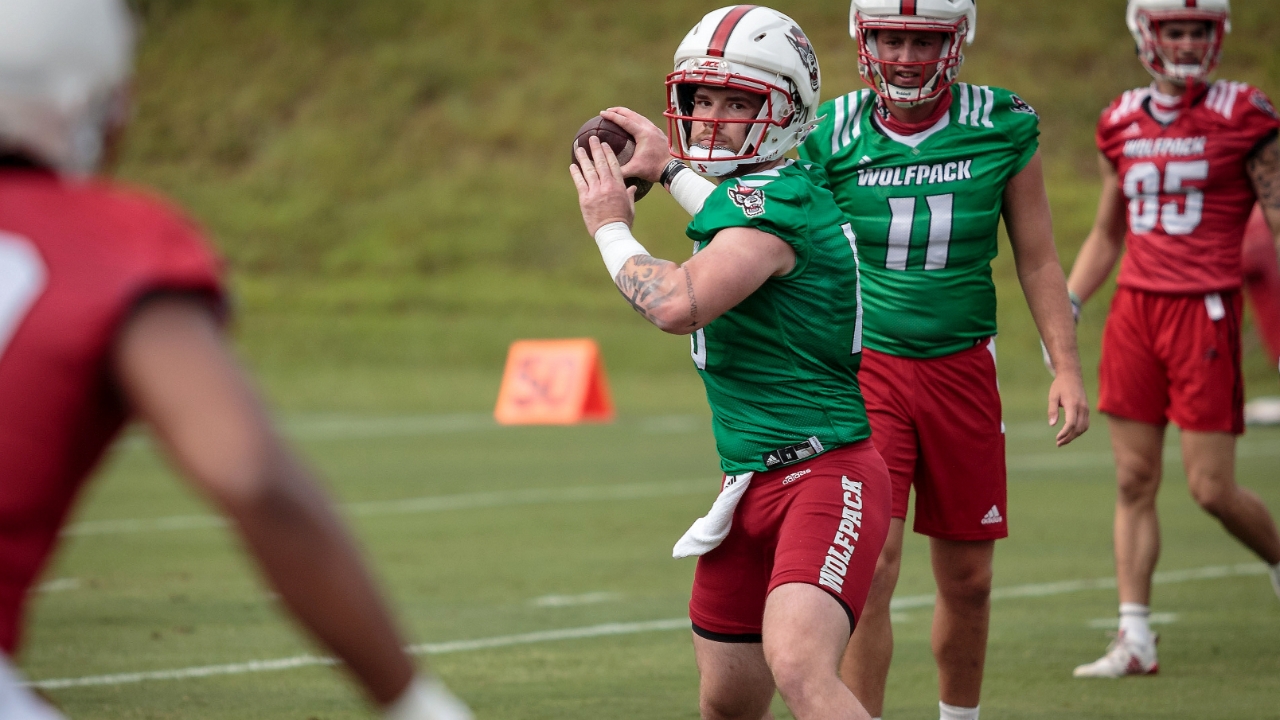 Photo by Steve Murphy/IPS
NC State Football
Devin Leary Excited About Depth At Wideout, Growing In The Offense
---
NC State sophomore quarterback Devin Leary discusses the start of fall camp, his progress, and much more!
---
What was it like to be able to officially get back out there for fall camp, obviously after missing so much time last year?
Yeah, it was great.
Guys were flying around, the energy was really high, and just even being able to see people that were also out with me as well. Guys like Chris Ingram and guys like Payton Wilson that weren't able to compete in the spring. just being able to see everyone and being able to feel the energy on the field was great to see today.
How do you find ways to push yourself and the team through camp?
I think it really begins with the small details. It's very easy to look at the big picture and what we want to accomplish, but as we kind of self-reflect and look back on why we didn't have the success that we wanted, we realized it was all the small details.
Something that coach Doeren preaches to us, and everyone on the team has, [is that] every single day we have "one more" that we have to accomplish. If you didn't accomplish it in one practice, you got to repeat your one more. It could be the smallest of details, any little thing... making sure you're taking the right step as an offensive lineman.
I think that's something that we really started to embrace – the small details – because they really matter in a win or a loss.
How much is being able to have a full spring and having some summer workouts been able to allow you guys to be on the same page and really focus on those small details?
It's been great.
We've been able to expand our offensive communication. We've been able to reach out to different personnels and experience with different guys in different spots.
Being able to have coach Beck here for a whole fall camp now and all the spring just allows us to gravitate even more closer to him... understand him more. He understands us a lot more. Just being around him every single day and feeling his energy every single day is something that we all embrace.
We're lucky to have him here.
How much does it help you to have the depth at receiver that you guys have?
It helps me at ton.
It makes my spot so much easier and all the rest of the quarterbacks' jobs so much easier.
The list goes on for guys that are able to step in and play. Like Thayer was just saying, there's 20 guys in the room and at least 15 of them can play. I think just that comfortability of being able to know that the next guy up is going to be able to fill right in and do whatever he needs to do.
Never miss the latest news from Inside Pack Sports!
Join our free email list