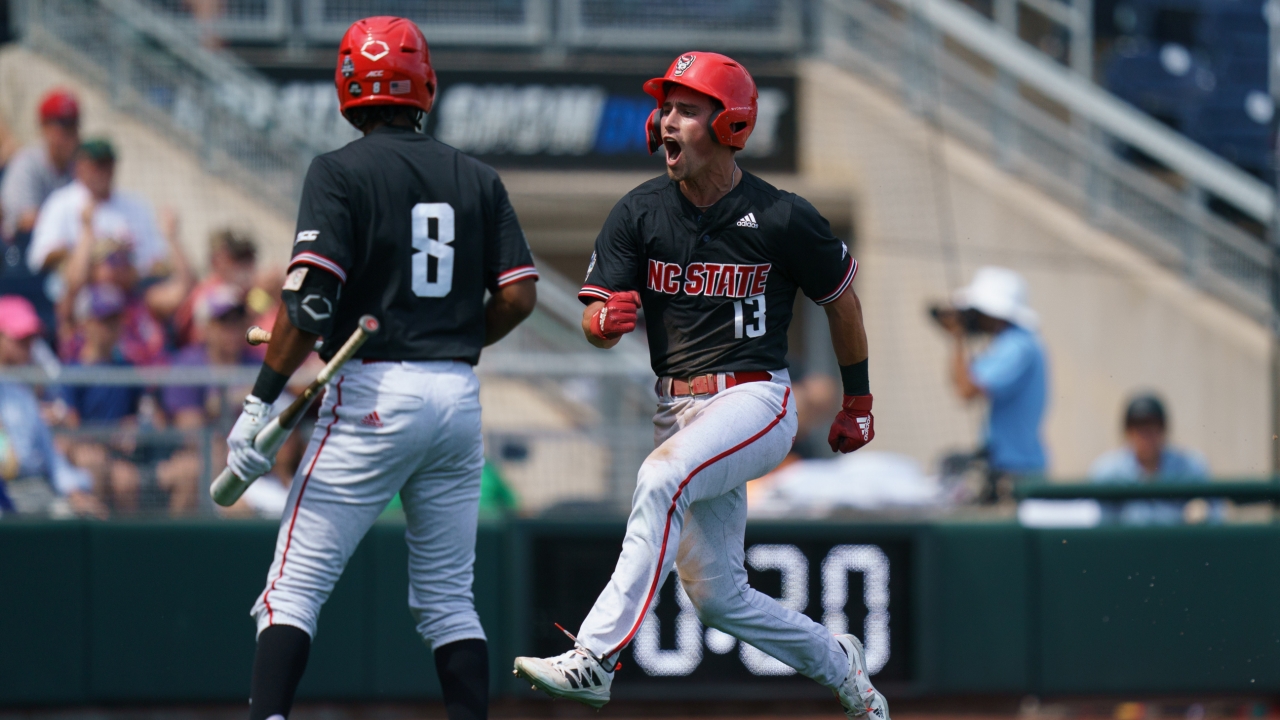 Tyler McDonough
Jose Torres
NC State Baseball
Pack9's Torres, McDonough ready to start pro careers
---
Tyler McDonough and Jose Torres both enjoyed stellar 2021 seasons for an NC State baseball team that went to the College World Series for the first time since 2013. They both were All-ACC selections, and both had plenty of big hits and clutch moments in the postseason run.
Those seasons earned them a chance to start their professional baseball careers, as both were picked in the third round of the 2021 MLB Draft, with McDonough going 75th overall to the Boston Red Sox and Torres 89th overall to the Cincinnati Reds. Both will sign with the organizations that drafted them and begin their pro careers.
A dream come true
For both former members of the Pack9, playing professional baseball was something they had dreamed of since they were playing tee ball.
Thanks to their selections Monday, those dreams are another step closer to becoming a reality.
"It was awesome," Torres said. "Just to be able to be considered to be a draft pick, especially as high as the third round, it's obviously a good experience. It's also nerve-wracking, of course. You really don't know who is going to take you. You're kind of just waiting on who is going to communicate first. The Reds were that team, and I'm very happy they were. I'm very happy where I'm at. It was awesome. It was a dream-come-true type of day."
McDonough said his advisor contacted him around the 69th pick of the draft on Monday to inform him of the Red Sox's interest, and, six picks later, he was indeed selected by one of the most storied franchises in baseball.
"I've dreamed about this my whole life," McDonough said. "Seeing my name pop up was a dream come true. I couldn't ask for anything more, especially with the Red Sox."
Reflecting on college careers
Torres spent two seasons with the Wolfpack, with 2021 being his lone full year following the COVID-19-shortened 2020 season. McDonough was a three-year player.
Both players learned and grew immensely from the first time they stepped foot on Doak Field, and both credited their time in a Wolfpack uniform for helping prepare them for the next level.
"I've learned a lot," Torres said. "I talked to [associate head coach Chris] Hart the other day, and we were just talking about how I got on campus and how my time there was. I was just telling him how much better I got as a player and as a person. Just as a time coming in as a freshman and coming into the spring, I just go so much, so much better. I've got so much love for NC State, for the coaches, for the players, for [communications director Lizzie Hattrich], for people like Liz and everybody that works with us. I'm extremely blessed to have played for a top program like that."
"I couldn't ask for a better coaching staff, with [head coach Elliott Avent], coach Hart, [assistant coach Clint Chrysler] and [assistant coach Joey Holcombe]," McDonough said. They definitely taught me a lot of things that I'm going to carry on to my pro ball career, but it's meant a lot. I'm going to carry a lot from playing at NC State."
McDonough and Torres weren't alone in their draft day fun, either.
Part of their excitement was seeing their former teammates rewarded for their hard work as well, as the pair were two of eight NC State players (joined by Evan Justice, Austin Murr, Jonny Butler, Luca Tresh, Terrell Tatum and Reid Johnston).
"That was awesome," Torres said. "I remember when Tyler got picked, he was a couple picks in front of me, I was excited. It was like I thought that I got drafted. That's how excited I was. The love we've got for each other, that team will always be together. We'll always remember each other. Just to see all those guys sign and get drafted and all that good stuff, it's just a great ending to a great group of guys."
And, while it didn't end the way anyone wanted, with the Wolfpack's stay in Omaha ultimately cut short due to health and safety protocols amid a team COVID outbreak, McDonough and Torres got to end their college careers with a memorable postseason run with their teammates.
NC State's 2021 postseason included a win over host Louisiana Tech to move past the regional round for the first time in eight years, a win over No. 1 Arkansas in the super regional round (in which Torres homered in every game), and a 2-0 start to the College World Series, including a win over Vanderbilt and No. 2 pick Jack Leiter.
"It means everything," Torres said. "It just goes back to the fall when we were talking about going to Omaha and how good this team could be and how this team had a chance to win it. We all believed that. Just being able to talk about it and then go live it ourselves and be that close to winning it. It was just awesome."
Time to turn pro
Both players will now open their professional careers, and likely soon report to a minor league affiliate of their new teams.
McDonough, who played multiple positions in college, said he hasn't spoken much with the Red Sox about where he'll be playing but knows they'll move him around as well, and said he'll play wherever gets him on the field the quickest.
That field, of course, and McDonough's end goal, is Fenway Park, one of baseball's most sacred destinations -- and a park McDonough visited for the first time Thursday.
"It's a dream come true, that's for sure," McDonough said. "It's been the No. 1 field that I've always wanted to visit and I got to see it today."
For both players, getting drafted into Major League Baseball was not the end goal, but rather one step closer to the goal of playing MLB games.
They know they'll have to work their way up to it, but armed with the development and growth they experienced on and off the field at NC State, it's a challenge they're ready to meet.
"It just means it's another step to completing my dream, which is to play in the major leagues and play in the World Series," Torres said. "It's awesome. The love that I've gotten the last couple of days has been tremendous. It's hard to explain because you kind of have to live it in order to know what it feels like. It's everything I could ask for and even more. I'm excited."
Never miss the latest news from Inside Pack Sports!
Join our free email list