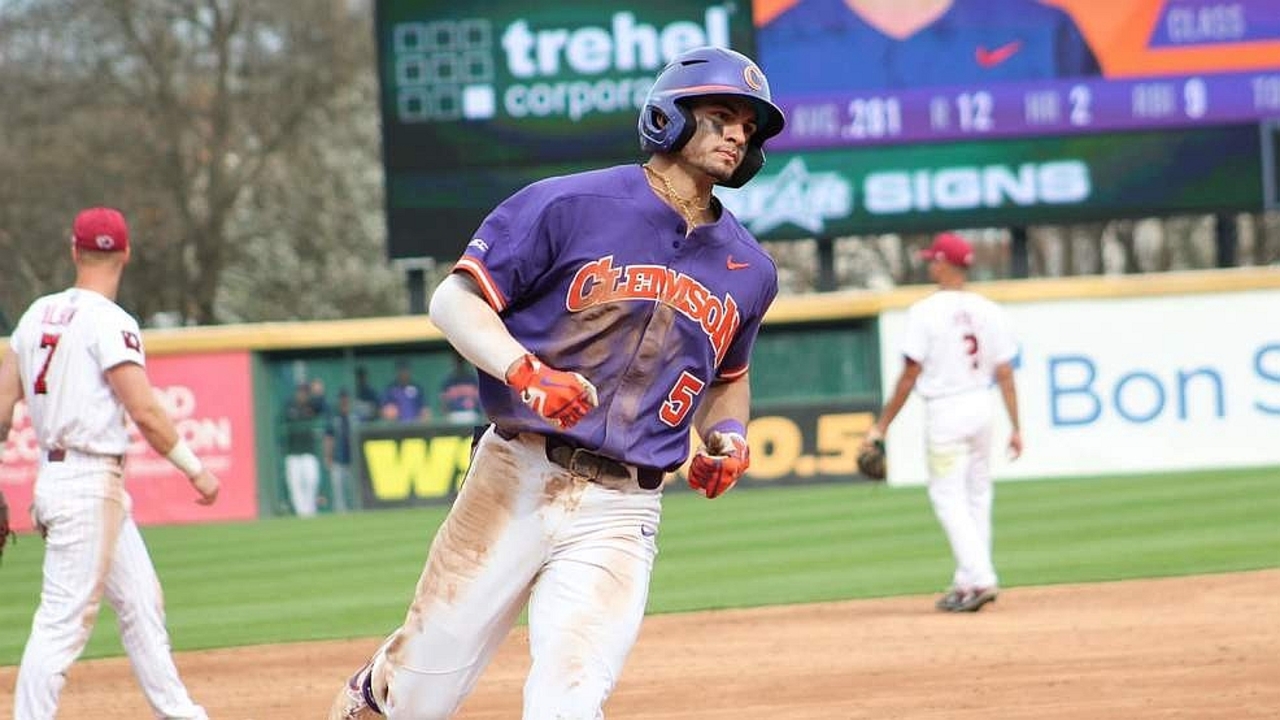 NC State Baseball
Clemson Transfer Sam Hall: "I Want To Come In And Help NC State Win"
---
Clemson grad transfer Sam Hall has decided to use his final year at NC State.
"I was looking at free agent options but that's kind of off the table," Hall stated. "I committed to NC State, and that's where I'm at. I'm coming to NC State.
"A bunch of schools reached out when I went into the portal, and I talked to some of them heavily. Coach Hart from NC State called the week before the draft, and we talked about how there was a spot open with some room. Given my prior discussions with NC State, I've always liked them, [and] I knew it would be a great place for me because they've always had a special place in my heart."
Hall played his prep ball at Topsail High School in Hampstead, North Carolina, where he was a highly-regarded prospect in the 2018 recruiting class. He initially picked Clemson over the Wolfpack.
"In high school NC State recruited me hard, and it came down to those two schools, Clemson and NC State," he said. "I always liked coach Hart and coach Avent. I had a great experience with them -- the visits and things like that. I just chose to go with Clemson, who I had a strong relationship with too.
"This time around, it was an easy decision for me. I'm about two and a half hours away from my house, so it's pretty close. I'd been doing the same thing for four years at the same place with the same people, so I was looking for something different. I wanted to experience baseball in a different way, a way I could maybe enjoy a little more."
Given his previous experiences with NC State, Hall has kept an eye on the program, even while at Clemson.
"They were always a tough team," he said of facing the Wolfpack. "That was the main thing I could think of. They play tough, and they play hard. Every time we played them there weren't that many big, intimidating guys, but it didn't matter. You hear how important that is, but it didn't matter. They were good, tough, and never gave up. It was always fun to play them."
He also has a few close friends already in Raleigh.
"I've known Thayer since I was 10," Hall said, laughing. "We played on the same travel team up until high school, but we still kept in touch. I know him, Drake, and even Lex.
"He was actually the first person I told about my commitment, after my family. It was super cool talking to him about it. He's pumped and excited which made me feel great."
Hall played multiple positions during his career at Clemson including outfield, shortstop, and second base. He returned from an injury during the 2021 season to start 24 games, hitting .241 with four home runs and six doubles.
His best season came in 2019 when Hall batted .257 with seven home runs and 12 doubles. He also led the ACC that year with 30 steals.
"I played all over the field and my coaches growing up did a good job of teaching me how important that was because it helps you get into the lineup," he said. "With the projectability, being able to be pegged as a certain position can help. It's a positive in that it makes me a well-rounded baseball player, but at the same time, what is he? I think that was a question I've had to answer. Has moving around left me good at a lot of spots but maybe not great yet? I know that if I'm supposed to play in the major leagues, I will, [and] the position will work itself out."
Has NC State discussed a potential role?
"We talked about infield, any sort of infield position," Hall replied. "But I'll play anywhere. I can fit in wherever, which is fine with me. I'm just excited to be a part of this team and this program. They are really good with great chemistry and a great culture.
"I'm not trying to rock the boat or anything. I want to come in and help NC State win and get better. I want to bring versatility and athleticism. I can run the bases, create offense, and play multiple positions."
Never miss the latest news from Inside Pack Sports!
Join our free email list