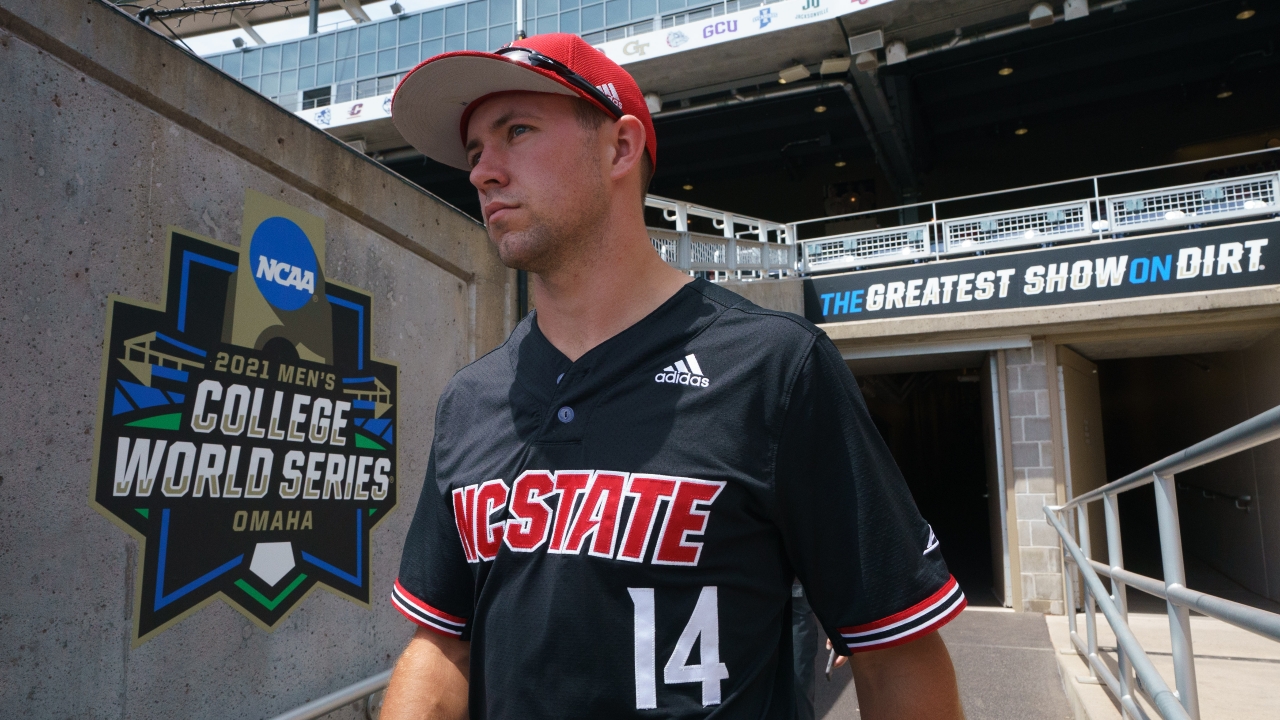 Jonny Butler
Evan Justice
NC State Baseball
DUGOUT REPORT: Butler, Justice on win over Stanford
---
Thanks to a 3 for 4 day that included a home run and five RBIs from Jonny Butler and a nine-out save from Evan Justice, NC State opened the College World Series with a 10-4 win over Stanford.
Butler and Justice both spoke to the media after the win, here's a full breakdown of everything they had to say:
What allowed you to stay so hot and can you take us through your day?
I had a lot of confidence coming in here. I thought I played really, really well the last game against Arkansas. Also, I mean, there's a lot of pressure on the pitchers all game because every time I was up I think there were runners in scoring position. And I'm always comfortable in those situations knowing that the pressure is on the pitcher; he has to come to me. I thought they did a great job pitching all game long. I mean, their starter, he wasn't missing really much. I think he missed maybe one pitch and that was the one I was able to get out.
There were a lot of NC State fans in the park today. What was the emotion like being in Omaha and all the fans there and getting ahead early with that big hit?
It felt so great. Our fans travel so well. I know I have a ton of friends and family here, former teammates came to support me. I had a lot of energy coming into this. It was just so exciting.
Obviously Evan has done what he did for you guys today all year long, but just when you guys see him going out there, when you're in a little bit of a tough spot with the lead getting trimmed and runners on base, how confident are you guys that he's going to go out there and get it done?
Never a worry, once we get the lead in the seventh, eighth inning, we feel game over, confidence through the roof with what Evan has been able to do. Unbelievable. Never a doubt.
Obviously you opened it with that homer, but you started the rally in the ninth that really sealed the deal; how important was that hit to get the ball running when Stanford started to get back into the game?
It's all to take pressure off of Evan. We knew he was going to go in there, finish the game. There's a big difference between two runs and three runs, and we were scratching one run at a time, one run at a time, and we were able to put together a big inning.
You guys hit two homers today. Does this park feel like it plays bigger than other venues to you, or is it about kind of what you guys have seen all year?
We've definitely seen it. I think the wind was a little friendly today, blowing to right field maybe a little bit, or just not in from right field, and that's where our two were. I thought maybe [Devonte Brown] was going to get his second one there to left field, but it seemed like that one died a little bit. But we have played at ballparks like this; we're used to it.
Could you just walk us through your home run there? Seemed like you hit it out as hard as you could. What did you see? How did it feel?
You know, we had a scouting report coming in, he's really good at commanding every single one of his pitches. I was sitting away. We had a hit-and-run on for the first pitch. Kind of got blown up with the fastball. He came back with a change-up, I think, and that was the one pitch all game that he left over the middle of the plate and I was able to put a good swing on it.
Have you ever had a game offensively like that since coming to NC State driving in five runs and let alone to do it in the CWS?
I think I've had some pretty good games but never in a situation like this in such a big game, big stage. It just felt great.
Evan Justice
How were you able to wiggle out of that jam, the bases-loaded jam that you guys were in?
I just tried to keep the same approach I always do, fill up the zone. First contact, a lot of strikes. The one thing you don't want to do in that situation is be out of the zone, give them free bases. So I was just trying to fill it up as best I could.
How much did you want to pick Reid Johnston up in the seventh?
Yeah, I mean that's something I always try to do is just pick up the guy in front of me. We've got some great starting pitching here, especially Reid. He's one of my good buddies. So trying to pick him up. I thought he did a great job today. And I wanted him to get him out of the jam. And fortunately I was able to.
You're obviously used to coming into high-leverage, high-energy situations, but kind of another level today with 22,000 people and it being the College World Series. What's going through your mind as you come into that game and there's so many NC State fans and just being on this stage?
Just trying to soak it up. You know, this is extremely fun. This is a great environment. And I mean it's the College World Series. It's something we've worked for all year. It's something you dream about your whole life as a baseball player. And to be able to get out there and compete on this stage with these guys we have, it's a dream come true and it's a lot of fun. I'm glad we came out victorious today.
Wow does it feel to get win one under your belt?
It feels great. You want to be on this side of the bracket after the first game. I thought offensively we came out swinging. They did a great job today. So that's always very helpful as a pitcher, having that run support we got today was huge.
Never miss the latest news from Inside Pack Sports!
Join our free email list