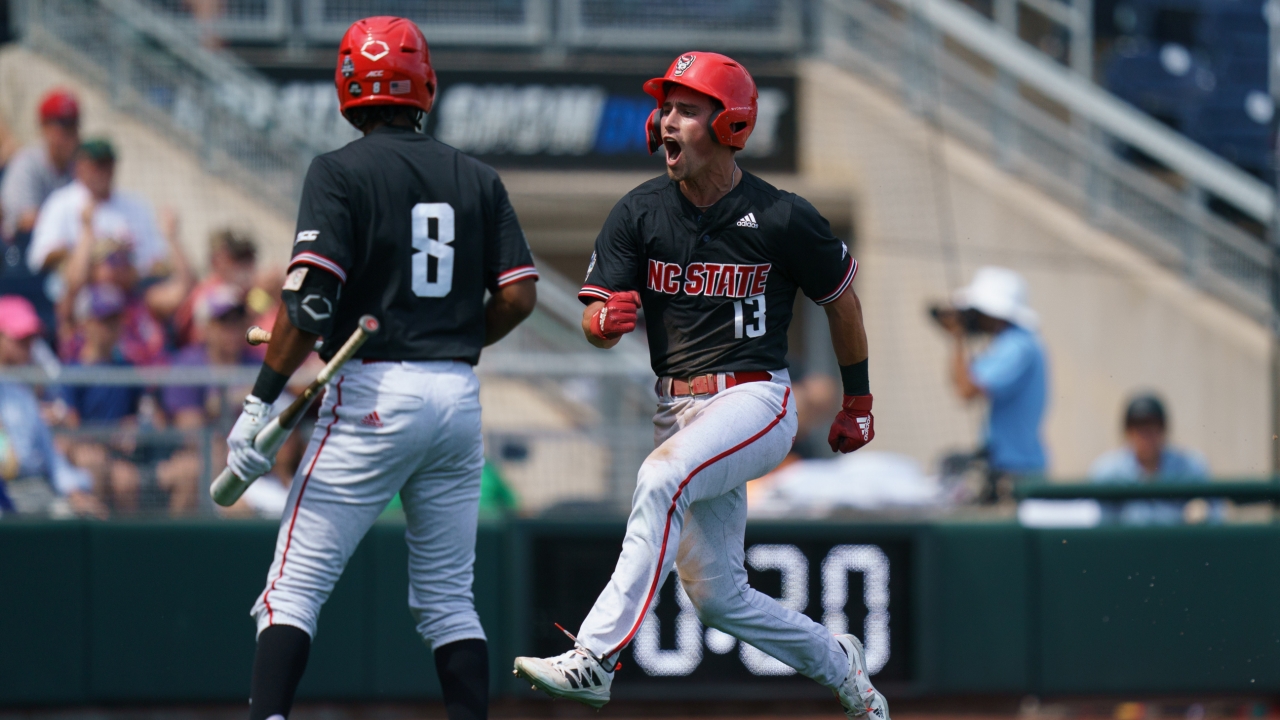 Photo by NCAA Photos via Getty Images
NC State Baseball
Takeaways: Pack mashes Cardinal in CWS-opening win
---
Thanks to an impressive day for its hitters and a nine-out save from Evan Justice, NC State baseball opened the college world series with a 10-4 win over Stanford.
With the victory, NC State is in the winners' bracket, and will face either Vanderbilt or Arizona on Monday.
Here's a few key takeaways from the victory:
Butler leads the way as bats build on quick start
On the day, NC State plated 10 runs on 12 hits, an impressive display from this high-powered offense against Stanford's pitching, led by ace Brennan Beck. All but one Wolfpack hitter recorded at least one hit, all reached base at least once and Jonny Butler and Devonte Brown both homered.
Butler drove the bus for the Wolfpack's offense, finishing the game 3 for 4 with five RBIs. It was exactly what NC State needed from its best hitter to set the tone.
NC State wasted no time getting to Beck, as Austin Murr singled up the middle on the game's first pitch, making him the first player to record a hit on the first pitch of the College World Series since 2010. Murr reached base four times in this one, with two hits and two walks.
After Murr swiped second, Butler launched a two-run blast to deep right to put the Wolfpack up 2-0 with his second homer in as many games.
The Pack kept it rolling in the top of the second. After Vojtech Mensik reached base and took second on an error, Murr drew a two-out walk to set the table for Tyler McDonough. McDonough came through, bringing home Mensik and putting his team up 3-0 with a two-out single to right.
After Beck threw his first clean inning in the top of the third, NC State got back to its scoring ways in the fourth, as Brown led off the inning with a wall scraper to right to make it 4-0. With Murr and J.T. Jarrett in scoring position with two outs later that same inning, Butler once again got it done, plating both with a single into right field to make it a 6-0 ballgame.
Beck ended up lasting six innings and striking out 10, but NC State's ability to get to him early proved key in getting the Cardinal's top pitcher out of the game.
After the Cardinal cut the Pack's lead to 6-4, NC State picked up some insurance runs with a big top of the ninth, scoring four runs on four hits and batting around. After a leadoff double by McDonough, Butler came through once again with an RBI single. Luca Tresh then doubled into the gap to make it 8-4, and following a walk by Brown to load the bases with one, Mensik blew it open with a two-run single through the left side.
Johnston starts strong, fades late
Coming off a rough outing in which he allowed seven runs in just three innings against Arkansas in game one of the Super Regional, Reid Johnston needed a bounce-back outing to start the College World Series.
He made the start for this one and ultimately allowed three runs on six hits while striking out five and walking one in six innings.
Those numbers don't tell close to the full story, however. Johnston was dominant through the game's first six innings, allowing just one run on two hits and retiring the first eight batters he faced. In those first six innings, Johnston threw just 70 pitches, and stymied Stanford's lineup by attacking the zone, allowing just three base runners.
In the bottom of the seventh, however, Johnston lost steam quickly as he allowed four straight hits, including a two-run homer that made it a 6-3 game, before giving way to Evan Justice with two on and nobody out.
Justice, however, ultimately got NC State out of the jam up 6-4 to pick Johnston up.
Justice gets out of jam, shuts it down
As he has all season, with his squad in trouble, Elliott Avent called Justice's name out of the bullpen. Justice promptly struck out the first batter he faced for that all-important first out. He then allowed a single to load the bases, but another strikeout for the second out made it seem he'd get out of the inning with the Pack up three.
He nearly did, but an untimely error by Mensik, who booted a grounder to third, allowed another runner to score and make it a 6-4 game. Justice, however, got the next batter to pop out to escape the jam with his team up by a pair.
Justice had no problem in the eighth, setting down the side with another pair of strikeouts. He allowed a leadoff single with a 10-4 lead in the bottom of the ninth, and a second runner reached on an error by Torres, but Justice got a double play thanks to an illegal slide call to end the game.
Justice did not allow a run on two hits and struck out four in three innings for his 12th save of the year.
NC State now moves into the winner's bracket after getting that all-important first win, and will face the winner between Arizona and Vanderbilt on Monday at 7 p.m.
Never miss the latest news from Inside Pack Sports!
Join our free email list