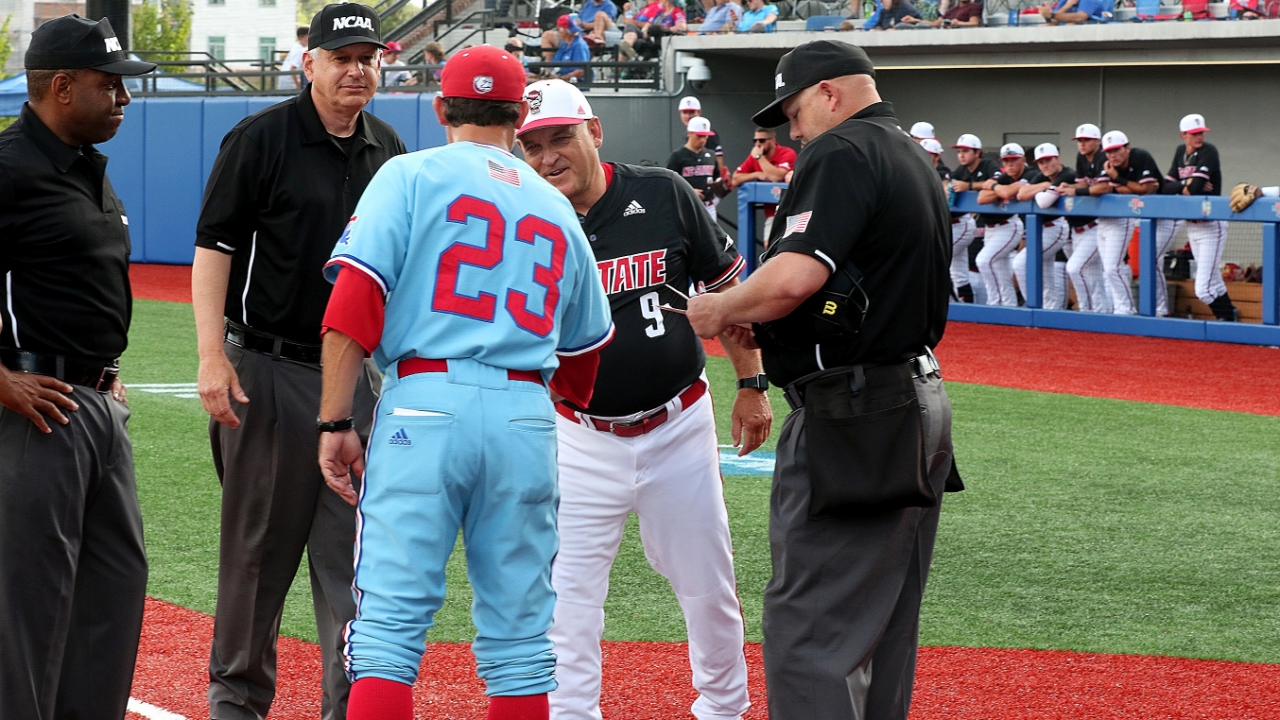 Photo by Tom Morris/NC State Athletics.
NC State Baseball
MCLAMB: An Ode To Louisiana Tech
---
There is not a bad thing to be said. Louisiana Tech put its best foot forward.
Respect is earned. You get it from others when you give it to others. Treating people decently is no threat to someone's "manhood," but it is a dying art. It seems like everything is fragmented. Social media accentuates differences. There is a lot of yelling or banter, but the strength of someone's conviction never makes something true or false. Politics, religion, and any other topic where there is variance in what people think or feel often creates tension, and sports are not any different.
Perhaps that helps make Ruston and Louisiana Tech so refreshing. No game or particular opposition can seem to strip them down to a primal form. They root for their team vociferously and do not feel overly compelled to belittle any who do not share that conviction. In fact, they seem to welcome people from other parts of the country.
Louisiana Tech is not new to success. They have a solid athletic department, and, of course, many old enough will remember the great women's basketball teams in the 1980s that brought titles back to Ruston.
The Bulldog baseball team is moving towards that. Lousiana Tech had no problem scoring runs throughout the regional -- including against NC State. The seven runs on Sunday usually would have been enough to force a deciding game on Monday. Hunter Wells and Parker Bates are two players that NCSU will be thrilled never to have to deal with again. As well as they hit, the Wolfpack raked the ball better.
The infrastructure in Ruston is set up for Louisiana Tech to do well. They have an entire community behind them, and, as it relates to sports, the Bulldogs are the only show in town. Coming from an area like the Triangle, where school allegiance is fractured among locals by the presence of so many colleges, it is charming to see an area unite behind a common cause.
NC State will be doing quite well if they ever reconfigure Doak to match J.C. Love Field at Pat Patterson Park (AKA: The Love Shack). The ballpark puts fans right on the action, including a section behind the wall in right field where students congregate to support their team. The train that goes by behind the right field stands always generates a roar from the crowd. There is no wasted room in the facility. It is tight without feeling congested.
What makes the program are the people, which is the base Louisiana Tech has to build from. When there is such warmth towards others, delight at successful moments, and respect for those who visit, a place like Ruston has strong appeal. Louisiana Tech recruits primarily from its home state, Texas, and Mississippi. Top talent, knowing they will be made to feel at home in a place where they can compete at the highest level, will have no issues joining the Bulldogs. Expect the momentum to grow. The Bulldogs may play in Conference USA, but they are a Power-5 baseball team in every other sense.
Louisiana Tech lost, but they also won. They had their day to show the world what Ruston was made of, and they shined like a star.
The time will eventually come when the Bulldogs take the next step to Super Regionals and then to a College World Series. Those vanquished along the way might not be as hospitable, but there will be a smattering of folks across the country that will take a moment to smile for Louisiana Tech.
Louisiana Tech and the city of Ruston showed they are championship-worthy. That is the first step to eventually being a champion recognized.
Never miss the latest news from Inside Pack Sports!
Join our free email list